Organizer (continued)
There is also a calculator aboard. It is nicely touch optimized with big, easy to hit buttons.
The HTC Aria features an alarm clock application, which allows a lot of alarms to be set, each with its own start time and repeat pattern. The Desk clock app turns your Aria into a… well, Desk clock. It displays the current time and date and allows you to switch off the display backlighting to save battery power or not disturb at night.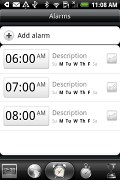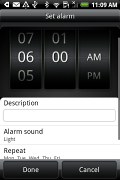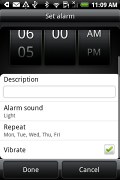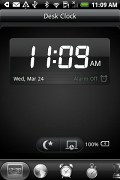 The alarm clock and desk clock apps
The World clock app allows you to quickly check the time in different time zones, while the stopwatch and timer apps might come in handy if you plan to take the Aria with you when doing sports.
The Stocks application gives you quotes from Yahoo finance.
The Voice recorder might be quite useful for making audio notes and the weather app brings Yahoo's weather forecast for your area a click away.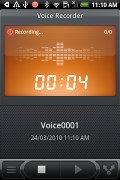 Making a voice memo with the Voice recorder
Facebook and Twitter fans will appreciate the preinstalled Facebook and Peep apps, which allow you to update your profiles on the world's largest social networks. Not that you couldn't have downloaded it yourselves but it's nice of HTC to have saved you the effort.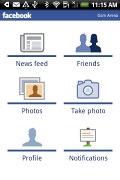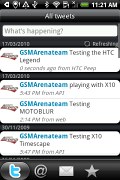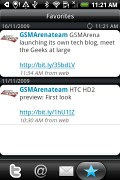 The Facebook and Peep apps let you update your Facebook and Tweeter profiles
And, finally, if those two don't seem enough, you can certainly give Plurk a try (that's yet another SNS). There's a dedicated app to let you access Plurk on the go.
GPS navigation without voice-guidance
The HTC Aria comes with a built-in GPS receiver. It managed a satellite lock in just over two minutes without A-GPS on, which isn't too bad at all.
Google Maps is a standard part of the Android package and of course makes an appearance on the Aria as well. Its voice-guided navigation version, the Google Maps Navigation is still only available in select countries though.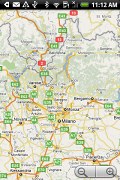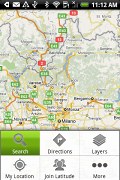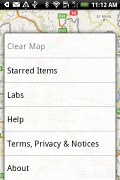 Google Maps is an incoherent part of the Android platform
You can still plan a route and track your current location so it's better than nothing but you have to rely on network data for downloading the map info. At least, pinch-zooming is available here as well so on-screen controls and double-tap zooming won't be your only zooming options.
The Street View mode is supported in Google Maps and it's probably the most fun part of Google Maps. It gives you a 360-degree view of the surroundings where available. When the digital compass is turned on it feels like you're taking a virtual tour of the location.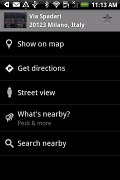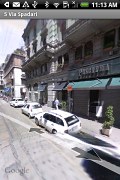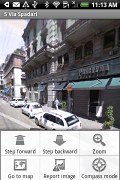 The Street view is quite impressive indeed
There isn't an alternative navigation app preinstalled, so if you want one you'll have to visit the Android market and pick one yourselves.
Android Market keeps on growing
The HTC Aria comes with a standard HVGA display and runs Android 2.1 so the Android Market has quite a lot to offer. With the number of applications growing by the hour and no low-res restrictions, the choice of apps is quite impressive.
The structure of the Android Market is quite simple – featured apps on top and above them, three sections (Applications, Games and Downloads). There is also a shortcut up there for initiating a search.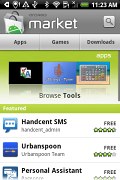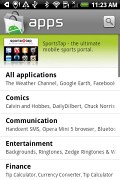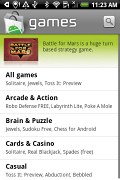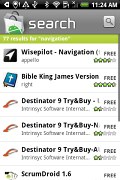 The Android Market will give you access to over 100 000 applications
The Applications and Games sections are divided into subsections (e.g. Communication, Entertainment etc.) so you can filter the apps that are relevant to you. Of course, there is also an option of displaying them all at once, but you will probably need days to browse them all that way.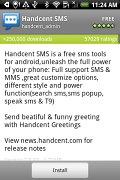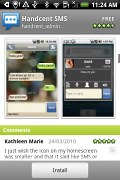 Each app has a short description, screenshots and user coments
There are all kinds of apps in the Android market and with the most vital ones covered (file managers, navigation apps, document readers etc.).
Of course, 100 000 or so apps in the Android Market are nowhere near what the iPhone users have at their disposal but no one actually installs thousands of apps so you will probably find what you are looking for here too. Besides, the Android market is the one with the largest percentage of free apps among all platforms.