Evolution complete
HTC Butterfly S review: Evolution complete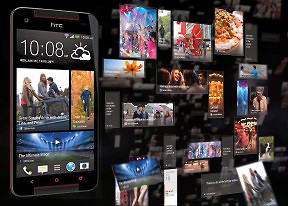 The usual retail package
The HTC Butterfly S retail package comes complete with the usual set of accessories. You get a pair of headphones that are slightly nicer than those offered by the mid-range smartphones out there alongside a wall-mount plug that you use together with the supplied USB cable to charge your phone.



The HTC Butterfly S retail package and its contents
There's also an HTC-branded SIM eject tool that lets you replace the microSIM card.
HTC Butterfly S 360-degree spin
Growing a second front-facing speaker has only resulted in 1.5mm taller body for the HTC Butterfly S compared to the regular Butterfly (144.5 vs 143mm). However the much ampler battery has had much more pronounced effect on the smartphone's waistline - at 10.6mm the S version is notably thicker than the regular Butterfly.
The difference in thickness is much easier to spot when talking 5" smartphones and while the Butterfly S isn't unwieldy, it's not the most pocketable 5-incher either. The weight has been increased by full 20g as well - 160g vs 140g for the original Butterfly.





HTC Butterfly S next to the HTC One and the HTC Butterfly
Design and build quality
We were pretty fond of the matte polycarbonate unibody of the HTC Butterfly, but for some reason HTC decided to take a different approach with the design of its successor. Instead of the matte rubberized polycarbonate, our red unit used glossy plastic finish.
In terms of aesthetics, the brighter glossy plastic seems to divide the opinions. It's certainly more eye-catching, but perhaps it's trying too hard and taking things too far. Everyone should pick their own side of the fence here as it's strictly a matter of personal taste.


The new finish of the back is quite the attention-grabber
Unfortunately things are hardly so evenly matched as far as practicality is concerned. The glossy plastic picks up fingerprints and smudges at an amazing rate, meaning it requires quite a lot of cleaning. The new finish is also very slippery, which combined with the thicker and heavier phone could lead to an accidental drop or two.



Thicker and heavier than its predecessor, the Butterfly S is also more slippery
Finally, the new finish seems to be rather poorly applied - the paint over the slot caps got chipped and we had only opened it a couple of times, while the back started picking up scratches quite quickly too. Hardly ideal for a smartphone that costs as much.