A lot has been going around the Taiwanese manufacturer of Windows Mobile Smartphones and Pocket PCs High Tech Computer Corp. (HTC) this month. It seems that it's going to abandon it highly popular European brand name Qtek in favor of manufacturing and selling the devices under its own brand - HTC.
HTC is the world's largest Windows Mobile devices manufacturer and has been producing handheld devices for its client: large network operators such as Orange, T-Mobile, O2 under ODM (Original Design Manufacturer) contracts and large OEMs (Original Equipment Manufacturers) such as Hewlett-Packard and Dell. Beside all that, HTC maintained a brand of its own although they were not involved directly with its sales or marketing.
It all began in the first days of June 2006 when HTC officially declared that they are going to acquire more than 50% percent of the Dopod shares. This way Dopod would become HTC subsidiary and they would use the brand on the Asian market. The latest phone that HTC made for Dopod was the StrTrk phone based on the HTC Star Trek platform - same as the last device to be sold under the brand Qtek - the 8500 clamshell.
On 15th June 2006 HTC made a statement that they are no longer to manufacture handhelds under their in-house brand Qtek. The company would continue to support the already manufactured product line but as of now they start a new product line with their own brand - HTC. According to HTC, their new brand won't compete with the devices manufactured for other brands since the new HTC PocketPCs and Smartphones won't be available in areas where there are operator-branded HTC handsets. The reason for that is that the ODM and OEM manufacturing would remain a substantial part of their business.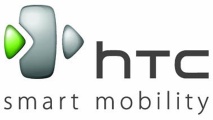 The new HTC logo
The change of the brand gets far beyond the change of the name tag itself. For the first time HTC will be directly involved in sales and marketing strategies and in the providing of technical support to end customers. Along with its new products the company is going to work actively on the sales of the latest Qtek 8500 clamshell.
The first additions to the new product line are the HTC TyTN and HTC MTeoR. In fact we have already reviewed these devices for you in a "a first look" preview. At the time we made our preview, the devices were known to us as Qtek 9600 (TyTN) and Qtek 8600 (MTeoR) and neither of the two was officially announced and there was no information from the manufacturer. The devices that are announced now seem pretty much the same as the devices we tested - with one big difference though: besides 3G fast data transfers, our Qtek9600/MTeoR test model had also a secondary VGA camera for video calls which obviously lacks in the new HTC MTeoR.
The HTC TyTN is a PocketPC phone based on the HTC Hermes platform, weighs 180 g and offers tri-band GSM, UMTS, GPRS, EDGE, Wi-Fi, Bluetooth, Infrared and mini-USB connectivity options plus a large 2.8-inch touchscreen TFT display, a sliding QWERTY keyboard, a microSD memory card slot, a 2 megapixel camera and a Windows Mobile 5.0 OS. Its heart is a Samsung processor which ticks at a speed of 400 MHz and draws power from a 1350 mAh Li-Poly battery.
The HTC MTeoR is a Smartphone based on the HTC Breeze platform weighing 120 g. It features tri-band GSM, UMTS, Bluetooth, an Infrared port and a mini-USB port. It has a 2.2-inch color TFT display, a 1.3 megapixel camera, a microSD card slot and a Windows Mobile 5.0 OS. The device is powered by a Samsung processor running at 300 MHz and has an 1190 mAh Li-Poly battery. Unfortunately,
Both devices are going to be available from late July.
o
my phone will read my t-mobile sim card then it won't same thing with cingular, can somebody please help me?
h
my Sp3i served me well. Solid build, dropped and kicked many time, no squeaky parts. Only a problem with one key which was fixed by imate warranty. Had a C500 too, no hardware problems at all, Orange will cover anything too. Using O2's wizard, the sl...
g
You obviously don't know what you're saying F173, did you know that HTC is the OEM of HP, Dell (and probably the new generation TREO) for their PPC? Quoting F173: "Their screens are spongy when using the stylus, unlike an HP device or other PDA."
ADVERTISEMENTS