Excellent connectivity
The HTC Desire offers a full set of connectivity options to have on a phone.
There's quad-band GSM/GPRS/EDGE securing worldwide roaming capabilities and dual-band (900/2100 MHz) 3G with HSPA. The HSDPA is quoted at 7.2Mbps and the HSUPA can reach up to 2Mbps.
Moving on to local connectivity – the Desire offers USB v2.0 connectivity via a microUSB port, Bluetooth v2.1 with A2DP support and Wi-Fi. Now that they've enabled Bluetooth transfers, there is very little more to ask for.
Internet tethering is also available via the microUSB port and it's as easy as it gets to activate. Just select tethering when the handset prompts you to select how to connect to your computer and you are good to go. HTC have also thought of people without a data plan and allow you to explicitly forbid the handset to access the mobile network for data.
Finally we have to mention that the built-in microSD card slot can also be used as a data transfer tool. Card-readers are going for peanuts these days so having one around is quite likely and they give some pretty impressive speeds.
Flash runs in the web browser
The great web browsing skills have been an inherent part of the Android platform since day one. Now that we are to version 2.1 things are even sweeter with the intuitive user interface even more polished and the functionality reaching new heights.
The user interface is pretty much nonexistent at first sight. With pinch-zooming enabled you don't even need the +/- zoom buttons that we have seen on most other Android handsets.
The address bar is locked at the top of the page so you can scroll down and hide that too. However you don't need to scroll to the top every time you want to tap a new address – just press the menu button and invoke it anywhere on the page.
The Desire browser also supports double tap zooming and text reflow, which make it extremely easy to read even longer texts on the phone display. Without text reflow you will either have to zoom out until the text fits (but then it's too small to read comfortably) or scroll sideways to read each line.
The minimalist UI is still quite powerful – hit the menu key and six keys pop up. You can open a new tab, switch tabs, refresh the page, go forward, open bookmarks. The final button reveals even more options (text copying, find on page, etc.).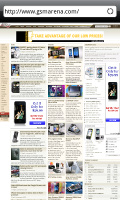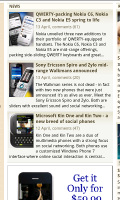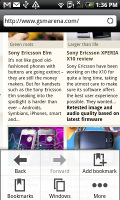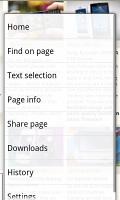 Web browsing is a pleasurable experience on the HTC Desire
The bookmark list shows a thumbnail view of the bookmarked pages and you get a "most visited" list in addition to the regular history.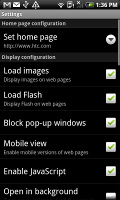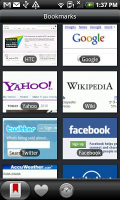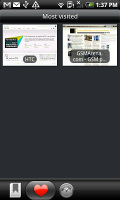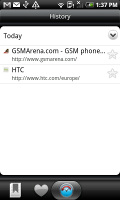 Browser setting • The bookmarks, Most visited and History lists
And to sweeten the deal even more HTC Desire has Flash support in its web browser. Its performance is better than the Legend and the Hero's, but sadly not perfect. Simpler Flash games for example run just fine.
However, Flash video support is pretty dodgy, the Desire failing to open the Vimeo and Netcafe videos that we tried. YouTube works fine but it uses the preinstalled YouTube application anyway so it doesn't really count.
Mind you, the Android 2.1 browser supports HTML5 and its video tag but since that's a few years (at best) away from becoming the norm, we won't be crediting it with extra points.
Organizer and Quick Office as usual
The HTC Desire comes with the usual set of organizing apps. It has a preinstalled document viewer (not all droids do), which handles office files just fine.
We are talking about the Quickoffice app, which has support for viewing Word, Excel, and PowerPoint, including the Office 2007 versions.
For editing, you will need to get the paid app though. There is also a PDF viewer.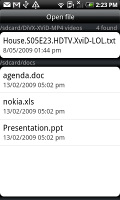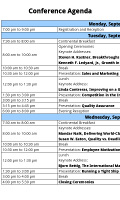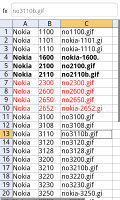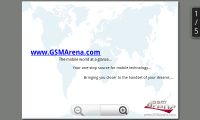 The Quickoffice handles .doc, .xls and .ppt files seamlessly, but needs a paid upgrade for editing
The doc viewer integrates with the Gmail app, which makes viewing attachments a cinch. You can't download them to the phone's internal memory however. Attaching saved files (and we mean all kind of files) is possible though.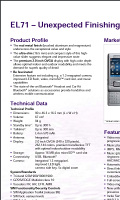 The PDF files are handled by the dedicated PDF reader
The calendar has four different types of view - daily, weekly, monthly and agenda. Adding a new event is quick and easy, and you can also set an alarm to act as a reminder.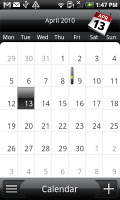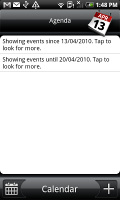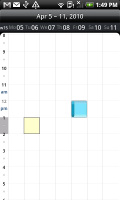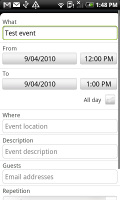 The HTC Desire organizer centerpiece – the calendar
Agenda view shows a list of all the calendar entries from the recent past to the near future. It's a very handy tool when you need to check your appointments for the next few days.
There is also a calculator aboard. It is nicely touch optimized with big, easy to hit buttons.
The HTC Desire features an alarm clock application, which allows a lot of alarms to be set, each with its own start time and repeat pattern. The Desk clock app turns your Desire in… well a Desk clock – it displays the current time and date and allows you to switch off the display backlighting to save battery power.