Display
The HTC Desire 500 is built around a 4.3" capacitive touchscreen of display of WVGA resolution (800 x 480 pixels). The pixel density clocks in at around 217 ppi, which is acceptable for a midranger.
Of course, there are more than a couple of 720p screens in the midrange already, but the Desire 500 has to make do with lower than HD resolution.
Resolution aside, the Desire 500's display has great viewing angles with only minor contrast fading when viewed from an angle, and reasonably good colors, as well.
Indeed, colors are a tad washed out and not as saturated as the ones on the HTC One mini, for instance, but on their own, they look just fine. The white balance on the Desire 500 mini is a bit too cold (bluish) to our taste, while the contrast isn't anything to write home about either.
Display test
50% brightness
100% brightness
Black, cd/m2
White, cd/m2
Contrast ratio
Black, cd/m2
White, cd/m2
Contrast ratio
HTC Desire 500
0.19
221
1139
0.45
558
1198
Nokia Lumia 1020
0
172
∞
0
398
∞
Nokia Lumia 920
-
-
-
0.48
513
1065
HTC One
0.13
205
1580
0.42
647
1541
Samsung Galaxy S4
0
201
∞
0
404
∞
Apple iPhone 5s
0.14
163
1145
0.49
596
1219
Apple iPhone 5
0.13
200
1490
0.48
640
1320
The display matrix is a standard RGB row, which we've taken a closer look at using our digital microscope.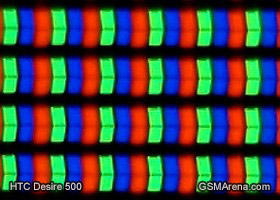 The HTC Desire 500 display matrix
When it comes to sunlight legibility, the Desire 500 comes in slightly above average. While not as good as some of the premium offerings, the screen will still be visible in moderately bright environments.
Sunlight contrast ratio
Nokia 808 PureView
4.698
Apple iPhone 5
3.997
Apple iPhone 5s
3.565
Samsung Galaxy S4
3.352
Samsung I9300 Galaxy S III
3.419
Samsung Omnia W
3.301
Samsung Galaxy S
3.155
Nokia N9
3.069
Samsung Galaxy Note
2.970
HTC One S
2.901
Samsung Galaxy S II
2.832
Samsung Galaxy S II Plus
2.801
Huawei Ascend P1
2.655
Nokia Lumia 900
2.562
HTC One
2.504
Sony Xperia Z
2.462
Samsung Galaxy S III mini
2.422
Motorola RAZR i
2.366
Samsung Galaxy Note II
2.307
Apple iPhone 4S
2.269
HTC One X
2.158
Nokia N8
2.144
HTC Desire 500
2.129
Nokia Lumia 1020
2.103
Oppo Find 5
2.088
BlackBerry Z10
2.051
Apple iPhone 4
2.016
Sony Ericsson Xperia ray
1.955
Samsung Galaxy Camera
1.938
HTC Butterfly
1.873
Sony Xperia V
1.792
Sony Xperia U
1.758
LG Optimus 4X HD
1.691
HTC One V
1.685
LG Optimus Vu
1.680
HTC Desire V
1.646
LG Optimus G Pro
1.552
LG Optimus 3D
1.542
Nokia Asha 302
1.537
Nokia Lumia 610
1.432
Gigabyte GSmart G1355
1.361
HTC Desire C
1.300
LG Optimus L7
1.269
LG Optimus L9
1.227
Meizu MX
1.221
Sony Xperia E dual
1.203
Samsung Galaxy Pocket
1.180
Sony Xperia tipo
1.166
Samsung Galaxy mini 2
1.114
You can find more information on our various display tests here.
Battery performance
As for battery life, HTC claims the Desire 500 will be good for up to 435 hours of 3G stand-by time and just over 12h hours of 3G talk. In our own battery test, the Desire 500 managed to achieve an overall endurance rating of the respectable 47 hours with 3G talk times coming in very close to the numbers provided by HTC.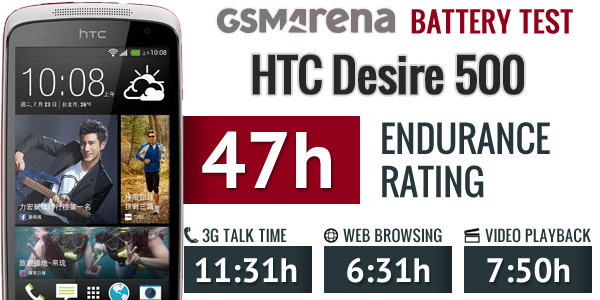 An endurance rating of 47h means that you'll be able to go for almost two days while performing an hour each of talking, browsing and watching videos before requiring a charge. For the full battery test breakdown, check out this post.