One in two
HTC Desire 600 dual sim review: One in two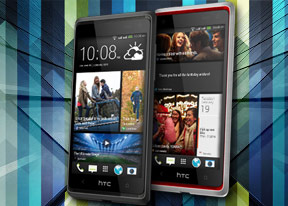 Google Now
As an integral part of Android Jelly Bean Google Now is available on the HTC Desire 600 dual sim. You can launch it by holding the home button.
In addition to being able to recognize voice commands, Google Now will learn from your usage patterns, and display relevant information. For example, if you search for a particular sports team frequently, Google Now will serve information for upcoming games you might want to watch.
The service interacts with you by generating cards which are displayed on your screen and give you a short overview of information it believes is relevant to you. Going to work in the morning? Google Now knows this and lets you know there's a big traffic jam on your usual way to the office, and will offer you an alternate route. This extends to a multitude of other areas, including weather, traffic, public transit stations, and nearby points of interest.
You can either type or talk to Google Now and the app will give you one of its aforementioned info cards (if available) and read you its contents aloud (you can disable this in the app settings). If there's no card to help with the answer to your question, Google Now will simply initiate a Google web search instead.
There is also a Google Now widget, which generates information for you based on what your interests are. You can put it on the lockscreen for at-a-glance info.
Synthetic benchmarks
As we already mentioned, the HTC Desire 600 dual sim uses the Snapdragon 200 chipset, which is Qualcomm's entry-level chipset for 2013. It's a quad-core CPU chipset and while four cores may sound impressive on paper, the chipset performance is far from that. The four cores are of the Cortex-A5 variety and they all run at 1.2GHz each. The Snapdragon 200 also includes an Adreno 203 GPU alongside 1GB of RAM.
The Cortex-A5 cores aren't the best performers out there so we don't expect much from the Snapdragon 200 in the following series of benchmark tests.
HTC has obviously kept things on a tight budget when constructing the Desire 600 dual sim, so they've picked the Snapdragon 200 as the cheapest current-gen chipset. Placing a Snapdragon 400 chipset inside it, would've put it directly against the HTC One mini and that's not what HTC is after here.
So, let's see how the four Cortex-A5 cores perform under heavy load. Naturally, single-core performance is underwhelming, but multi-core performance isn't great either. In Linpack, the Desire 600 dual sim barely managed to float above the rock bottom of our list.
Benchmark Pi
Lower is better
Samsung Galaxy S4 mini
166
Sony Xperia Z
264
HTC Butterfly
266
Oppo Find 5
267
HTC One X+
280
LG Optimus G
285
HTC One mini
293
Sony Xperia V
279
Samsung Galaxy Express
346
Samsung Galaxy S II Plus
409
Sony Xperia L
435
Samsung Galaxy S III mini
499
Sony Xperia go
543
Samsung Galaxy Xcover 2
552
HTC Desire 600 dual sim
554
HTC Desire X
639
Sony Xperia E dual
800
Samsung Galaxy Young
831
Linpack
Higher is better
Samsung Galaxy S4
788
LG Optimus G Pro
743
HTC One
646
Sony Xperia ZL
631
Sony Xperia Z
630
HTC Butterfly
624
LG Optimus G
608
Oppo Find 5
593
Sony Xperia SP
348
Samsung Galaxy S4 mini
413
HTC One mini
320
Samsung Galaxy Note II
214.3
Nexus 4
213.5
Sony Xperia L
191
Meizu MX 4-core
189
HTC One X+
177
Samsung Galaxy S III
175
HTC One X
160
LG Optimus 4X HD
141
HTC Desire 600 dual sim
107.7
Geekbench 2 tests just about everything you can think off. Unfortunately for the HTC Desire 600 dual sim, that didn't help it bounce up from the bottom of the chart.
Geekbench 2
Higher is better
Samsung Galaxy S4
3227
LG Optimus G Pro
3040
HTC One
2708
Sony Xperia Z
2173
HTC Butterfly
2143
Samsung Galaxy S4 mini
1937
Sony Xperia SP
2105
Sony Xperia ZL
1995
Samsung Galaxy S III
1845
LG Optimus G
1723
LG Optimus 4X HD
1661
iPhone 5
1601
HTC One mini
1417
Sony Xperia L
1073
HTC Desire 600 dual sim
970
Overall performance is in a similar situation - AnTuTu puts the HTC Desire 600 dual sim at the bottom, while Quadrant considers it to be above last year's midrangers, but it's still near the bottom bracket as far as the current generation of mid-range phones is concerned.
AnTuTu
Higher is better
HTC One
22678
Sony Xperia Z
20794
Samsung Galaxy S III
15547
Oppo Find 5
15167
Samsung Galaxy S4 mini
14518
HTC Butterfly
12631
HTC One mini
11434
HTC Desire 600 dual sim
11203
Sony Xperia L
9746
Samsung Galaxy Xcover 2
6650
Quadrant
Higher is better
Samsung Galaxy S4 mini
7153
HTC One mini
6048
Sony Xperia V
5816
HTC Desire 600 dual sim
5053
Samsung Galaxy Express
4998
Sony Xperia L
4279
Samsung Galaxy S II Plus
3542
Samsung Galaxy Xcover 2
3045
Samsung Galaxy Nexus
2316
Because of the low-end Adreno 203 GPU that's running the graphics department in the Snapdragon 200 chipset, we had to reside back to the NenaMark 2 benchmark. Unlike mid- and high-end devices, the Desire 600 dual sim GPU didn't max out this test, but it leads the selected 2012 mid-rangers by as much as 11 frames.
NenaMark 2
Higher is better
HTC Desire 600 dual sim
38.8
Sony Xperia E dual
27.7
Samsung Galaxy Fame
26.9
HTC Sensation XE
23.0
Sony Xperia J
19.6
LG Optimus L7
19.3
Sony Xperia miro
15.9
Samsung Galaxy mini 2
15.4
HTC Explorer
15.1
Samsung Galaxy Y Duos
13.2
Samsung Galaxy Pocket
12.9
Samsung Galaxy Ace
12.0
Now it's time to move onto web performance testing. We start with the JavaScript benchmark SunSpider. Here, the HTC Desire 600 dual sim browser is close enough to that of the faster smartphones, but you have got to remember that JS doesn't care for multi-core CPU architecture much. However, BrowserMark 2 and Vellamo show scores that can't really compete with the current batch of midrangers.
SunSpider
Lower is better
Samsung Galaxy S4 mini
1185
Samsung Galaxy S4 Active
1196
Samsung Galaxy S III
1192
HTC One mini
1237
Sony Xperia V
1189
Samsung Galaxy S II Plus
1460
HTC Desire 600 dual sim
1660
Samsung Galaxy Express
1654
Samsung Galaxy Nexus
1863
Samsung Galaxy Xcover 2
1901
HTC Desire X
2259
Sony Xperia L
2539
Sony Xperia E dual
2824
Sony Xperia J
2853
Samsung Galaxy Young
3578
BrowserMark 2
Higher is better
Samsung Galaxy S4 mini
2314
HTC One
2262
Sony Xperia Tablet Z
2170
HTC One mini
2164
Sony Xperia V
1957
Sony Xperia L
1809
HTC Desire 600 dual sim
1592
Samsung Galaxy Express
1154
Samsung Galaxy S II Plus
1079
Samsung Galaxy Xcover 2
1036
Sony Xperia E
992
Sony Xperia E dual
975
Samsung Galaxy S III mini
714
Samsung Galaxy Young
908
Vellamo
Higher is better
HTC One mini
2252
Sony Xperia Z
2189
Sony Xperia SP
2497
Samsung Galaxy Note II
2418
HTC One
2382
Sony Xperia Z
2189
Sony Xperia ZL
2186
HTC One X (Tegra 3)
2078
Samsung Galaxy S4
2060
Samsung Galaxy S4 mini
2019
HTC Butterfly
1866
Oppo Find 5
1658
Samsung Galaxy S III
1641
Sony Xperia L
1640
HTC Desire 600 dual sim
1572
LG Optimus 4X HD
1568
LG Optimus G
1522
Meizu MX 4-core
1468
Nexus 4
1310
Samsung Galaxy Fame
1234
Samsung Galaxy Young
1072
Sony Xperia E dual
1065
While synthetic benchmarks are good for making comparison tables and all, the stuff that matters is real-life performance. IN this respect the Desire 600 dual sim performed quite satisfactory most of the time - it's not as snappy as Galaxy S4 mini, for example, but it does all the daily tasks done without annoying lags or long waiting times.