One in two
HTC Desire 600 dual sim review: One in two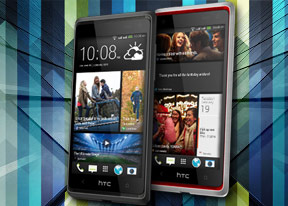 Great phonebook
The People app in Sense 5 has seen some minor changes too. Instead of clickable tabs at the bottom of the screen you get side-scrollable tabs on the top, which is a more convenient solution (and along the lines of stock Android).
You get the dialer, all contacts, groups (including favorite contacts there), as well as a call log. Once again, you can reorder tabs and remove the ones that you don't need (Groups or Call history).
Since the HTC Desire 600 dual sim has an extra SIM card slot, the software has been obliged to deliver the extra functionality. Firing the contacts app for the first time prompts you which contacts to be displayed.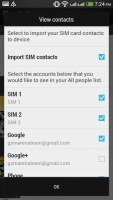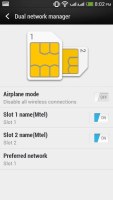 Viewing contacts from both SIM cards is a breeze • SIM card settings menu
From a drop-down menu at the top, you can filter contacts based on where they came from - the phone's address book, Facebook, Twitter or your HTC Sense account. If an account has multiple subgroups (e.g. Gmail's groups), they can be toggled individually as well by tapping the ellipsis button.
Selecting a contact displays the basic details: name and photo, numbers, emails and such. That's just the first tab - the other tabs hold further details and means of communication, including email and a call log.
The second tab holds the texts, emails and call history between you and the given contact. The next one displays social networking contact updates, and finally the "Gallery" pulls the albums that contacts have created on Flickr and Facebook. These tabs can be hidden and rearranged too.
When editing a contact, you start off with just one of the essential fields but you can easily add more. If a contact is linked with a Facebook or other account you can see them either merged or choose to view either profile. In fact, the phone will automatically suggest to do that when it thinks two entries are for the same person.
A handy option is Block contact - the Desire 600 dual sim will block all calls, texts and other messages from that contact. You can add any number too, which is great if you get spam messages from an automatic number. You can later check the call and message history from those contacts and get them out of the dog house if you like.
Telephony works like a charm
The HTC Desire 600 dual sim did great in our signal test, providing great reception in environments where others dropped calls. The volume in the earpiece was extremely loud (we almost never used it at full volume) while clarity wasn't an issue.
The dialer on the HTC Desire 600 dual sim displays your recent calls with the usual tabs above, accessible via side-swipes. There's smart dialing on the Desire 600 dual sim - once you start typing on the keyboard, contacts will be filtered by name or by phone number.
You can even switch to a QWERTY keyboard instead of the phone keypad. Another nice feature is the button that unveils all the contact info and lets you do just about anything - send an email, assign a custom ringtone and so on. It's a handy way to find and do something with the right contact, not just for dialing.
A nice touch is the call button, which is now split in two allowing you very easily to dial a person with either of the two SIM cards.
Yet another option is voice dialing, you hit the button, wait a couple of seconds for the Desire 600 dual sim to get ready and say "Call Dexter". This is a little too slow for our liking though (the phone says "Just one moment", pauses, "Say a command when you're ready" and then you can talk).
The HTC Desire 600 dual sim doesn't support video calling over the cellular network by default. The good news is there are a bunch of apps which could fill in the blank spot with video calling over Wi-Fi and 3G.
The handset packs the standard set of accelerometer-based tricks - turning the phone in the middle of a call will enable the loudspeaker, Quiet ring on pickup will reduce the loudness of the ringtone when you move the phone and Pocket mode boosts ringtone volume if the phone is in your pocket or purse.
The focus of BoomSound speakers is not absolute loudness but quality of the sound. The Desire 600 dual sim mini scored an Average mark with results very similar to that of the regular HTC One, It's evident that HTC didn't skimp on the speakers, but still the Desire 600 dual sim is not the easiest phone to hear. Nevertheless, it's one of the most pleasant to listen to.
| | | | | |
| --- | --- | --- | --- | --- |
| Speakerphone test | Voice, dB | Pink noise/ Music, dB | Ringing phone, dB | Overal score |
| HTC Desire 600 dual sim | 66.6 | 74.4 | 62.3 | Average |
| Sony Xperia Z | 60.1 | 58.3 | 61.6 | Below Average |
| Apple iPhone 5 | 66.8 | 66.1 | 67.7 | Below Average |
| Nokia Lumia 920 | 61.6 | 64.8 | 65.8 | Below Average |
| HTC One X+ | 64.6 | 65.8 | 74.6 | Average |
| Huawei Ascend P6 | 64.3 | 66.3 | 75.7 | Average |
| Huawei Ascend Mate | 67.0 | 66.6 | 75.0 | Good |
| Oppo Find 5 | 70.7 | 67.7 | 73.0 | Good |
| HTC One | 69.3 | 66.6 | 75.9 | Good |
| Samsung Galaxy Mega 6.3 | 67.2 | 69.8 | 75.7 | Good |
| Samsung I9505 Galaxy S4 | 70.6 | 66.2 | 77.3 | Good |
| Samsung Galaxy S III | 75.1 | 66.5 | 75.0 | Good |
| LG Optimus G | 74.6 | 71.3 | 82.7 | Excellent |
Messaging well set
Android and the HTC Desire 600 dual sim are capable of handling all sorts of messages - SMS, MMS, email. Social networking is covered by several apps and widgets, and there's Hangouts, which can connect you to Google's chat network.
SMS and MMS messages are displayed in threads - you see a list of all conversations, each one is listed with the contact's photo, name and the subject of the last message, as well as a part of the actual message (you can choose 1, 2 or 3 preview lines). Tapping a conversation brings up the entire message history with that contact.
To add recipients, just start typing a name or number and choose from the contacts offered. The compose box covers about a fifth of the screen in portrait mode or half in landscape.
The keyboard is pretty nice. Keys are well spaced but the overlay doesn't include any gaps between them, which is only a cosmetic feature and poses no discomfort. The 4.3" diagonal offers enough space for comfortable typing. Some keys can be long pressed to get additional symbols, which speeds up typing in some cases as you don't have to keep going back to the symbols section of the keyboard.
A tap-and-hold on the text box gives you access to functions such as cut, copy and paste. You are free to paste the copied text across applications like email, notes, chats, etc. and vice versa. You can also enable arrow keys, which show up below the portrait keyboard (but not the landscape one).
Prediction is available, even prediction for the next word you're about to type. When the phone has learned from you, it can get pretty good at guessing and saving you whole words. You can edit a personal dictionary of words and backup and restore it either to local storage or to an email account.
HTC has included the Trace keyboard, which acts like Swipe. You drag a finger over the desired keys and the phone predicts what you're trying to write. It works really well but language support is limited. Voice transcription is also available.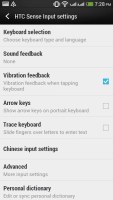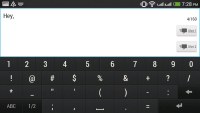 QWERTY keyboard comes with Trace
Converting SMS into MMS is as simple as adding some multimedia content to the message. You can just add a photo or an audio file to go with the text, or you can get creative with several slides and photos.
The HTC Desire 600 dual sim comes with two email apps - the traditional Gmail app and the built-in HTC Mail app, which merges all your email accounts into a single interface.
The Gmail client has the trademark conversation style view and can manage multiple Gmail accounts. Batch operations are supported too, in case you need to handle email messages in bulk.
The HTC Mail app features conversation view in an attempt to mimic the original Gmail client threaded view, which is otherwise missing in the generic inbox. Emails in a thread are grouped and a number of emails and a down arrow appear - tap the arrow to show/hide the messages in that group.
You can add multiple accounts (from multiple services) and view them individually or in a combined inbox. Each account is color-coded, so you can quickly associate each message with its relevant account.
The Mail app has tabs like many other Sense 5 apps. You can choose the Filters setting and show/hide the ones you want or rearrange the visible ones. You can choose from All, Favorites, Unread and Attached (hidden by default).
Email sorting is enabled (in either ascending or descending order) by date, subject, sender, priority and size. The currently applied filter is displayed in the top right corner of the display.
There's hardly anything we can think of that the HTC One lacks in terms of email capabilities. The settings for popular email services are automatically configured. POP/IMAP accounts and Active Sync accounts are supported.