One in two
HTC Desire 600 dual sim review: One in two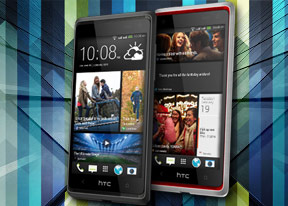 HTC Gallery sans Zoe
The HTC Desire 600 dual sim comes with the standard for Android gallery, complete with some perks thrown in by the Sense 5 UI. Sadly, Zoe isn't one of them, as it would be an overkill for the phone's hardware. Still, you get a very sweet set of features to play with.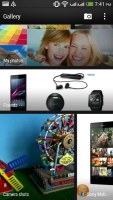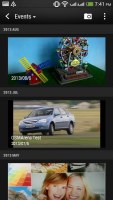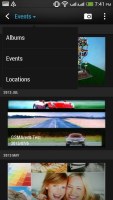 Standard looking gallery, at first • Events view is where Zoe comes in
One of those features is Events. Zoe can be used as a regular image gallery with photos stacked together by folders, but Events groups photos by when and where they were taken. Each event has a 30 second highlight video, which is stitched together from those 3 second clips plus a slideshow, including some of the pics. You can remove clips and add new ones to the highlight video, add a video effect and also include a background music (the tracks are preset, though it is possible to add new ones to the list).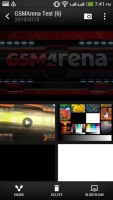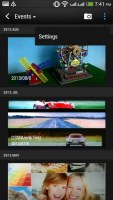 The gallery • Events with video highlights
That's just the Retouch section of the Photo Editor. There are also effects, frames and transformations available.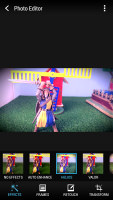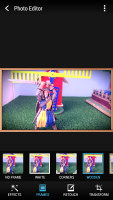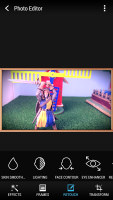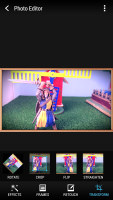 The photo editor has tons of options
As before, you can find a map with your geotagged images in the Gallery.
Video player with very limited codec support
The Video player on the HTC Desire 600 dual sim has a pretty simple interface. There isn't even a dedicated app, you just pick a video from the gallery. Anyway, you get a Play/Pause button and a slider to scrub through the video, a button to launch the camera and a small square with the current time and battery charge. Those automatically hide after a few seconds, of course.
The video player can use the Beats audio sound enhancement just like the music player, which is great for watching videos. The video player supports DLNA and subtitles.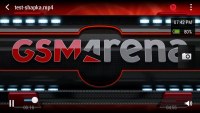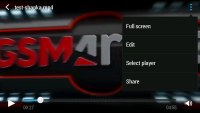 The video player
The HTC Desire 600 dual sim failed pretty miserably when it came to codec support. It couldn't play any DivX videos, XviDs refused to play, too, and MOV files were out of the question. AC3 sound is not supported, yet it managed to play MKV files in up to 1080p resolution.
With a large display like that the HTC Desire 600 dual sim could really use some proper codec support to become a powerful tool for watching video on the go. Luckily, there are a few dozen video players in the Play Store to address that deficiency and some of them are even free.
Music player with Beats
The HTC Desire 600 dual sim comes with a custom music player, which is HTC Beats enabled, of course. It can organize your music library by Artist, Album, Songs, Playlists, Genres, Podcasts or Folders (we don't see this option very often). The phone will also easily stream songs over DLNA, you're not limited to the music library you have in the internal memory.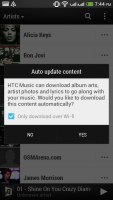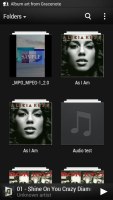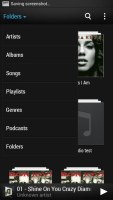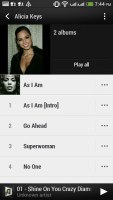 Browsing through the music library
The music player has some handy features out of the box. It can automatically look for and download Album art and artist photos (you can limit it to Wi-Fi connections only) and it can also search for lyrics. The lyrics can be displayed either in karaoke mode or just as text.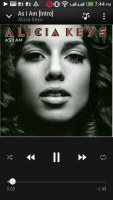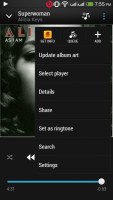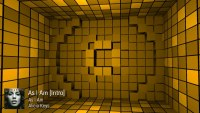 The Now playing interface • The player automatically finds the song's lyrics
There's no equalizer on board, you just have the option to toggle Beats audio on or off. That's not ideal, but at least the BoomSound stereo speakers on the front of the Desire 600 dual sim are quite loud.
SoundHound is the track recognition of choice for HTC and it has even been integrated it into the music player UI. It easily ID's a song from just a short sample. Or you can say the name of the artist and song and SoundHound will find it for you, including lyrics. The free app however only offers a limited number of uses (99).
Good old FM Radio
There's an FM radio, which has a pretty simple interface. It automatically scans the area for the available stations and allows you to mark some of them as favorite. It also supports RDS and allows loudspeaker playback.
Aside from the headphones or loudspeaker choice you also get Mono sound if the reception is poor. There's no Beats enhancement here, however, not is there a playback control card on the lockscreen. The SoundHound shortcut will find out the name of the currently playing song for you and will offer to take you to a digital music store where you can buy it or lookup the song's lyrics or watch the video on YouTube.
Excellent audio output
The HTC Desire 600 is not quite as loud as the One or One mini, but it can certainly match the smoothness of the output of its premium siblings.
The smartphone did great in the active external amplifier part of the test, posting great scores all over the field. And even though it's not quite as loud as the One, it's still average at worst.
There's very little degradation when you plug in a pair of headphones either. The Desire 600 dual sim still has excellent frequency response, dynamic range and signal-to-noise ratio, while the distortion is kept well under control. Stereo crosstalk does increase, but again it's no worse than average - a very solid overall performance for the midranger.
And here go the results so you can see for yourselves.
| | | | | | | |
| --- | --- | --- | --- | --- | --- | --- |
| Test | Frequency response | Noise level | Dynamic range | THD | IMD + Noise | Stereo crosstalk |
| HTC Desire 600 dual sim | +0.04, -0.31 | -91.3 | 89.5 | 0.020 | 0.052 | -89.6 |
| HTC Desire 600 dual sim(headphones attached) | +0.10, -0.25 | -91.1 | 89.4 | 0.020 | 0.045 | -47.5 |
| HTC One mini | +0.14, -0.12 | -94.4 | 94.0 | 0.015 | 0.013 | -87.9 |
| HTC One mini(headphones attached) | +0.83, -0.58 | -94.5 | 94.1 | 0.021 | 0.034 | -77.9 |
| Samsung Galaxy S4 mini | +0.06, -0.05 | -93.5 | 92.7 | 0.0090 | 0.056 | -86.2 |
| Samsung Galaxy S4 mini (headphones attached) | +0.08, -0.04 | -93.2 | 91.8 | 0.029 | 0.089 | -53.3 |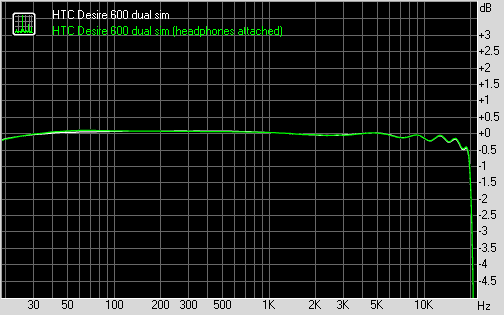 HTC Desire 600 dual sim frequency response
You can learn more about the whole testing process here.