Managing expectations
HTC Desire 616 dual sim review: Managing expectations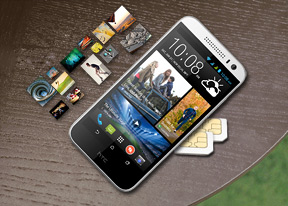 Display
The HTC Desire 616 dual sim has a relatively large 5" screen. It has 720p resolution for a satisfactory 294ppi pixel density. It's a basic TFT LCD though, so viewing angles are not perfect - there's a slight color shift and contrast loss at an angle.




The screen is sharp but not the brightest
The screen is quite dim at its maximum setting - outputting just below 500 nits when cranked up all the way. The Desire 816's screen wasn't much brighter though and neither is a flagship like the Sony Xperia Z2. On the up side, the contrast is about 1000:1, which is quite good for the class.
Display test
50% brightness
100% brightness
Black, cd/m2
White, cd/m2
Contrast ratio
Black, cd/m2
White, cd/m2
Contrast ratio
Samsung Galaxy Grand 2
0.24
232
815
0.72
588
813
HTC Desire 616 dual sim
0.35
306
880
0.5
487
976
Alcatel Idol X+
0.38
309
805
0.67
601
895
Sony Xperia C
0.18
151
842
0.66
639
962
HTC Desire 700 dual sim
0.22
235
1086
0.59
671
1142
Sony Xperia M2
0.33
325
989
0.64
643
1000
HTC Desire 816
0.15
164
1087
0.46
478
1032
The front glass is not a scratch-resistant and is fairly glossy, which worsens sunlight legibility. That said the LG G3 flagship performs virtually the same, despite being brighter. The Desire 816 and 700 dual sim are at this level of legibility too, while potential competitors like the Samsung Galaxy Grand 2 and the Sony Xperia M2 do worse.
Sunlight contrast ratio
Nokia 808 PureView
4.698
Apple iPhone 5
3.997
Samsung Galaxy Note 3
3.997
Samsung Galaxy K zoom
3.675
Apple iPhone 5s
3.565
Samsung Galaxy S5
3.549
Alcatel Idol X+
3.527
Apple iPhone 5c
3.512
Samsung Galaxy Note 3 Neo
3.487
Motorola RAZR MAXX
3.42
Samsung I9300 Galaxy S III
3.419
Nokia Lumia 925
3.402
Gionee Elife S5.5
3.386
Samsung I9505 Galaxy S4
3.352
Samsung Omnia W
3.301
Samsung I9000 Galaxy S
3.155
Samsung Ativ S
3.129
Samsung I9190 Galaxy S4 mini
3.127
Samsung Galaxy S4 zoom
3.118
Nokia N9
3.069
Samsung Galaxy Note
2.97
Samsung Galaxy Premier
2.958
Sony Xperia Z1
2.95
HTC One S
2.901
Samsung I8730 Galaxy Express
2.861
BlackBerry Q10
2.856
Samsung I9100 Galaxy S II
2.832
Samsung Galaxy S II Plus
2.801
BlackBerry Z30
2.79
Sony Xperia ZR
2.672
Huawei Ascend P1
2.655
Nokia Lumia 900
2.562
HTC One Max
2.537
Nokia Lumia 720
2.512
HTC One
2.504
Motorola Moto G
2.477
Sony Xperia Z
2.462
Samsung Galaxy S III mini
2.422
LG G Flex
2.407
HTC One (M8)
2.371
Motorola RAZR i
2.366
Sony Xperia ZL
2.352
Samsung Galaxy Note II
2.307
Oppo Find 7a
2.279
Alcatel One Touch Hero
2.272
Apple iPhone 4S
2.269
HTC Desire 600 dual sim
2.262
Nokia Asha 311
2.25
LG Nexus 5
2.228
Nokia Lumia 820
2.193
HTC One (E8)
2.185
Nokia Lumia 920
2.17
HTC One X
2.158
Nokia N8
2.144
Nokia Lumia 620
2.142
Nokia 515
2.134
HTC Desire 500
2.129
Sony Xperia acro S
2.119
Nokia Lumia 1020
2.103
Oppo Find 5
2.088
Sony Xperia SL
2.078
Nokia Lumia 630
2.056
BlackBerry Z10
2.051
Samsung I9295 Galaxy S4 Active
2.022
Apple iPhone 4
2.016
HTC One mini
2.003
Huawei Ascend P7
1.992
LG G2
1.976
Oppo R819
1.957
Sony Ericsson Xperia ray
1.955
Sony Xperia Z2
1.944
Nokia Lumia 1320
1.941
HTC One mini 2
1.94
Samsung Galaxy Camera
1.938
Sony Xperia J
1.932
Acer CloudMobile S500
1.931
LG Nexus 4
1.926
LG G Pro 2
1.922
Samsung Galaxy Mega 6.3
1.913
Nokia Asha 308
1.911
Sony Xperia T
1.894
HTC Desire X
1.878
HTC Windows Phone 8X
1.873
HTC Butterfly
1.873
HTC Butterfly S
1.867
Huawei Ascend P6
1.865
Huawei Ascend Mate
1.845
LG G2 mini
1.838
LG G3
1.82
Nokia Lumia 1520
1.813
HTC Desire 616 dual sim
1.797
Sony Xperia V
1.792
HTC Desire 816
1.783
Sony Xperia Z1 Compact
1.772
HTC Desire 700 dual sim
1.769
Sony Xperia U
1.758
Meizu MX3
1.754
LG Optimus G
1.753
Sony Xperia T2 Ultra
1.74
Sony Xperia SP
1.733
LG Optimus 4X HD
1.691
Oppo Find 7
1.691
HTC One V
1.685
BlackBerry Q5
1.682
LG Optimus Vu
1.68
LG Optimus GJ
1.666
LG Optimus 3D Max
1.658
HTC Desire V
1.646
Samsung Galaxy Xcover 2
1.632
Samsung Galaxy Ace 3
1.622
Jolla Jolla
1.605
Sony Xperia Z Ultra
1.578
Sony Xperia go
1.577
Samsung Galaxy Ace 2 I8160
1.566
Samsung Galaxy Core
1.563
LG Optimus G Pro
1.552
Motorola Moto E
1.545
LG Optimus 3D
1.542
Nokia Asha 302
1.537
BlackBerry Curve 9320
1.488
Sony Xperia M
1.473
Oppo N1
1.47
Meizu MX 4-core
1.462
Nokia Lumia 610
1.432
Samsung Galaxy S Duos
1.4
Samsung Galaxy Grand Neo
1.393
Sony Xperia M2
1.393
Samsung Galaxy Grand 2
1.38
Sony Xperia E1
1.372
Nokia Lumia 625
1.371
Gigabyte GSmart G1355
1.361
Sony Xperia L
1.351
Samsung Galaxy Mega 5.8
1.35
Sony Xperia miro
1.324
Samsung I9082 Galaxy Grand
1.321
Samsung I8530 Galaxy Beam
1.315
HTC Desire C
1.3
Nokia X
1.291
Sony Xperia C
1.283
Nokia Asha 503
1.281
Nokia Asha 501
1.27
LG Optimus L7
1.269
Nokia Lumia 510
1.268
Samsung Galaxy Fame
1.245
LG Optimus L9
1.227
Meizu MX
1.221
Samsung Galaxy Young
1.22
Sony Xperia E
1.215
Nokia XL
1.204
Sony Xperia E dual
1.203
Samsung Galaxy Pocket
1.18
Nokia Asha 305
1.178
Nokia Asha 306
1.175
Sony Xperia neo L
1.169
Sony Xperia tipo
1.166
Nokia Lumia 520
1.161
Samsung S6802 Galaxy Ace Duos
1.148
Samsung Galaxy mini 2
1.114
Battery life
The HTC Desire 616 dual sim has a 2,000mAh Li-Po battery. That's fairly small for a phone this size but it's user-replaceable so you can easily pop in a spare. Still, the octa-core processor is bound to put a lot of pressure on it.
The phone lasted 13 hours of calls on a 3G network, an hour short of the official reading. That's about the same as the Desire 816 and a bit less than the Desire 700 dual sim. It helps a bit that the second SIM is disabled during a call.
The web browsing and video playback times both barely broke past the 5 hour mark, making it one of the worst performers of the Desire family with a place near the bottom of our all-time chart.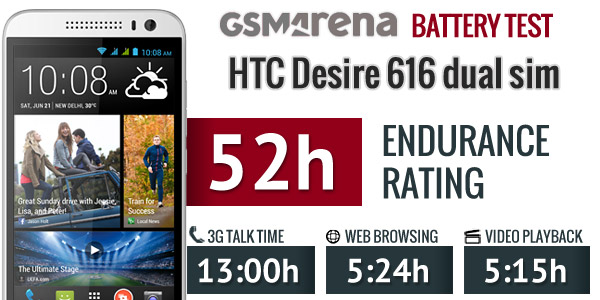 Note that standby power draw is calculated into the endurance rating but isn't indicated in the image above.
You can get more details on HTC Desire 616 dual sim's battery life from our blog post. Check out info on our testing procedure here.
Connectivity
The Desire 616 dual sim (as the name suggests) accepts two SIM cards. One of the slots takes miniSIMs (that's SIM1) and the other does microSIMs (SIM2). Both can be used for voice and texts and also both can be used for data connection, but with a twist.


SIM1 is the miniSIM slot, SIM2 the microSIM slot
Only SIM1 has 3G connectivity making it the only viable option. Also note that this is a dual-standby phone, where both SIMs are active simultaneously when there is no call going in. Once a call is initiated on one of them, the other becomes unreachable for the duration of the call. There's an app to set up call forwarding to handle this case.
Both SIM slots offer quad-band 2G connectivity and SIM1 adds dual-band 3G on top of that. It's not the fastest 3G with up to 21Mbps downlink and up to 5.76Mbps uplink and there's no LTE.
42Mbps models are quite common but at least it's better than what the Desire 700 dual sim got (14.4Mbps downlink).
The phone can connect to 2.4GHz Wi-Fi b/g/n networks to access the Internet or serve as a hotspot to share its data connection with other devices. Another use of Wi-Fi is wireless display mirroring. The microUSB port is just for charging / computer connection, there's no MHL.
The rest of the local connectivity includes Bluetooth 4.0 with the apt-X audio codec for high-quality audio streaming.
The MediaTek MT6592 chipset also features a built-in A-GPS receiver, but unlike newer MediaTek chipsets or competing Snapdragon designs there's no GLONASS (the Russian GPS alternative) or Beidou (the Chinese one). Those aren't strictly necessary if you don't live in either of those countries but can improve lock times and accuracy even in other regions as in this way more satellites are available for the phone to connect to.