Managing expectations
HTC Desire 616 dual sim review: Managing expectations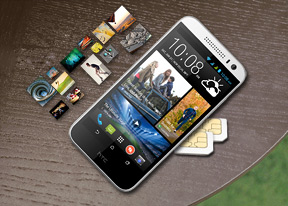 Lackluster performance
The HTC Desire 616 dual sim is one of several HTC MediaTek-powered phones but is the only one that went for the MT6592 chipset with an octa-core processor - this is a set of straight eight Cortex-A7 cores, all running at 1.4GHz. Flagship octa-core designs using the big.LITTLE setup see four of those replaced with the more powerful Cortex-A15 but the Desire 616 dual sim is a midranger, through and through.
We still would've liked more than just 1GB of RAM. One of the more intensive benchmarks we use ran out of memory. Even with lighter benchmarks we noticed that the phone had to reload the homescreen (which takes a couple of seconds) as it was purged to make room for the running app.
For graphics, the MediaTek chipset in the Desire 616 uses a quad-core Mali-450MP4. We've seen this chipset struggle in 1080p phones like the Huawei Ascend P7 and the Gionee Elife S5.5 - hopefully it does better at 720p resolution. Also there's no OpenGL ES 3.0 support, which is only added by Android 4.3 and later.
Before we begin, it's worth noting that our anti-cheat benchmarks detected no foul play.
We've lined up a selection of large-screened dual-SIM midrangers, some of which use the same chipset as the Desire. The Alcatel Idol X+ is based on the MT6592 chipset but the CPU is clocked at 2GHz and there's 2GB of RAM. It runs Android 4.2 like the Desire 616, while all the others are on v4.3 or later.
Unsurprisingly, the Alcatel Idol X+ takes the cake in the raw CPU benchmark but the HTC Desire 616 dual sim posts a competitive result - nearly double what a Moto G or Galaxy Grand 2 achieve in Geekbench 3. Even the Desire 816 lags behind (it only has four Cortex-A7 cores @ 1.6GHz).
Basemark OS II gives the overall victory to the Desire 816, which also posted good single-core performance. The 616 takes the mutli-core test by quite a margin but that's the only place it shines.
GeekBench 3
Higher is better is better
Alcatel Idol X+
2842
Gionee Elife S5.5
2581
HTC Desire 616
2125
Huawei Ascend P7
1895
HTC Desire 816
1510
Samsung Galaxy Grand 2
1159
Motorola Moto G
1120
Basemark OS II
Higher is better is better
HTC Desire 816
520
Gionee Elife S5.5
492
HTC Desire 616
378
Basemark OS II (single-core)
Higher is better is better
Gionee Elife S5.5
1781
HTC Desire 816
1739
HTC Desire 616
1533
Basemark OS II (multi-core)
Higher is better is better

HTC Desire 616
12986
Gionee Elife S5.5
8941
HTC Desire 816
7071
Overall performance in AnTuTu 4 places the Desire 616 slightly ahead of its bigger sibling, however the other octa-cores in the lineup beat it with higher clockspeeds.
AnTuTu 4
Higher is better is better
Alcatel Idol X+
31717
Gionee Elife S5.5
26957
Huawei Ascend P7
25812
HTC Desire 616
23482
HTC Desire 816
21580
Motorola Moto G
17214
Samsung Galaxy Grand 2
17106
GFXBench 3.0 Manhattan failed to run as it requires OpenGL ES3.0, so we had to go with 2.7 T-Rex. The quad-core Mali-450MP4 can double the performance of Adreno 305 found in Snapdragon 400-based phones (like the Desire 816 and Moto G).
Still, even dropping to the native 720p resolution of the Desire 616 dual sim wasn't enough and the result was a dismal 13.4fps.
GFX 2.7 T-Rex (1080p offscreen)
Higher is better is better
Huawei Ascend P7
12.3
Alcatel Idol X+
10.9
Gionee Elife S5.5
10.8
HTC Desire 616
8.7
HTC Desire 816
5.9
Samsung Galaxy Grand 2
5.8
Motorola Moto G
5.6
GFX 2.7 T-Rex (onscreen)
Higher is better is better
HTC Desire 616
13.4
Huawei Ascend P7
12.4
HTC Desire 816
11
Gionee Elife S5.5
10.6
Samsung Galaxy Grand 2
10.6
Alcatel Idol X+
10.6
Basemark X shows Mali-450MP4 doubling the score of Adreno 305 but it too reports sub-10fps framerates.
Basemark X
Higher is better is better
HTC Desire 616
3006
HTC Desire 816
1437
The web browser experience relies on fast single-core performance for JavaScript and the Desire 616 comes behind the 816 purely because of clockspeed rather than core count.
Kraken 1.1
Lower is better is better
Gionee Elife S5.5
12201
HTC Desire 816
13564
HTC Desire 616
16953
All those cores didn't help the Desire 616 win in page rendering either - it has the same screen resolution as its bigger sibling but failed to keep up. The Gionee Elife S5.5 with the same octa-core processor but at a higher clockspeed lagged behind because it renders at more than twice the resolution (1080p vs. 720p).
BrowserMark 2.1
Higher is better is better
HTC Desire 816
774
HTC Desire 616
683
Gionee Elife S5.5
432
In the end, an octa-core processor to brag about may be good marketing but the reality is it doesn't do well at daily tasks, especially if it's clocked lower than quad-core processors. The GPU is no champ either, though at least it beats the Adreno 305 that is used in several competing phones. Lack of OpenGL ES 3.0 can limit the game selection though.
We come back to the 1GB of RAM - it's not unheard of in a midrange device but it's clearly not enough with the current software setup. Maybe we just got used to KitKat's Project Svelte and its efficient use of memory.
Still, having to wait for apps to reload because the OS ran out of RAM and had to close background apps holds back multitasking. Running one app at a time fast doesn't make up for that and in the Desire 616's case it's not all that fast either.