Managing expectations
HTC Desire 616 dual sim review: Managing expectations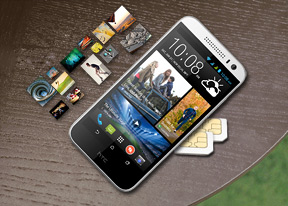 Minor tweaks to a stock phonebook
Out with the Sense phonebook, in with stock Android. It gets the job done but is missing one of our favorite features that goes way back to the Windows Mobile days. The Sense phonebook uses tabs to display texts, emails and social networking messages in the contact info, a wonderful information hub.
Here viewing a contact's details just shows the basics - phone numbers, email and other tidbits you've added. One proprietary change is that certain phone numbers can be bound to a specific SIM, that will be the default SIM to call and text that number.
This sounds like a great addition to the Desire 616's dual-SIM nature but the execution is lacking. First off, if you assign a number to SIM2 but SIM1 is currently active the phonebook will still ask which SIM to use. It dials directly only if the preferred SIM is currently active, so often it's just a reminder of which SIM to use without saving you that extra tap.
Another questionable UI choice is that the contact editor is unaware of this feature. You have to go through the Associate card option in the menu instead. Small things but we go to HTC for the feel of polish it brings and blemishes like this disappoint.
The contact list itself is bog standard with an alphabet scroll, search option and the ability to display contacts from multiple sources. That means multiple online sources as well as the two SIM cards. Contacts can be moved between phone memory and SIM cards.
Dual SIM telephony lacks refinement
The HTC Desire 616 dual sim had solid reception on both of its phone connections. The in-call audio has good quality but is a bit on the quiet side. Inside the notification area you'll find toggles to switch SIMs or just have the dialer ask each time.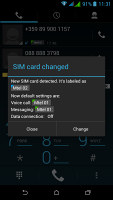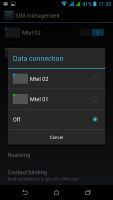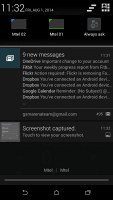 The Desire 616 helps you set up new SIM cards • picking a default SIM
The phone does not support dual-standby - while one card is in a call, the other goes offline. There's a pre-installed app to help you set up call forwarding to deal with this if you need to.
The dialer shows the call log behind the keypad so you can quickly call the last two numbers. You can also go into the call log for a more detailed look, including the option to sort calls by type (incoming, outgoing, missed).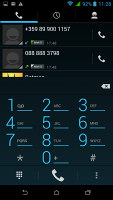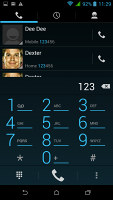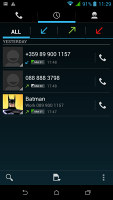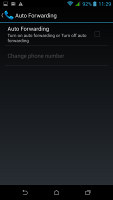 The dialer • call log • setting up call forwarding
Smart dial is supported and it searches both numbers and names, but name search is a bit flawed. For some reason it prefers to split the letters instead of look for consecutive letters. For example, typing "33" to look for Dexter puts results like Dee Dee and Duck Dodgers first. It also fails to look for more than two letters, meaning you can't just type "339" for Dexter either. Again, small issues but things start to pile up.
The HTC Desire 616 dual sim features a single loudspeaker on the back, HTC's trademark BoomSound speakers are nowhere to be found. The device scored a Below Average mark. You can find more about the testing process here.
| | | | | |
| --- | --- | --- | --- | --- |
| Speakerphone test | Voice, dB | Pink noise/ Music, dB | Ringing phone, dB | Overall score |
| HTC Desire 616 dual sim | 61.5 | 58.5 | 72.6 | Below Average |
| HTD Desire 816 | 66.6 | 65.7 | 66.6 | Below Average |
| Sony Xperia C | 65.3 | 61.7 | 75.7 | Average |
| HTC Desire 700 | 65.7 | 66.7 | 75.7 | Good |
| Samsung Galaxy Grand 2 | 66.5 | 66.6 | 75.7 | Good |
| Sony Xperia M2 | 66.6 | 66.7 | 75.7 | Good |
| Oppo N1 | 73.7 | 67.7 | 78.7 | Very Good |
| Motorola Moto G | 81.6 | 75.7 | 82.7 | Excellent |
Note that you can set individual ringtones for the two SIM cards, to easily tell them apart.
Basic messaging
Unlike the phonebook, the Messaging app is proper old-school Sense and we don't mean it in a good way. Most of the functionality is present but the looks are outdated.
Texts and MMS messages are grouped into threads by contact. You can use the notification area to switch SIM cards. Messages have small labels beneath them to indicate which SIM was used to send them. You can change the ringtone and the wallpaper for each thread. A notification pops up when a new message arrives, a feature you can disable if you wish.
The message editor features a smiley button but those aren't the standard set you might be used to if you're using Google's keyboard or the Hangouts app, those have a much larger selection than what HTC offers here.
The keyboard was quite easy to type on but you can go through the calibration process to improve the accuracy. A Trace keyboard is available if you prefer swiping over typing and you can add arrow keys for better cursor control. Voice input is another option.
The HTC Mail app is another Sense member that got axed for the Android version. The stock Email app isn't bad, don't get us wrong, it supports multiple accounts and a combined inbox and email setup was quick and easy. Still, this half Sense/half stock mishmash isn't what we expected.
The Gmail app is also on board to handle your Google-based email.