Managing expectations
HTC Desire 616 dual sim review: Managing expectations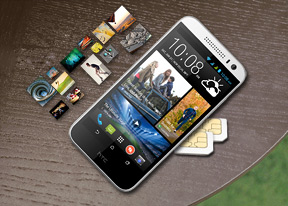 Stock Gallery and no Zoe
The stock Android Gallery on board the HTC Desire 616 dual sim is quite plain. It can group and sort photos by album, location or time but that's as far as it goes. We miss online album and social network integration and the advanced editing features that come with Zoe.
Instead of Zoe we just get Video Highlights. It automatically stitches images into a video slideshow complete with multiple themes and soundtracks to choose from. You can pick which photos and videos go into a Highlight and choose whether to keep the audio from videos or not.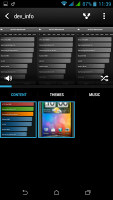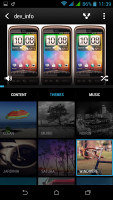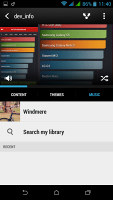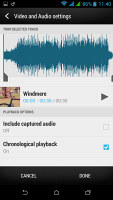 Creating a Video Highlight is easy
Simple video player
The video player is as basic as they get - you see a list of all videos and tap on one to play it. The player lets you adjust the video aspect ratio and scaling but that's as far as it goes, there are no subtitles or access to the equalizer here.
Video codec support proved decent and the phone played 1080p videos stored in AVI, MP4 and MKV files but AC3 and DTS sound was a no go.
While the Desire 616 dual sim does not have wired TV out it does support wireless screen mirroring over the Miracast protocol.
Music player
In contrast, the music player is quite feature-rich. You can browse your music collection by artist, album or playlist, including an automatically created Recently added playlist.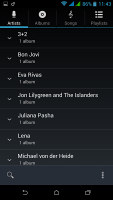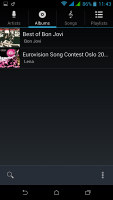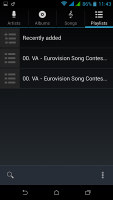 Browsing through the music library
The Now playing interface isn't exactly pretty (the latest Sense music player is a looker) but at least the buttons are visible and easily accessible. Music controls are also available in the notification area but strangely none showed up on the lockscreen.
We're pleased - if a bit surprised - to report the Desire 616 dual sim has a music player equalizer. Other HTC phones, even flagships, haven't had one in quite a while but here you get a 5-band equalizer with presets, bass boost and 3D effect. You can also add a reverb effect to simulate differently-sized rooms or halls.
FM Radio with broadcast recording
The phone has an FM receiver with RDS support. It supports RDS so you can view the station name and additional info it broadcasts and you can play the sound through the loudspeaker (headphones should still be plugged in).
A nice but rare option lets you record radio broadcasts. Keep in mind that this feature may be region-specific due to varying local regulations.
Audio output disappoints
We are used to seeing market-leading performances from HTC smartphones in terms of audio quality, but unfortunately the Desire 616 didn't quite manage to repeat the performance of its siblings we've recently reviewed. The smartphone put in a decent if unspectacular showing in the first part of our test, but fell flat on its face in the second half.
When attached to an active external amplifier, the HTC Desire 616 delivers impressively loud audio with low noise levels, very good dynamic range and stereo crosstalk. The frequency response was adequate for the most part although its extreme bass frequencies are cut off. Harmonic distortion is nicely low, but the intermodulation distortion reading isn't ideal.
Plug in a pair of headphones when we plugged in a pair of headphones. Volume levels dropped from excellent to average, while stereo crosstalk and intermodulation distortion spiked. Even noise levels and dynamic range were affected, adding up to a rather disappointing overall performance.
Keep in mind that we used Google's Play Music app for the test, rather than the default Music app. The performance was even worse with the Music app, so we suggest you stay away from it if audio quality matters to you.
And here go the results so you can see for yourselves.
| | | | | | | |
| --- | --- | --- | --- | --- | --- | --- |
| Test | Frequency response | Noise level | Dynamic range | THD | IMD + Noise | Stereo crosstalk |
| HTC Desire 616 dual sim | +0.08, -1.08 | -90.4 | 89.5 | 0.019 | 0.246 | -85.9 |
| HTC Desire 616 dual sim (headphones attached) | +1.11, -5.74 | -83.0 | 88.0 | 0.028 | 1.926 | -49.1 |
| HTC Desire 816 | +0.02, -0.08 | -93.8 | 93.8 | 0.0017 | 0.0091 | -94.9 |
| HTC Desire 816 (headphones attached) | +0.10, -0.01 | -93.9 | 93.9 | 0.0046 | 0.020 | -83.0 |
| Alcatel One Touch Idol X+ | +0.03, -0.26 | -92.0 | 91.8 | 0.021 | 0.034 | -82.1 |
| HTC Desire 700 dual sim | +0.34, -2.31 | -92.2 | 92.1 | 0.061 | 0.352 | -91.0 |
| HTC Desire 700 dual sim (headphones attached) | +0.34, -2.13 | -92.3 | 91.7 | 0.054 | 0.545 | -67.5 |
| Alcatel One Touch Idol X+ (headphones attached) | +0.09, -0.24 | -91.9 | 91.8 | 0.018 | 0.855 | -44.8 |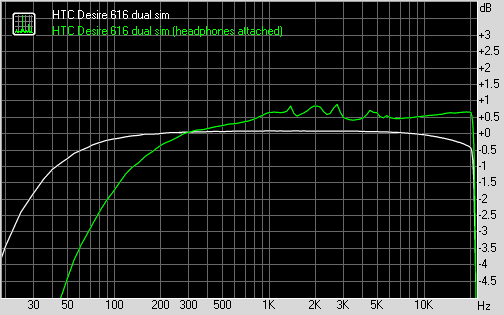 HTC Desire 616 dual sim frequency response
You can learn more about the whole testing process here.
.