Smarts for size
HTC Desire 700 dual sim review: Smarts for size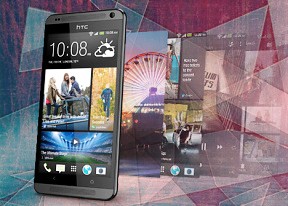 HTC Zoe is a wiz at photo retouching
HTC Zoe is more advanced than any other gallery on a phone and it was made possible by the dedicated HTC ImageChip. When you use the camera in Zoe mode, every time you press the shutter key, the phone captures up to 20 full res shots and a 3 second video (1 second before you press the shutter key and 2 seconds after). All that information is required for the advanced features of Zoe.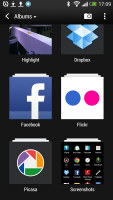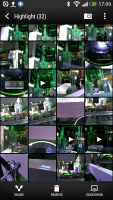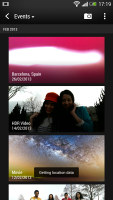 Standard looking gallery, at first • Events view is where Zoe comes in
One of those features is Events. Zoe can be used as a regular image gallery with photos stacked together by folders, but Events groups photos by when and where they were taken. Each event has a 30-second highlight video, which is stitched together from those 3 second clips plus a slideshow, including some of the pics. You can remove clips and add new ones to the highlight video, add a video effect and also include a background music (the tracks are preset, though it is possible to add new ones to the list).
The videos and multiple full-res shots come into play when editing images as well. Since the phone has a video of the scene during which the photo was taken, it can find moving objects and put a red X on them so that you can tap and remove the ones you want, but keep the rest. The result is lowly 720p image, which given the chipset limitations on the Desire 700 dual sim is understandable.
Zoe can also make sure everyone in the photo is smiling and their eyes are open - it detects all faces and circles them, then you can swipe to go through all available images of that face until you find the perfect one.
Yet another feature is called Sequence shot. It takes a shot of a moving object and it creates a cool "multiple exposure" effect where that object appears several times on the photo. It's perhaps easier to show the effect than explain it, here's a shot of a BMXer jumping over a ramp. You can tweak the effect by adding and removing clones.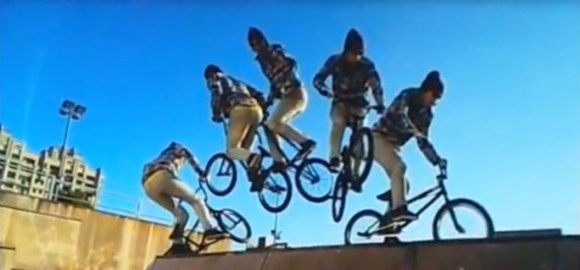 Zoe's arsenal of effects doesn't end here - there are some vanity effects too. One such effect is Face contour, which allows you to easily slim someone's face. There's also Skin smoothing, an automatic lighting fix, Eye enhancer (which makes your subject's eyes open wider), Eye brightening, Red-eye removal and Anti-shine. The intensity of these effects is adjustable with a slider so you can fine tune it.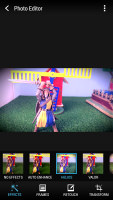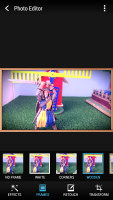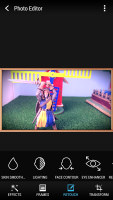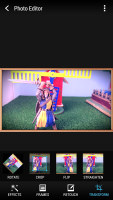 The photo editor has tons of options
That's just the Retouch section of the Photo Editor. There are also effects, frames and transformations available. Basically, Zoe is nearly as potent as Photoshop in your pocket.
As before, you can find a map with your geotagged images in the Gallery.
Video player with very limited codec support
The Video player on the HTC Desire 700 dual sim has a pretty simple interface. There isn't even a dedicated app, you just pick a video from the gallery. Anyway, you get a Play/Pause button and a slider to scrub through the video, a button to launch the camera and a small square with the current time and battery charge. Those automatically hide after a few seconds, of course.
The video player also supports DLNA and subtitles.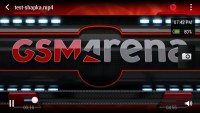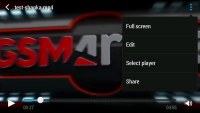 The video player
The HTC Desire 700 dual sim was pretty abysmal in its video codec support. While some DivX and Xvid videos played fine (mostly 1 out of 3) and AVI files were okay (sans those with AC3 sound codecs - those played without sound) the Desire 700 dual sim failed to load MKV, WMV, MOV, pretty much any other type of file we threw at it. There are apps that can remedy the situation available in the Google Play store, though. And with the large display available on the HTC Desire 700 dual sim it's well worth it.
Music player without Beats
The HTC Desire 700 dual sim comes with a custom music player, which lacks the Beats enhancement this time around. It can organize your music library by Artist, Album, Songs, Playlists, Genres, Podcasts or Folders (we don't see this option very often). The phone will also easily stream songs over DLNA, you're not limited to the music library you have in the internal memory.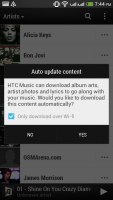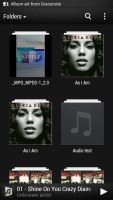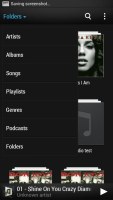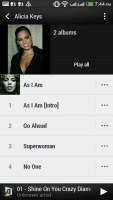 Browsing through the music library
The music player has some handy features out of the box. It can automatically look for and download Album art and artist photos (you can limit it to Wi-Fi connections only) and it can also search for lyrics. The lyrics can be displayed either in karaoke mode or just as text.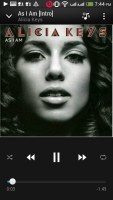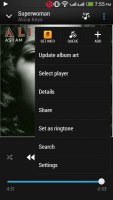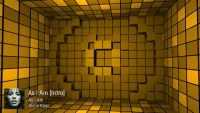 The Now playing interface • The player automatically finds the song's lyrics
There's no equalizer on board, you just have the option to toggle Beats audio on or off. That's not ideal, but at least the BoomSound stereo speakers on the front of the Desire 600 dual sim are quite loud.
SoundHound is the track recognition of choice for HTC and it has even been integrated it into the music player UI. It easily ID's a song from just a short sample. Or you can say the name of the artist and song and SoundHound will find it for you, including lyrics. The free app however only offers a limited number of uses (99).
Good old FM Radio
There's an FM radio, which has a pretty simple interface. It automatically scans the area for the available stations and allows you to mark some of them as favorite. It also supports RDS and allows loudspeaker playback.
Aside from the headphones or loudspeaker choice you also get Mono sound if the reception is poor. There's no Beats enhancement here as well, however, not is there a playback control card on the lockscreen.
The SoundHound shortcut will find out the name of the currently playing song for you and will offer to take you to a digital music store where you can buy it or lookup the song's lyrics or watch the video on YouTube.
Audio output
The HTC Desire 700 dual sim performance in our audio quality test was somewhat mixed. It was among the loudest smartphones out there, but it wasn't perfectly clean.
In the first part the Desire 700 dual sim impressed with its noise level, dynamic range and stereo crosstalk readings, but its distortion is higher than we've come to expect. The frequency response isn't perfect either, so despite the great volume levels it's not all rosy.
Things aren't much different when you plug in a pair of headphones. The distortion increases further, and while the stereo crosstalk remains among the better out there, the overall output is far from perfectly clean.
And here go the results so you can see for yourselves.
| | | | | | | |
| --- | --- | --- | --- | --- | --- | --- |
| Test | Frequency response | Noise level | Dynamic range | THD | IMD + Noise | Stereo crosstalk |
| HTC Desire 700 dual sim | +0.34, -2.31 | -92.2 | 92.1 | 0.061 | 0.352 | -91.0 |
| HTC Desire 700 dual sim(headphones attached) | +0.34, -2.13 | -92.3 | 91.7 | 0.054 | 0.545 | -67.5 |
| HTC Desire 600 dual sim | +0.04, -0.31 | -91.3 | 89.5 | 0.020 | 0.052 | -89.6 |
| HTC Desire 600 dual sim(headphones attached) | +0.10, -0.25 | -91.1 | 89.4 | 0.020 | 0.045 | -47.5 |
| HTC One | +0.11, -0.14 | -92.4 | 91.2 | 0.0012 | 0.013 | -92.4 |
| HTC One (headphones attached) | +0.16, -0.07 | -92.1 | 90.9 | 0.014 | 0.055 | -70.8 |
| HTC One mini | +0.14, -0.12 | -94.4 | 94.0 | 0.015 | 0.013 | -87.9 |
| HTC One mini(headphones attached) | +0.83, -0.58 | -94.5 | 94.1 | 0.021 | 0.034 | -77.9 |
| Samsung Galaxy S4 mini | +0.06, -0.05 | -93.5 | 92.7 | 0.0090 | 0.056 | -86.2 |
| Samsung Galaxy S4 mini (headphones attached) | +0.08, -0.04 | -93.2 | 91.8 | 0.029 | 0.089 | -53.3 |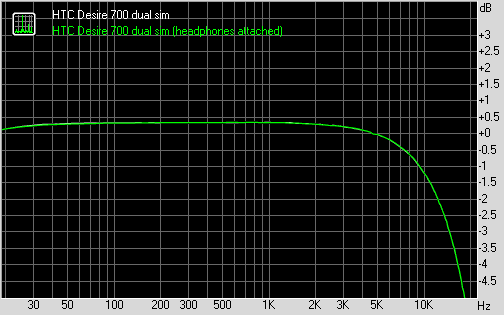 HTC Desire 700 dual sim frequency response
You can learn more about the whole testing process here.