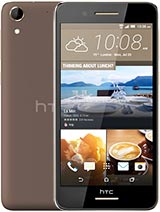 ?
It doesn't support OTG
That is the only mistake in this good phone I expect that HTC gonna update it's Android
D
One of the best htc phones , saddly the stupid company wont update the phone
?
AnonD-660868, 11 Apr 2017Great phone but the software version must be updated to at least marshmallowConventional android version indeed.
D
Great phone but the software version must be updated to at least marshmallow
A
A very good midrange phone.
With its 3GB ram it will never stall plus for this price 32GB storage is a lot.In addition the front speakers are very good.The back camera is good but the front is average at best.
All in all it is a great midrange phone in the market.
A
I bought this Phone back in September 2016, GSM Arena have false info in regards to release date...
In any case the phone is reliable, good screen and the dual front speakers are amazing.
i Love the HTC UI, it never heats up (i don't play high graphics games though)
the camera interface is easy, smart and can utilize professional photography however the camera hardware is Average and can be competitive in day time shooting.
All in all ita great bang for the buck phone, and its well built and tough.
D
A very good midrange phone
Whats not good the software version must be the nogat since its 3gb ram and built in rom 32 gb
D
i bought this phone about 6months and now gsm introduces it!!!!!!!!!!!!!!!!!
very good phone with amazin speed.it works very soft and the battery is good enough to stands 1day with high usage.
foe sure d728 ultra is one of the best midrange in the market.also the price is good too.
the main camera and ..... all are good enough.with 3g of RAM never delay and 32g storage is awesome for this price....
if want a good midrange go for this phone with no doubt
Total of 54 user reviews and opinions for HTC Desire 728 Ultra.