Threaded phonebook
The People app groups the dialer, call log, contacts, favorites and groups in tabs, which can reordered or removed. A dropdown allows you to filter contacts by source - stored in the phone, coming from an online phonebook or a social network.
Individual contact info is displayed in tabs too, a Sense tradition. The first tab shows basic contact info like phone numbers, emails, work info plus individual options for ringtones, blocking the contact and adding them to Private contacts. That's a discrete option that hides the name and photo of a contact when there's an incoming call.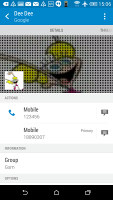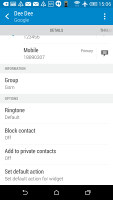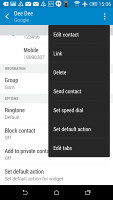 Viewing a contact's basic info
The second tab, Thread lists all communication history between you and the given contact - texts, emails and calls. The third and final tab displays the contact's social networking updates. Tabs here can be reordered and hidden too.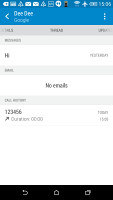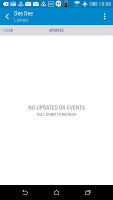 Thread tap for texts, emails and calls • Social networking tab
Telephony with DND mode
The dialer on the HTC Desire 816 displays the last call with a contact photo so you can easily redial someone. There's smart dialing that looks for both names and contacts. You can even switch to a regular QWERTY keyboard though you have to do this each time you open the dialer and we still find that the dial pad is quicker.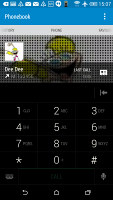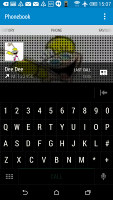 The Standard dial pad • a QWERTY keyboard for better smart dial searching
There's a Large dial pad mode, which predictably makes the buttons bigger but also displays the full call log behind the pad (instead of just the last call as with the Standard dial pad). When you try to scroll the list, the dial pad gets out of the way. For these reasons we preferred this mode over the Standard.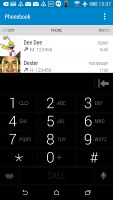 The Large dial pad has bigger keys and a full list of recent calls
The HTC Desire 816 can ring louder when it detects it's in a pocket, quiet down when you pick it up and shut up altogether when you flip it over. Do not disturb mode can mute all notifications (including timers and alarms if you like) on a given schedule with multiple rules, e.g. not on weekends and not on weekdays after 19pm. Only contacts on the exceptions list can get through in case of emergency.
Contacts can be added to the blocked list to filter out unwanted calls even outside of Do not disturb mode. If you dial an unknown contact, the dialer can ask you if you want to save it to the phonebook (this is disabled by default).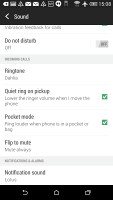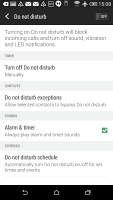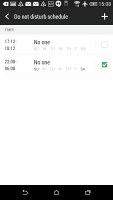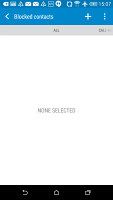 Advanced call options • Do not disturb mode • blocked numbers
The phablet borrows the BoomSound speakers from the premium One family - two speakers on the front with dedicated amps. They put out beautiful sound though in tuning for audio quality HTC lost some of the loudness. In fact, the HTC One (M8) managed to get a lower score than the One (M8), which pulled ahead in our final test for ringing. Voice and music levels are virtually equal with the Desire 816 though.
| | | | | |
| --- | --- | --- | --- | --- |
| Speakerphone test | Voice, dB | Pink noise/ Music, dB | Ringing phone, dB | Overal score |
| Sony Xperia Z Ultra (xLOUD) | 64.0 | 61.7 | 65.1 | Below average |
| HTC Desire 816 | 66.6 | 65.7 | 66.6 | Below Average |
| Apple iPhone 5s | 68.7 | 66.3 | 69.2 | Average |
| HTC One (M8) | 65.8 | 64.7 | 75.7 | Average |
| Huawei Ascend Mate | 67.0 | 66.6 | 75.0 | Good |
| Samsung Galaxy Note 3 Neo | 68.4 | 4.4 | 75.8 | Good |
| Samsung Galaxy Mega 6.3 | 67.2 | 69.8 | 75.7 | Good |
| Samsung Galaxy S4 | 70.6 | 66.2 | 77.3 | Good |
| Sony Xperia T2 Ultra (xLOUD) | 74.0 | 66.6 | 75.7 | Good |
| Oppo Find 7a | 71.3 | 72.5 | 75.7 | Very Good |
| Oppo N1 | 73.7 | 67.7 | 78.7 | Very Good |
| LG Optimus G | 74.6 | 71.3 | 82.7 | Excellent |
Messaging with great features out of the box
The HTC Desire 816 uses the traditional threaded view for SMS and MMS messages, which share a composer. Some threads can be moved to a "secure box", which requires a password to be opened. There's built-in functionality to block messages from certain numbers, those go in the Block box where you can view them later if you like or set the app to discard them immediately.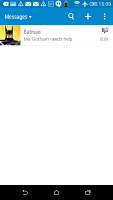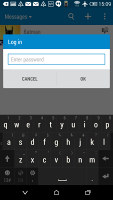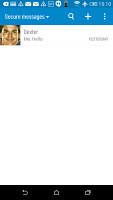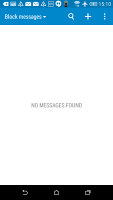 Threaded messaging • Secure message box • blocked messages box
The look can be tweaked with color schemes and custom backgrounds, font size and how many lines are used for preview in threaded view. The Messages app can also backup and restore messages, so you don't need a third-party app for that.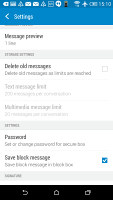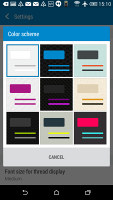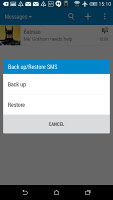 Customizing the looks of the Messages app • native backup and restore
The HTC Desire 816 comes with two email apps - the other is the dedicated Gmail app and a skinned version of the stock email app. It has a combined inbox and supports options for peak and off-peak syncing. For both you can have the app check for new mail after at preset periods or use Smart Sync to learn your habits and automatically figure out the best interval.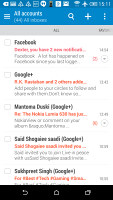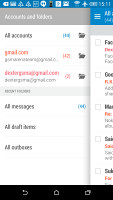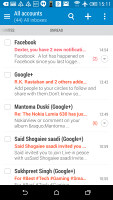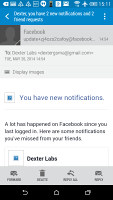 The Mail app has a combined Inbox
The keyboard offers big, comfortable keys and you can run a calibration tool if you think the default setup slips up. A Swype-like Trace option is available and you can enable bilingual prediction (vital with so many English terms entering every day speech in most languages).
Other customization options include switching between layouts (e.g. QWERTY, AZERTY), adding arrow keys (for the portrait keyboard only) and a personal dictionary of words that can be backed up to the microSD card or an email.