The doppelganger
HTC Desire 820 & Desire 820 dual SIM review: The doppelganger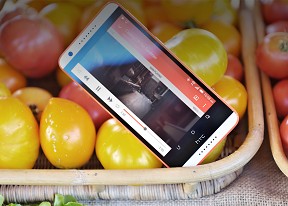 Performance
The HTC Desire 820 runs Android 4.4 KitKat with Sense 6 out of the box. It's powered by a Qualcomm MSM8939 Snapdragon 615 chipset with four Cortex-A53 processor cores at 1.5GHz and another four, clocked at 1.0GHz, all along an Adreno 405 GPU. It has 2GB of RAM.
This is a notable improvement over its predecessor, the Desire 816, but interestingly enough, the fairly comparable eight A53 cores do not fair all that well against the four Cortex A7 ones, found inside the A7. This might just be due to the higher clock rate on the Snapdragon 400, but all in all, in a lot of respects the Desire 820 does not seem to offer as big of a performance increase as we would have liked to see.
We kick off with a simple CPU benchmark that, interestingly enough, places the Desire 820 between the Xiaomi Redmi Note (Octa-core 1.4/1.7 GHz Cortex-A7) and the OnePlus One (Quad-core 2.5 GHz Krait 400), both cheaper and solid competition in terms of price to performance ratio.
GeekBench 3
Higher is better
Lenovo Vibe X2
3647
HTC One (E8)
3229
HTC Desire Eye
2911
Oppo N3
2704
OnePlus One
2663
HTC Desire 820
2586
Xiaomi Redmi Note
2435
Samsung Galaxy Note 3 Neo
2172
HTC Desire 816
1510
Sony Xperia C3 Dual
1181
Results with the Basemark OS II were really inconsistent on the Desire 820 for some reason and we found ourselves having to retest several times. The total score is expectedly a bit ahead of the Desire 816, but single and multi-core tests just seem a little off. Perhaps it's a software bug or some optimization issue, but in any case the numbers should be taken with a grain of salt.
Basemark OS II
Higher is better
Oppo N3
1280
OnePlus One
1196
HTC One (E8)
1146
HTC Desire Eye
1122
Lenovo Vibe X2
930
HTC Desire 820
688
HTC Desire 816
520
Xiaomi Redmi Note
452
Sony Xperia C3 Dual
169
Basemark OS II (single-core)
Higher is better
HTC One (E8)
2579
Lenovo Vibe X2
2571
HTC Desire Eye
2478
Oppo N3
2417
OnePlus One
2213
HTC Desire 816
1739
Xiaomi Redmi Note
1701
HTC Desire 820
1670
Sony Xperia C3 Dual
1507
Basemark OS II (multi-core)
Higher is better
Lenovo Vibe X2
13999
Xiaomi Redmi Note
12771
OnePlus One
10234
HTC One (E8)
10219
HTC Desire Eye
9495
Oppo N3
9320
HTC Desire 816
7071
Sony Xperia C3 Dual
6440
HTC Desire 820
5483
Going forward to the AnTuTu test, the numbers seem quite expected, placing the Desire 820 just above the comparable Sony Xperia C3 (Quad-core 1.2 GHz Cortex-A7). Keep in mind that the chart might also be a little misleading as the Desire 816 is absent and for a good reason. It was tested under Antutu 4, which had a different scoring chart, but the difference between the two is pretty much identical to the one observed in GeekBench.
AnTuTu 5
Higher is better
HTC One (E8)
46857
Lenovo Vibe X2
46666
HTC Desire Eye
40296
Oppo N3
39245
Xiaomi Redmi Note
32487
HTC Desire 820
27070
Sony Xperia C3 Dual
18466
The Adreno 405 GPU is nothing spectacular and the Desire 820 fails to amaze in most rendering tests but definitely holds its own. Real-life performance is of course, a whole other question and as evident from the onscreen scores, the mid-ranged device handles rendering nicely. The lower screen resolution has certainly attributed towards the respectable scores.
The Adreno 405 offscreen graphics test at 1080p resolution is rather disappointing, but expected for the particular chip.
GFX 2.7 T-Rex (1080p offscreen)
Higher is better
OnePlus One
28.3
HTC One (E8)
28
HTC Desire Eye
23.4
Lenovo Vibe X2
17.8
HTC Desire 820
15
Samsung Galaxy Note 3 Neo
15
Xiaomi Redmi Note
9.8
HTC Desire 816
5.9
Sony Xperia C3 Dual
5.8
GFX 3.0 Manhattan (1080p offscreen)
Higher is better
HTC One (E8)
12.3
OnePlus One
12.1
HTC Desire Eye
10.3
Lenovo Vibe X2
6.1
HTC Desire 820
5.7
Samsung Galaxy Note 3 Neo
3.7
HTC Desire 816
1.7
The onscreen performance is much better and the device delivers very respectable frame rates almost topping the charts.
As already mentioned, the lower screen resolution does aid a lot but one thing is for sure, the Desire 820 delivers playable frame-rates on graphics-intensive tasks, something that the Desire 816 is badly struggling with.
GFX 2.7 T-Rex (onscreen)
Higher is better
OnePlus One
30
HTC One (E8)
29.9
HTC Desire 820
26
Samsung Galaxy Note 3 Neo
25
HTC Desire Eye
24.6
Lenovo Vibe X2
17
Xiaomi Redmi Note
13.3
Sony Xperia C3 Dual
11
HTC Desire 816
11
GFX 3.0 Manhattan (onscreen)
Higher is better
OnePlus One
12.9
HTC One (E8)
12.9
HTC Desire 820
12
HTC Desire Eye
10.9
Lenovo Vibe X2
6.1
Samsung Galaxy Note 3 Neo
4.7
Sony Xperia C3 Dual
4
HTC Desire 816
3.9
JavaScript performance is not great, though it's in line with what we can expect from a mid-range device. In the BrowserMark 2.1, an HTML5 test, the HTC Desire 820 score was proportional to the JavaScript score. These tests fully stress the browser (we used the stock browser, by the way), in daily browsing the phablet works without annoying slowdowns.
Interestingly enough, looking back at the Desire 816 yet again, we can't help but notice a very slight improvement in overall browser performance.
Taking into account the fact that the pair uses the same HTC Sense software, we have to deduct that the Desire 820 is mostly under-optimized rather than underpowered and this, while fixable is all up to the manufacturer to address at this point.
Kraken 1.1
Lower is better
Lenovo Vibe X2
4747
Oppo N3
6460
HTC One (E8)
6460
OnePlus One
7008
HTC Desire Eye
11093
Xiaomi Redmi Note
12416
HTC Desire 816
13564
HTC Desire 820
13568
Sony Xperia C3 Dual
15737
BrowserMark 2.1
Higher is better
Lenovo Vibe X2
2211
HTC One (E8)
1362
OnePlus One
1339
HTC Desire Eye
1009
HTC Desire 820
991
HTC Desire 816
774
Oppo N3
730
Xiaomi Redmi Note
588
The HTC Desire 820 is a middle of the road device when it comes to performance. It's not sluggish by any means and it will do okay for daily multitasking, browsing and even 3D games. From a user point of view, we didn't experience any major hiccups and the UI does look and feel very polished and functional, but more on that later.