Constantly in the limelight these days, the HTC Desire C just won't keep out of the headlines. The smartphone is not even released yet, but curious (and lucky) fellow journalists have already put it through its paces with the usual benchmark routines.
The Desire C is no high-end device and it's perhaps as low spec'd as Android Ice Cream Sandwich would allow. Yup, the nifty smartphone runs Google's latest and greatest OS release on the measly 600Mhz CPU and 512MB RAM.
Here are some of the results it scored: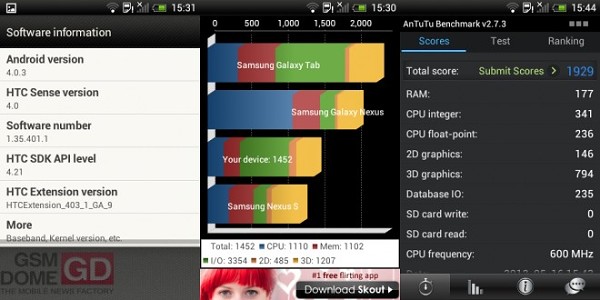 As a comparison, when benchmarked with the same application, the Desire S (1GHz) scores 2627 points on AnTuTu, while the Wildfire S (600MHz) got 1522 points. So the Desire C fits somewhere in the middle with its 1929 points. For what it's worth, both smartphones for the comparison were on Gingerbread.
Numbers aside, the personal remarks of the author were that the Desire C felt really snappy in everyday use.
HTC promised the Desire C release later this month and Clove.co.uk are even more specific, quoting a shipping date of May 24. The price in their online store is around £190 but you can probably find it around the £170 mark if you shop around.
Source
N
Please no foul language, be polite and use common sense No expressions of hatred based on race/ethnicity, sex, sexual orientation, disability, and religion No SPAM, no commercial advertising, no referal programs of any kind No bashing - deli...
d
i simply cannot forgive HTC for not putting camera led flash on this beauty device. it would've been top notch in low end phones market, but without led flash in 2012 it's simply not worth that money.
ADVERTISEMENTS