First impressions
Other manufacturers have tried to chip in the selfie craze but most attempts we've seen have been halfhearted, some don't even go up to 5MP and almost none have a front-facing flash (electing to use the screen as a source of light instead). Last year Oppo introduced the N1 with a rotating 13MP camera with a dual-LED flash that services both regular and selfie photos but the phone never quite took off in Europe and the US.
This makes the HTC Desire Eye the first proper selfie phone likely to reach the western audience. And we think it's clever of HTC to slip it under the Desire brand - the plastic body may elicit a sneer from One owners but you can shut them up by sticking the Eye underwater.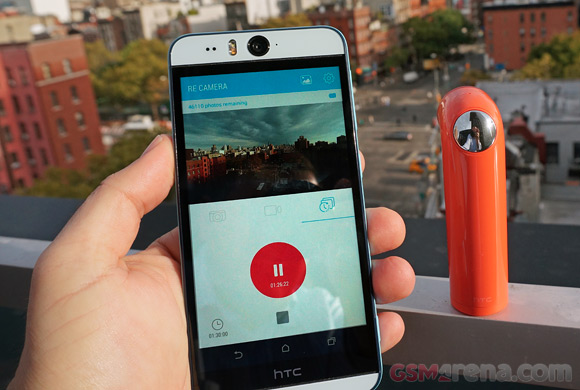 Feature-wise the Desire Eye is every bit as good as the HTC One (M8). Better even, since the Duo Camera was a bit of a gimmick. Not that some of the camera modes on the Desire Eye aren't gimmicky but most will be much more useful if the phone is in the right hands.
Don't let the "selfie" buzzword get all the attention, the HTC Desire Eye will do great for video calls thanks to its high-resolution camera and video light if it's too dark. The same goes about filming yourself, this has the potential to become a favorite among budding YouTube stars.
As for the HTC RE camera, the current electronics market sees companies jump on the smartwatch bandwagon so an action cam was a bit unexpected. However, it's one of the most user-friendly action cams out there and it starts off at the reasonable price of $200 (but you'll also need a few accessories for the full experience).
While we like it as a product, we don't think the RE camera will become a hero product for the company. Certainly not if HTC puts out more water-resistant phones like the Desire Eye and Butterfly 2. And pros and semi-pros consider high-frame rates a must, resolutions over 1080p would be considered a welcome bonus too and the HTC RE has neither.
While the event wasn't all bathed in limelight like MWC and IFA typically are, what we saw was actually much better. The Desire 816 at MWC and Desire 820 were interesting but strictly midrange. The HTC Desire Eye is a flagship in disguise and the most innovative HTC handset since the wave of One (M8), (E8), (M8) Windows clones.