Ample connectivity options
The HTC Desire X offers quad-band GSM/GPRS/EDGE and tri-band 3G, and HSDPA speeds of up to 7.2 Mbps. Local wireless connectivity features Wi-Fi b/g/n and Bluetooth 4.0.
You have a long list of options for connecting to a PC - Charge only, Disk drive (mass storage), HTC Sync, USB tethering (use the phone as a modem) and Internet pass-through (the phone uses the computer's Internet connection). The Charge only and Disk Drive have big, thumbable icons, which is great since they are most often used.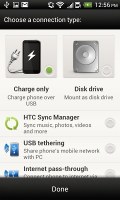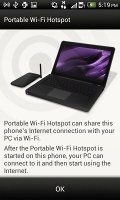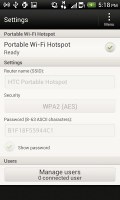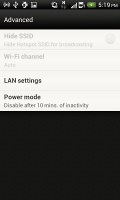 Selecting a USB connection type • Starting the personal Wi-Fi hotspot
Last but not least is the HTC Portable Hotspot. It can support up to 8 devices, you can WEP, WPA or WPA2 encrypt the hotspot and you can enable "allowed users" only to connect or leave it open for all (unsecure, but the quickest setup).
The app can be set to power off automatically after 5 or 10 minutes of inactivity, saving your battery in case you forget to switch it off manually.
Great ICS browser
The HTC Desire X comes with the latest Android web browser, and because it runs on Android Ice Cream Sandwich, you can also install Chrome for Android.
Anyway, the browser's interface keeps mostly out of sight, which leaves the entire screen to the web page. You get the standard Menu dropdown on the right, but HTC have thrown in some extra buttons at the bottom of the screen (you have to pan to reveal them, which is a little annoying).
They let you save a page in your bookmarks or reading list, view bookmarks, saved pages or tabs. You might want to enable Quick controls - they let you tap on any point on the edge of the screen and move your finger to select the desired option from a jog-dial menu.
Once you select some text, you can copy it, do a Google search with that text as the query or share the text over a message or social networking.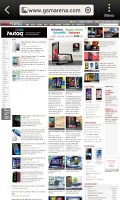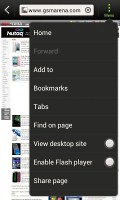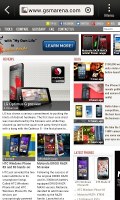 The ICS web browser on the HTC Desire X
Tabs can be closed with an X button on their top right corner. Incognito tabs are available if you want to bypass History, tracking cookies, form auto-fill stuff and so on.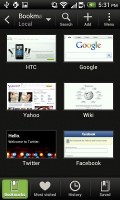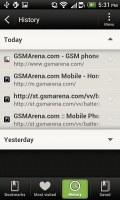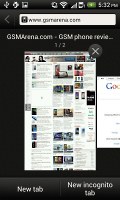 The bookmarks and History lists • The Tabs interface
The Menu options include a toggle to enable/disable Flash and another one to request the desktop version of a site, instead of the mobile one. Another ICS feature has the phone preload search results that it suspects you're going to open, speeding up the whole process.
There's no Flash player preinstalled on the HTC Desire X so you'd need to sideload it if Flash content is important for you.
Great-looking PIM tools
The usual set of organizer apps are aboard the HTC Desire X, with a mobile Office app to boot, that can both view and edit documents.
The Polaris app has support for viewing Word, Excel, and PowerPoint, including the Office 2007 versions and it can create Office 2003 Word, Excel documents and presentations. There is also a PDF viewer to handle PDF files.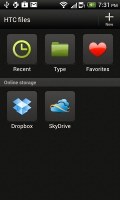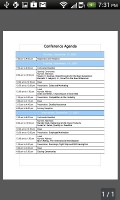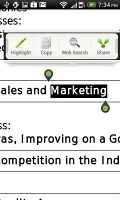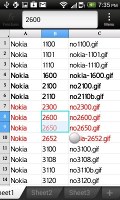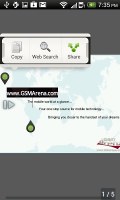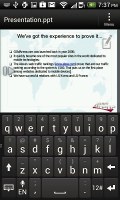 Polaris Office handles .doc, .xls and .ppt files
You can format the text style and color, justify the text, do lists (numbered or bullet points) in the Word editor. The Excel editor does support function editing, which some mobile editors don't.
The app also integrates with Dropbox and SkyDrive, which makes syncing documents between your computer and your phone a breeze.
The calendar has four different types of view: daily, monthly, agenda and invitation. Adding a new event is quite straightforward and you can also set an alarm to serve as a reminder.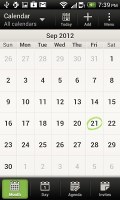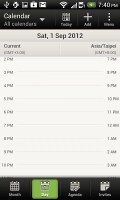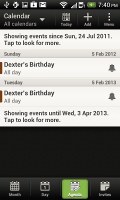 The HTC Desire X organizer centerpiece - the calendar
The Agenda view shows a list of all the calendar entries from the recent past to the near future. Invitation only lists events with invitation info attached to them. The day view showing the weather forecast at the top of the screen is a nice touch.
The Calendar supports multiple online calendars (including Facebook), one you sync with your computer and easily show/hide events you don't want.
There is also a calculator aboard. It is nicely touch optimized with big, easy to hit buttons. Flipping it horizontally enables some more advanced functions like logarithms.
The Desire X features an alarm clock application, which can handle multiple alarms, each with its own start and repeat time. You also get a stopwatch and a timer in the same app. There's a world clock, to display the time in multiple locations, as well.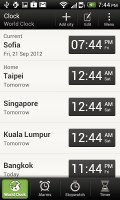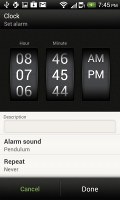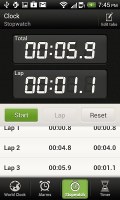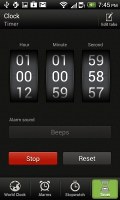 The world clock, alarm clock, stopwatch and timer
The Voice recorder might be quite useful for making audio notes and the weather app brings Yahoo's weather forecast for your area a click away.