The HTC Desire X (codenamed 'Proto') was caught out in the wild in Taipei, reports a poster on ePrice. Even better - the leaks comes from an event to promote the phone to retailers, so it came in both colors with plenty of press material.
We already know the basics of the Desire X - a 4" Super LCD WVGA screen, dual-core 1GHz processor, 768MB of RAM, Beats audio and a design inspired by Desire V (a dual-SIM phone for Asian markets). The press materials add some more info - the Desire X will run Android 4.0.4 Ice Cream Sandwich with Sense 4.0 on top, it will have 4GB of built-in storage plus 25GB from Dropbox along with a microSD slot.
Here's the phone in white and in blue, with a quick size comparison between it and the One X: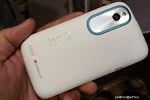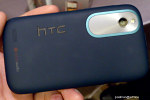 HTC Desire X in White and in Blue • Desire X vs. One X size comparison
The camera is a 5MP unit with LED flash, F/2.0 aperture and HTC ImageChip (same technology as in the One X and One S phones). The phone will have Bluetooth 4.0 with high-quality aptX audio streaming.
The HTC Desire X measures 118.5 x 62.3 x 9.3mm and weighs 120g - which is about as big as an iPhone. It will not use a microSIM card, but we couldn't tell from the press materials if it's a dual-SIM phone like the Desire V or not. This final table marks a feature that the One X lacks, but we can't tell what it is - if you speak the language, we'd appreciate a post in our comments.
Update: Our helpful readers say the first row is labeled "battery", potentially pointing to a removable battery (which the One X doesn't have).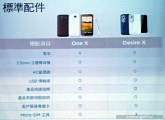 Is the Desire X a dual-SIM phone or not?
The HTC Desire X will reportedly cost $360/€290. Unfortunately, there's no launch date info on the press materials.
Thanks to everyone who sent this in!
Source (in Chinese)
?
the rest of memory would have been taken up by the phone`s operating system
?
in my desire x have only 1gb internal memory it should have 4gb internal memory.i bought it from dubai please explain what has happend
?
If its a dual SIM than only it will go to Asian Markets..else need more improvements
ADVERTISEMENTS