Image gallery is the same, likes to share
The gallery has the usual list-with-thumbnail structure. The Albums app automatically locates images and videos, no matter where they are stored. Images and videos stored in different folders appear in different sub-galleries that automatically get the name of the folder – which is quite effective file management.
Right next to the folder's name is a figure indicating the number of images stored. Each sub-album has a thumbnail of the latest image. The contextual menu of the main Album view has only one shortcut to the settings menu. There is also a camera shortcut, but it's only available once you start browsing any of the sub-folders.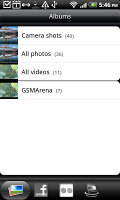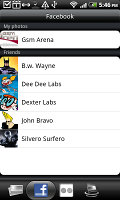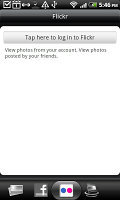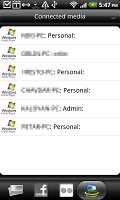 The Albums app works with Facebook, Flickr and DLNA too
At the bottom of the main album there are three virtual buttons – one for the actual folder list, another for Facebook and, one for Flickr. These two display images from either account or those posted by your friends. And finally, the Connected media button lets you pull multimedia content from a DLNA-enabled server (your PC with Windows Media Player will do just fine).
Sharing a photo from the HTC Desire Z is very easy – tap the share button and pick your preferred sharing method. There's everything from sharing via Bluetooth or email, to posting on Facebook, Twitter or photo sharing sites like Picasa and Flickr. Direct posting of videos on YouTube is also enabled.
In the HTC Desire Z image folders you can choose between grid and filmstrip layout (flip the phone horizontally and the accelerometer will take care of the rest). You are also able to mass delete images, but still no mass copy and paste options.
You can't copy/paste images from folder to folder either – you'd need a proper file manager for that.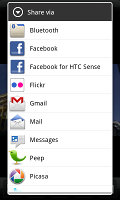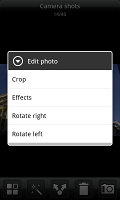 Sharing images is easy • Basic image editing tools
HTC Desire Z supports multi-touch and you can take full advantage of it while browsing your images. You can zoom to 100% with a simple double tap on the screen. The implementation here is extra smooth too.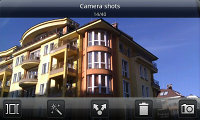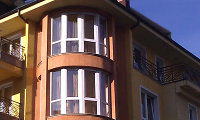 Smooth finger-sweep browsing of images and pinch zoom
Video player does HD in DivX
Video files can be accessed from the All videos subfolder in the Gallery or from the Videos shortcut in the menu, they launch the same thing. The video files can be viewed as a grid or filmstrip and can be shared over MMS, email, or YouTube, Facebook and Flickr.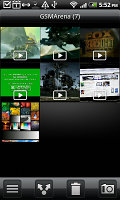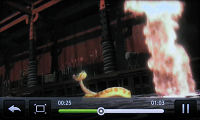 The Videos app is part of the Gallery • The video player handles HD and DivX/XviD just fine
The video player interface on the HTC Desire Z is quite basic. There's a full screen mode, where the clip gets stretched / cropped to fit the screen and you can scrub through the video.
The video player did well to handle most DivX and XviD videos we tested – it only choked on a single DivX video of 720p resolution. Other HD videos ran problem-free. The high-res screen has 15:9 aspect ratio – so cropping 16:9 videos to fullscreen cuts out very little and the overall viewing experience is very good.
Music player
The standard music library view is the Artists section, but you can easily switch to one of the other six tabs beneath, which are for Albums, All Songs, Playlists, Songs and Connected media (which handles DLNA).
The now playing interface is a Cover-Flow-like visualization of the current playlist – you can swipe sideways to skip songs or go back. You can opt to view the full playlist if you need to skip more than a few phones.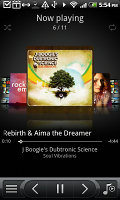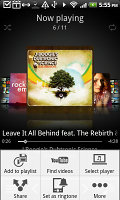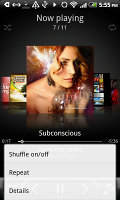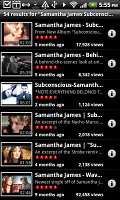 The new player interface is nice, though no new features inside
Two shortcuts in the top corners act as toggles for shuffle and repeat. From the context menu, you can share a song (over Bluetooth, email or message) and you can look up the music video too.
There's a music recognition app – SoundHound. It easily recognizes a song from just a short sample. Or you can say the name of the artist and song and SoundHound will find it for you, including lyrics. The free version however limits you to just 5 recognitions per month.
FM radio has RDS, starts slowly
The HTC Desire Z is also equipped with an FM radio, which has a pretty simple interface. It automatically scans the area for the available stations and allows you to mark some of them as favorite. It also supports RDS and allows loudspeaker playback.
It's a bit annoying that it takes 5-6 seconds to start but other than that the radio app is very good.
Very good audio quality
Unlikethe Desire HD, the HTC Desire Z did very well in our audio quality test. It achieved some excellent scores when you use it as audio source for external amplifiers (such as a car or home stereo), rivaling some of the best handsets we have seen.
And things aren't much worse when you plug in a pair of headphones. As usual the stereo crosstalk and the intermodulation distortion increase, but still remain respectable. The dynamic range and frequency response are also slightly affected but the differences are mostly detectable in lab conditions.
And here go the results so you can see for yourselves.
| | | | | | | |
| --- | --- | --- | --- | --- | --- | --- |
| Test | Frequency response | Noise level | Dynamic range | THD | IMD + Noise | Stereo crosstalk |
| HTC Desire Z | +0.11, -0.09 | -90.1 | 90.1 | 0.012 | 0.037 | -90.7 |
| HTC Desire Z (headphones attached) | +0.70, -0.17 | -90.2 | 84.5 | 0.015 | 0.430 | -64.2 |
| HTC Desire HD | +0.09, -0.44 | -90.6 | 90.4 | 0.014 | 0.517 | -92.6 |
| HTC Desire HD (headphones attached) | +0.09, -0.44 | -93.2 | 92.9 | 0.020 | 0.728 | -17.9 |
| Samsung I9000 Galaxy S | +0.03 -0.04 | -90.7 | 90.6 | 0.014 | 0.019 | -90.6 |
| Samsung I9000 Galaxy S (headphones attached) | +0.40 -0.12 | -90.7 | 90.6 | 0.018 | 0.329 | -43.3 |
| HTC Aria | +0.12, -0.58 | -84.5 | 86.9 | 0.022 | 0.172 | -85.4 |
| HTC Aria (headphones attached) | +0.37, -0.15 | -87.0 | 90.4 | 0.026 | 0.400 | -52.3 |
| Apple iPhone 4 | +0.01, -0.07 | -90.5 | 90.6 | 0.0041 | 0.011 | -92.0 |
| Apple iPhone 4 (headphones attached) | +0.01, -0.07 | -90.4 | 90.4 | 0.0036 | 0.092 | -68.4 |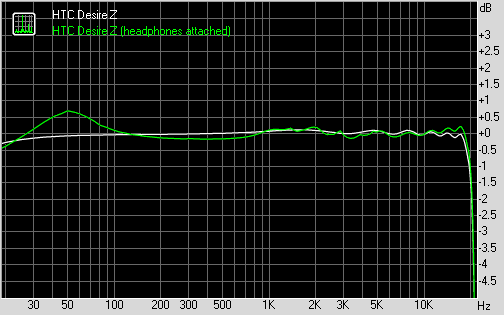 HTC Desire Z frequency response
You can learn more about the whole testing process here.