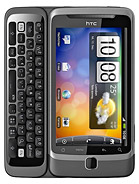 p
HTC,
You are downgrading your product on HTC VISION 4-Row keypad. Should use your 5 row keypad for your HTC Vision just like HTD TOUCH PRO, then most people will like it. Look at the key row on top, it will be just like typing on a Nokia N900 which is not comfortable. Our thumb will hit too near to the top slider of Vision.
?
Looks like the original samsung omnia rip-off with a touchpro2 keyboard attached to the back
H
Awesome!
Kinda fall in luv with Desire+QWERTY keyboard...can trade in my HTC Touch Pro2 with bad camera and video...but still the best 5 rows QWERTY...indeed.

Bravo...HTC!
Total of 1508 user reviews and opinions for HTC Desire Z.