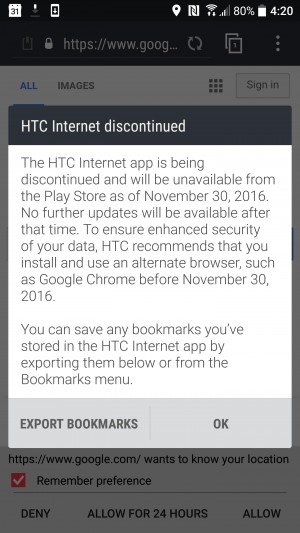 As part of HTC's effort to slim down on redundant apps, the company has been getting rid of apps that may be redundant with some of Google's existing offerings. This is apparent with the HTC 10, which didn't come with HTC's app offerings like HTC Internet, Fun Fit, Scribble, and Polaris Office. Even the Gallery was replaced with the Google Photos app.
But for those who have older HTC models or downloaded the HTC Internet browser on their HTC 10, the browser will no longer be supported and will become officially "discontinued" on November 30. After this date, the browser will no longer be available for Download on the Play Store.
HTC has since made it easy to transfer all your bookmarks to another mobile browser. Were you using HTC's internet browser up to this point? If not, which browser do you use regularly?
Text reflow is on Opera browser! Works exactly the same as HTC reflow. There's also a great data saving feature you can activate when you're off Wi-Fi. It's easy to use too. Result! HTC you now have my permission to go into liquidation :)
There isn't another one, you'll just need a phone with a massive screen.
I no longer have any reason to buy another HTC phone now text reflow won't be present. Talk about backward step. If your losing money try having an advertising campaign like you used to. Try making your phones unique and interesting like you used to....