The first Google Android-based handset finally gets an appearance with some relatively good photos spreading around like a forest wildfire. The source of these images is a Chinese forum but they look more than real.
This HTC Dream unit has already been showing up at several Google demonstrations but we always thought it's some sort of a prototype and it won't be seeing the light of day on the market. As it seems however, the huge and ugly handset will be offered in white as T-Mobile G1.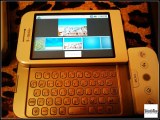 HTC Dream (a.k.a) T-Mobile G1 leaked online
There are no specs revealed, but looking at it, we can't help but lose all interest in any additional info. Still, it should be noted that rumors say the HTC Dream is based on the Qualcomm 7201 platform (528MHz CPU) and features a touchscreen, 128MB RAM, and a 3 megapixel camera.




Now that's a face only a mother could love
As far as rumors go, the T-Mobile G1 should be available by October 13th, but should be available for pre-order as soon as September 17th.
Source: Android Community
O
G1 is absolutely the best phone ever i just bought one and it might've just killed the iphone ..you must try it for yourself and judge
L
The G1 can get kind of pretty if you snap some colorful case on it. http://coolors.com/cool-new-colorful-g1-cases/
ADVERTISEMENTS