In small package
HTC DROID Incredible 4G LTE review: In small packages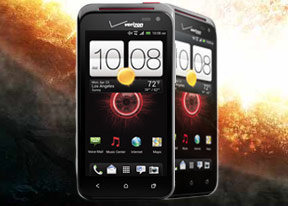 Great social phonebook
The DROID Incredible 4G LTE has HTC's all-knowing phonebook with deep social networking integration. It manages to keep things neatly in order, even though it's juggling everything from SMS to Facebook photo albums.
The entire People app (the phonebook) is tabbed - you have the dialer, all contacts, groups (including favorite contacts there), as well as a call log. Once again, you can reorder tabs and remove the ones that you don't need (Groups or Call history).
From a drop-down menu at the top, you can filter contacts based on where they came from - the phone's address book, Facebook, Twitter or your HTC Sense account. In case an account features multiple subgroups (e.g. Gmail's groups), you can toggle them as well.
Selecting a contact displays the basic details: name and photo, numbers, emails and such. That's just the first tab - the other tabs hold further details and means of communication, including email and a call log.
The second tab holds the texts, emails and call history between you and the given contact. The next one shows social networking contact updates, and the fourth one called "Gallery" pulls the albums that contacts have created on Flickr and Facebook.
When editing a contact, you start off with just one of the essential fields but you can easily add more.
Telephony
The HTC DROID Incredible 4G LTE had no problems with reception and the in-call quality was clear and loud enough.
The dialer on the DROID Incredible 4G LTE displays your recent calls and the list of favorite contacts underneath. Once you start typing on the keyboard, contacts will be filtered by name or by phone number.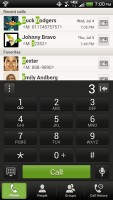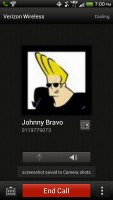 The dialer has smart dialing • calling Johnny Bravo
The DROID Incredible 4G LTE packs the standard set of accelerometer-based tricks - turning the phone in the middle of a call will enable the loudspeaker, "Quiet ring on pickup" will reduce the loudness of the ringtone when you move the phone and Pocket mode boosts ringtone volume if the phone is in your pocket or purse.
Messaging
Being a proper Android powerhouse, HTC DROID Incredible 4G LTE is capable of handling all sorts of messages - SMS, MMS, email. Social networking is covered by several apps and widgets, and there's Google Talk, which can connect you to Google's chat network and compatible networks.
SMS and MMS messages are displayed in threads - you see a list of all conversations, each one is listed with the contact's photo, name and the subject of the last message, as well as a part of the actual message (you can choose 1, 2 or 3 preview lines). Tapping a conversation brings up the entire message history with that contact.
To add recipients, just start typing a name or number and choose from the contacts offered - the phone will find the contact you want even if you misspell it.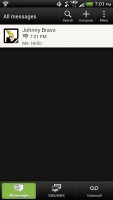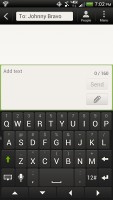 All threads • viewing a specific thread
The compose box stretches across only about a fifth of the screen in portrait mode or across about a third in landscape. A tap-and-hold on the text box gives you access to functions such as cut, copy and paste. You are free to paste the copied text across applications like email, notes, chats, etc. and vice versa.
Text input on the DROID Incredible 4G LTE boils down to an on-screen custom-made HTC virtual QWERTY keyboard. While it's still not as good as a hardware one, it's more than adequate for any task.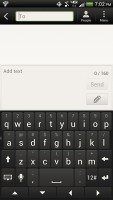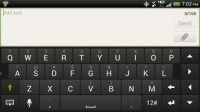 The on-screen QWERTY keyboard in portrait and landscape modes
Converting SMS into MMS is as simple as adding some multimedia content to the message. You can just add a photo or an audio file to go with the text, or you can get creative with several slides and photos.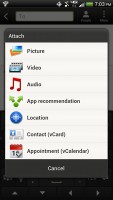 Attaching a multimedia file turns the SMS to MMS
Two email clients
The HTC DROID Incredible 4G LTE comes with two email apps - the traditional Gmail app and the generic HTC Mail app, which merges all your email accounts into a single inbox.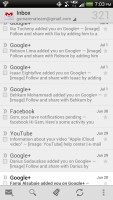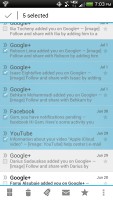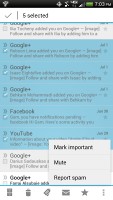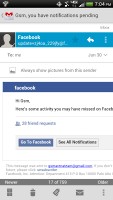 Batch operations let you manage multiple conversations
The Gmail app has the trademark conversation style view and can manage multiple Gmail accounts. Batch operations are supported too, in case you need to handle email messages in bulk.
The HTC Mail app features conversation view in an attempt to mimic the original Gmail client threaded view, which is otherwise missing in the generic inbox. Emails in a thread are grouped and a number of emails and a down arrow appear - tap the arrow to show/hide the messages in that group.
You can add multiple accounts (from multiple services) and view them individually or in a combined inbox. Each account is color-coded, so you can quickly associate each message with its relevant account.
The Mail app has tabs, but they are hidden by default. You can choose Edit tabs from the menu and pull out the ones you want. You can choose from Favorites, Unread, Marked, Invites and Attached.
Email sorting is enabled (in either ascending or descending order) by date, subject, sender, priority and size. The currently applied filter is displayed in the top right corner of the display.
There's hardly anything we can think of that the HTC DROID Incredible 4G LTE lacks in terms of email capabilities. The settings for popular email services are automatically configured. POP/IMAP accounts and Active Sync accounts are supported.