In small package
HTC DROID Incredible 4G LTE review: In small packages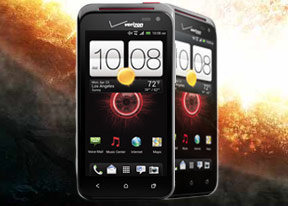 Pretty good ICS Browser
HTC DROID Incredible 4G LTE comes with the ICS version of the Android web browser. It performs without hiccups.
Most of its UI is out of sight, leaving the entire screen to the web page. And even when it does appear, it consists of a single bar, which holds a back button, a Read button and the standard Menu dropdown on the right. The Read key aims to show some text-heavy web pages in a distraction-free mode to facilitate reading.
HTC has also thrown in some extra buttons at the bottom of the screen, which seemed to pop up randomly, which was getting a bit annoying at times. You see sometime those buttons appeared along with the top bar, whereas on other occasions they remained hidden when the top bar was showing. Those mysteriously behaving buttons let you save a page in your bookmarks or reading list, view bookmarks, saved pages or tabs.
You might also want to enable Quick controls - they let you tap on any point on the edge of the screen and move your finger to select the desired option from a jog-dial menu.
Other than that, once you select some text, you can copy it, do a Google search with that text as the query or share the text over a message or social networking.
Tabs can be closed with an X button on their top right corner - they can't be swiped off the screen like you do in the app switcher. Incognito tabs are available if you want to browse without leaving traces.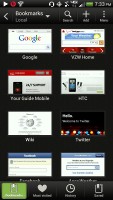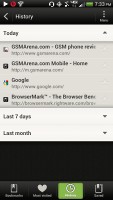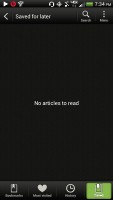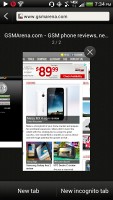 The bookmarks and History lists • The Tabs interface
The Menu options include a toggle to enable/disable Flash and another one to request the desktop version of a site, instead of the mobile one. Another ICS feature has the phone preload search results that it believes are relevant, speeding up the whole process.
Naturally, the HTC DROID Incredible 4G LTE has full Flash support, so playing Flash videos was a walk in the park. Flash games work like a charm as well.
Organizer
The HTC DROID Incredible 4G LTE features the usual set of organizer applications, to go with a mobile office app, capable of both viewing and editing documents.
The calendar has four different types of view: daily, monthly, agenda and invitation. Adding a new event is quite straightforward and you can also set an alarm to serve as a reminder.
The Agenda view shows a list of all the calendar entries from the recent past to the near future. Invitation view only lists events with invitation info attached to them. The day view also shows the weather forecast at the top of the screen, which is a nice touch.
The Calendar supports multiple online calendars (including Facebook), only one of which you can sync with your computer. You can also easily show/hide the ones you don't want.
There is also a calculator on board. It is nicely touch optimized with big, easy to hit buttons. Flipping it horizontally enables some more advanced functions like logarithms.
The World clock (also part of the Clock app) is like a mini Google Earth - it shows a 3D globe and you can rotate and zoom in on it freely. You can add cities that are pinned to the globe (and also visible as a list below it).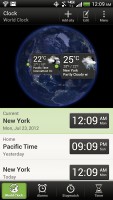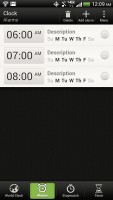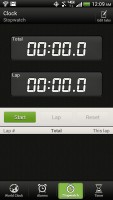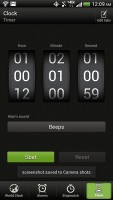 The alarm clock, stopwatch and timer
The handset features an alarm clock application, which can handle multiple alarms, each with its own start and repeat time. You also get a stopwatch and a timer in the same app.
Google Play Store
The Google Play Store features several scrollable tabs - categories, featured, top paid, top free, top grossing, top new paid, top new free and trending. Apps usually have several screenshots (some even offer a demo video) so you can get an idea of what the app looks like before installing it. You can also check out comments and ratings, as well as the number of downloads and so on, to help you decide if the app is worth it.
There are all kinds of apps in the Android market and the most important ones are covered (file managers, navigation apps, document readers etc.).
Google Maps and HTC Locations show your way around
The HTC DROID Incredible 4G LTE has a built-in GPS receiver, which managed to get a lock in under a minute (with A-GPS switched off). If all you need is a rough idea of where you are (within 150 meters) you can use the Cell-ID and Wi-Fi network lock, which is very fast.
Google Maps is a standard part of the Android package and we've covered it many times before. It offers voice-guided navigation in certain countries and falls back to a list of instructions elsewhere. You can plan routes, search for nearby POI and go into the always cool Street View. The latest version of the application also allows you to save maps for offline use - great feature to have when travelling abroad.