HTC has just started sending out invitations for an event it is holding on 12th April. Inviting press to "see what's next" the company is most probably going to announce a new high-end smartphone.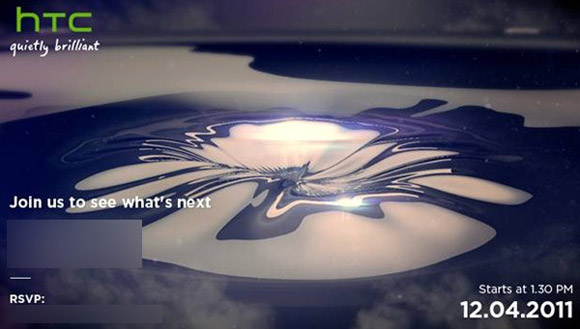 If you look carefully at the top edge of the invitation you can clearly see the side of a handset with two shiny buttons on it. Knowing the HTC design traditions neither of those is in charge of volume control (for that purpose the Taiwanese use much longer rockers) so that should be the power and camera keys.
But HTC doesn't normally put camera keys on their Android handsets, so we should be looking at a WP7 device. Furthermore, the date of the event coincides with the start of Microsoft's MIX 2011 event so it seems pretty likely that HTC will throw another WP7 device our way. Who knows, we might see see the first dual-core WP7 smartphone makes its debut.

Or it could be a droid smartphone with a camera so special that it's worth making an exception for. And we can't see anything being more special than a couple of units, capable of capturing 3D shots. The GSM-loving version of the EVO 3D has already been officially confirmed, but it has never been shown to the public.
Okay, we know it's a little greedy but we will be keeping our fingers crossed to see both.
G
I don't know what you're talking about with battery life. I get almost a whole day's worth of heavy usage on my tp2 and my HD2 running WP7/Android 2.3.3. HTC >>>>
D
Can you Please..please..please ask them to put a RADIO in HTC CHACHA. on my behalf
n
htc are good phone's but rubbish battery life pulls them down...it dies in just 3 to 4 hours this on a minimum use most of connections turned to manual...sort the battery out htc!!...
ADVERTISEMENTS