Video player has DivX/XviD and 3D
The other place you can enjoy 3D content is the video player. You can play the videos you've taken and watch stereoscopic movies in DivX and XviD.
Video files can be accessed in the All videos subfolder in the Gallery or from the Videos shortcut in the menu, they launch the same thing. There's no dedicated video player.
The video files are displayed as a grid and can be shared over MMS, email, or YouTube, Facebook and Flickr, even apps like Dropbox if you have them installed.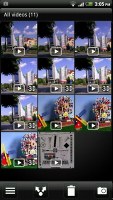 The Videos app is part of the Gallery
The video playing interface on the HTC EVO 3D offers a full screen switch (stretch / crop video to fit the screen) and you can scrub through videos. SRS sound enhancement is also available but there's no subtitle support.
The video player does OK in general but our unit would only go as high as 720p resolution. It didn't play 1080p FullHD videos and we did try all kinds of formats. Hopefully this is a unit-specific glitch. The player handled all the 720p DivX and XviD videos hassle free. 720p is a good enough to watch movies, especially on a portable screen but 1080p capability is a mandatory performance benchmark in this price range. There's no MKV or subtitle support however.
DLNA connectivity comes in handy – the EVO 3D can stream the videos wirelessly to your TV.
There's the MHL port too - if you have the proper adapter, you can hook up your HDTV using an HDMI cable. The EVO 3D needs some work in this department though, if we're to accept it as a proper portable HD video player.
Music player makes Sense
The music player on the EVO 3D, too, is part of the new Sense UI. It's the same as what we saw in the HTC Sensation, and looks and handles nice.
The standard music library view is the Artists section, but you can easily switch to one of the other six tabs beneath, which are for Albums, All Songs, Playlists, Genres, Composers and Purchased (at least our unit had, which featured a Vodafone music shop).
A dropdown at the top of the screen lets you switch between your library on the phone and DLNA media servers.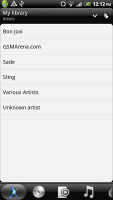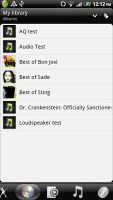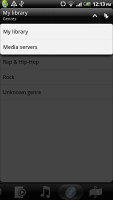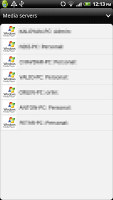 The music library • the player is DLNA-enabled too
The now playing interface is a Cover-Flow-like visualization of the current playlist – you can swipe sideways to skip songs back or forward. You can opt to view the full playlist if you need to skip more than a few tracks.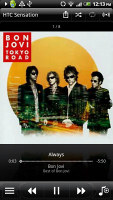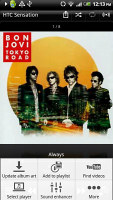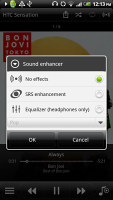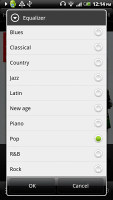 The new player interface is nice • Equalizer and SRS sound enhancement
The EVO 3D offers SRS sound enhancement to boost the listening experience. If you plug in a set of headphones, you can change equalizer settings too.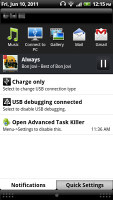 Player controls in the notification area
Two shortcuts in the top corners act as toggles for shuffle and repeat. Other goodies include looking up a song on YouTube or updating the album art for the current or all songs. You can enable auto update too.
Tapping the bar at the top of the screen that says "HTC EVO 3D" lets you play the song on another device wirelessly - either over DLNA or Bluetooth.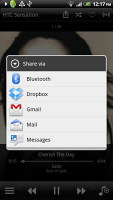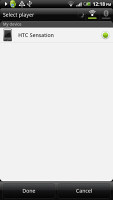 Playing a song to another device without wires
The Music Player lockscreen has a neat feature: a 3D record cover with album art, track info and music controls (play/pause and skip). You can flip it around and it's backside will display album art and track info too, but no music controls. Not much use in it, but good eye candy.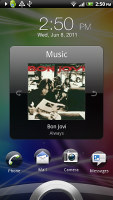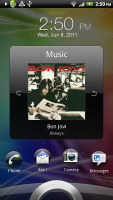 The 3D "card" on the lockscreen that controls the music player
There's a music recognition app preloaded on the EVO 3D – SoundHound. It easily ID's a song from just a short sample. Or you can say the name of the artist and song and SoundHound will find it for you, including lyrics. The free app however only offers a limited number of uses (99).
FM Radio on board
The HTC EVO 3D is also equipped with an FM radio, which has a pretty simple interface. It automatically scans the area for the available stations and allows you to mark some of them as favorite. It also supports RDS and allows loudspeaker playback.
One thing that annoyed us about the radio is that it takes quite a while to start and stop – about five seconds. Maybe it has something to do with preloading RDS information about the stations.
Audio output could be a bit better
The HTC EVO 3D has decently high (though certainly not spectacular) volume levels. Its audio output is decent, but we have certainly seen better at this price point. Even HTC's very own Sensation does a bit better than its stereoscopic sibling.
The average stereo crosstalk aside, the EVO 3D does pretty well when used with an external amplifier (like a car audio or home stereo).
When headphones come into play, though, there's notable degradation in just about every aspect of the EVO 3D performance. The signal-to-noise ratio decreases, the dynamic range falls and distortion starts to creep in. Stereo crosstalk also increases, but not as much as with other handsets, so it's actually better than average in that case.
And here go the results so you can see for yourselves.
| | | | | | | |
| --- | --- | --- | --- | --- | --- | --- |
| Test | Frequency response | Noise level | Dynamic range | THD | IMD + Noise | Stereo crosstalk |
| HTC EVO 3D | +0.03, -0.38 | -84.0 | 83.5 | 0.023 | 0.051 | -73.1 |
| HTC EVO 3D (headphones attached) | +0.19, -0.11 | -71.6 | 71.4 | 0.109 | 0.391 | -60.6 |
| LG Optimus 3D P920 | +0.11, -1.05 | -86.5 | 88.1 | 0.0047 | 0.013 | -87.4 |
| LG Optimus 3D P920 (headphones attached) | +0.16,-1.03 | -86.4 | 87.9 | 0.011 | 0.068 | -44.1 |
| HTC Sensation | +0.05, -0.34 | -90.2 | 90.2 | 0.012 | 0.021 | -91.1 |
| HTC Sensation (headphones attached) | +0.71, -0.15 | -89.1 | 90.1 | 0.019 | 0.522 | -70.6 |
| Samsung I9100 Galaxy S II | +0.04, -0.09 | -91.4 | 91.9 | 0.0042 | 0.066 | -89.7 |
| Samsung I9100 Galaxy S II (headphones attached) | +1.05, -0.22 | -90.0 | 90.2 | 0.013 | 0.647 | -49.4 |
| LG Optimus 2X | +0.01, -0.03 | -90.1 | 90.1 | 0.011 | 0.016 | -89.2 |
| LG Optimus 2X (headphones attached) | +0.14,-0.04 | -89.8 | 89.9 | 0.0098 | 0.111 | -35.1 |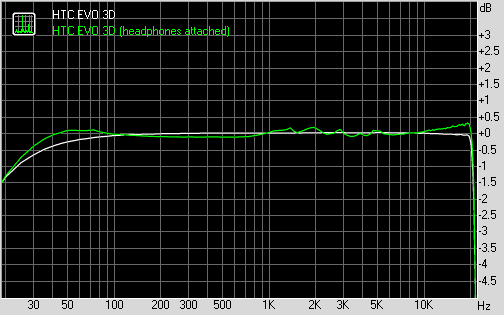 HTC EVO 3D frequency response
You can learn more about the whole testing process here.