When the HTC EVO 3D became official in Europe a few days ago, the information on its pricing was rather scarce. Today, we know how much one will set you back, should you decide to order this highly desirable handset sans contract and SIM card.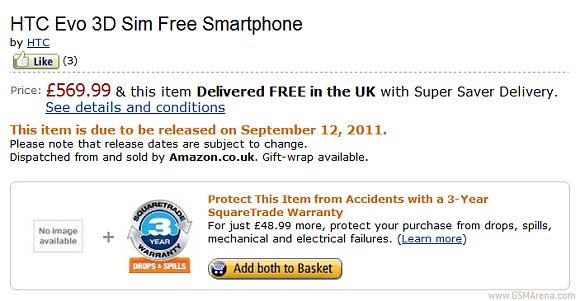 As you can see above, the HTC EVO 3D is currently available for pre-order from Amazon UK for £569.99 (€631;$917). Shipping is set to commence on September 12, but we do believe that this might be subject to change (assume earlier rather than later).
While not cheap, the price is pretty much in line with the cost of the other top Android offerings at the moment. Should you decide £569.99 is too much, you can always opt for a contract with Vodafone. We told you a few days ago that the UK operator is set to begin taking pre-orders for the device any moment now as well.
d
i am sorry but i was in radioshack two days ago and while trying to deside on witch phone i wanted the clerk let me hold a real and not a fake htc evo 3d it sliped out of my hand and the duel camra broke off of the back but at a defrent radioshack in...
?
I am an Android user and even I would Have to admit that with all of iPhones faults it doesn't have a crap screen in fact I would go as Far to say its one of the best.
B
Available now at Carphone Warehouse Marble Arch, London! Selling at £429, unlocked and unconnected. Superb piece of kit. Guys showed me a demo. Really impressive piece of kit. Bought immediately!
ADVERTISEMENTS