Sprint, BestBuy and Radio Shack have been taking pre-orders for the HTC EVO 3D for a while now, but only we learn the pricing of the device. A leaked ad confirmed that the new HTC flagship will go for $200 on a two-year contract, and the nicely sounding $500 if you don't want to sign one.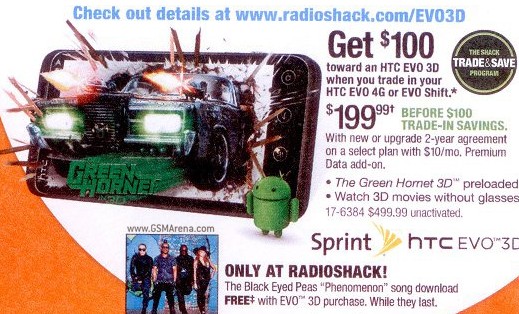 As you can see from the leaked ad from Radio Shack, the HTC EVO 3D will retail for $199.99 with a two-year contract on the Sprint network. The contract-free price of the device is $499.99.
And now the interesting part. Only at Radio Shack, the current owners of Sprint's own HTC EVO 4G or HTC EVO Shift will receive $100 for trading their used handsets, which can be used towards the purchase of the coveted EVO 3D.
The link from the ad is not live yet but we are sure that it will be soon. All that is left to find out now, is the launch date of the new HTC flagship.
?
really Ashtonished Hows it possible...... Is it true friends
?
here's my question might be dumb but in the flyer it says 499 with no contract and 199 with contract but why would it not be 449 just like all the rest of the phones and 199.... this means your $150 upgrade would bring the price to 349 then another 1...
3
I hope to see GSM version of this phone in India within june 2011, I cannot wait(I know that's not going to happen). If the news about 500$ price is true, then this entire world needs to thank HTC to make this kind of Great phone available to medium-...
ADVERTISEMENTS