Those two are nothing alike in the camera department
The biggest difference between both handsets can be found in their camera units. The HTC EVO 3D counts on two 5MP autofocus cameras, which allow it take 3D pictures, and shoot 3D videos. The Sensation 4G on the other hand, will offer you an 8MP autofocus unit. Both phones have exactly the same camera interface, save for the 2D/3D switch on the EVO 3D. We have prepared some samples, which you can see below.
Here's a direct comparison of the level of detail produced by the two cameras in 2D mode.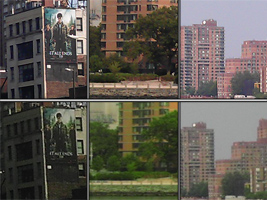 Crop: HTC Sensation vs. HTC EVO 3D (upscaled to 8MP)
By the looks of it, you must really want to take 3D pictures in order to pick the EVO 3D for its camera. It is significantly slower in both 2D and 3D mode.
The Sensation 4G camera is just the opposite. It is easily the best camera phone which HTC has produced so far, pending the fact that we are about to take the T-Mobile MyTouch 4G Slide/HTC Doubleshot for a spin. The Sensation's camera is extremely quick between taking shots and, as you can see above, it takes better still pictures too.
HTC Sensation camera samples:
HTC EVO 3D camera samples:
The samples above are not the full resolution the cameraphones output as we've mistakenly shot them in the default Widescreen mode. It produces 16:9 shots which are cropped versions of what the camera sensors can output as maximum resolution. Other than the cropped vertical side, the image quality of these shots is fully representative of what these cameraphones are capable of.
Here are some 3D samples taken by the EVO 3D. You'll need a 3D screen or some 3D glasses to see the stereoscopic effect properly. The cheapest way to view those is to choose the anaglyph mode from the menu toolbar below the image and grab a pair of paper red/cyan anaglyph glasses to see it properly.