The European GSM-enabled HTC EVO 3D recently went official but 3D-loving GSM fans in the US were seemingly left out of the party. Luckily this is about to change pretty soon as the EVO 3D is on its way to T-Mobile.
The news was brought to us by the FCC, which has just concluded testing an EVO 3D with T-Mobile USA 3G bands. So the handset seems fit and ready to enter the arena and face the LG Thrill 4G for AT&T (a.k.a. Optimus 3D) and its Sprint-bound twin - the mobile 3D battle is really heating up in the States.
The FCC report has this helpful schematic of the wireless antennas on the HTC EVO 3D, with the 3D dual-lens camera on there as well (not that it has anything to do with FCC tests). The tests include tests of the 1700MHz band (AWS), which points to T-Mobile USA as the future home of this new EVO 3D.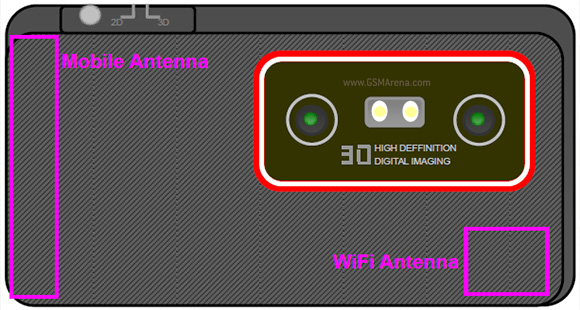 The reports don't give away much more than that - besides a 1730mAh battery, the same as on the current EVO 3D models. There's no mention of launch dates in there so we can only guess about that.
So, Sprint's EVO 3D is out, T-Mobile's seems to be coming and AT&T's LG Thrill 4G (Optimus 3D) is "coming soon". Your move Verizon.
C
I love my EVO 3D.....Except that it keeps turning off and I have to take out the battery and put in back in and then wait for it to power up again. The Sprint store did updates but that didn't solve the issue. I don't use the 3D unless I am bored and...
?
I was going to get a sensation but I may get this instead depends on the release date and the price though dont wanna pay too much or wait too long
t
Great! More super phones to choose! And I'm still stuck with my HTC hero :'(
ADVERTISEMENTS