Sense 4.0 on top of Android 4.0 ICS just makes sense
The HTC Evo 4G LTE comes with Android 4.0.3 and Sense 4.0 - both the latest and greatest Google and HTC have to offer. We've already seen those in action on the One S, but Evo 4G LTE offers even smoother performance and higher resolution. There are no surprises though, nothing exclusive on the Evo 4G LTE that is not present on the One S as well. Still we are going to explore the Android/Sense combo once again for you.
You've already heard about the new screen - it's really awesome and the OS and the Sense UI look even better on its HD resolution than on the One S qHD. The Evo 4G LTE offers probably the best smartphone experience to date - both visual and functional.
Here's a demo video to get you started:
HTC are famous for their deep customizations of the interface of the host OS and the latest version of Sense is no exception, though the Taiwanese have taken user feedback to heart and worked hard to provide a much more unobtrusive experience.
The brilliant lockscreen has been further improved, sealing its position as the most functional, most customizable lockscreen on a smartphone. By default, it has four shortcuts and a ring at the bottom. You drag the ring towards the center of the screen to unlock the phone.
Or, you can drag any of the shortcuts into the ring to unlock the phone and launch the corresponding app. You can assign any four apps to the lockscreen.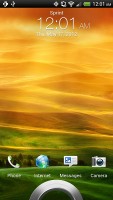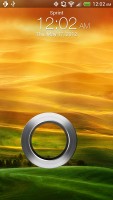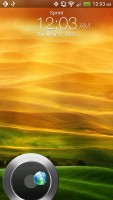 The new lockscreen is brilliant
But that's not the end of it - the HTC Evo 4G LTE comes with eight different lockscreens preinstalled. You can access the others from the Personalize menu.
You get all the old ones - a photo album, Friend Stream, Weather, clock and stocks.
There are two new additions though and they're much more functional. The first is called Productivity and lists the latest missed calls, texts, emails and scheduled events.
The second one is People - you pick a group from your phonebook and a rectangular grid of their contact images will pop up on the lockscreen. Grab one of them and drop them on the ring to view their details. You can have more than one page of contacts too.
If you're using the music player, the playback controls show up on the lockscreen (as usual), and you can drag that onto the ring to jump straight into the music player too.
Unfortunately, you can't download new lockscreens off the HTC Hub.
HTC have done a lot to streamline the lockscreen and the same goes for the homescreen. Gone is the scrolling indicator arc, gone is the three button dock that wasn't very useful.
You get an auto-hiding indicator of which screen you're on and a brand new dock with five shortcuts - the middle one is locked to the app drawer, while the other four can be customized as you please (you can even put a folder there, if four shortcuts isn't enough).
Leap view is still here - tap the home key (while on the default homescreen) or do a pinch gesture to zoom out (with an awesome animation) to display the thumbnails of all seven homescreen panes at once. Upon a press and hold you can drag to reposition the homescreen panes. A small "home" icon indicates the default homescreen.
You can have as many as seven homescreens - and with all the excellent preloaded widgets, you might want to keep all of them.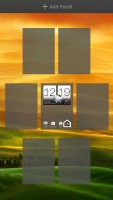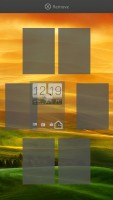 Leap View lets you quickly rearrange homescreen panes
One of the biggest complaints was that the Personalize button was just taking up space in the dock at the bottom of the screen. And it was - it has since been moved to the app drawer, but it still offers plenty of customization options.
An access to the proprietary Scenes is one of them - essentially five custom homescreen setups (Work, Travel, Social, Play and default). Each scene changes the wallpaper and the set of widgets. For instance, the Work scene has a Stocks widget, while the Social offers a Twitter widget. Those can be customized, of course, and you can download new ones.
Switching between scenes takes a couple of seconds, but they're a handy feature if you use your Evo 4G LTE as both work and personal phone.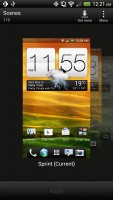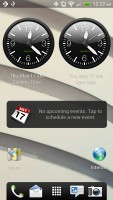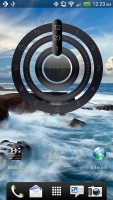 Preset scenes • The scenes in action
The HTC Sense has another customization option called Skins. Every skin changes the look and feel of most of the onscreen buttons, application screens, option menus, and other items. They also come with unique wallpaper each and use different colors for various UI elements.
The main menu has the typical grid layout, which is composed of horizontal pages with shortcuts sorted alphabetically. You can set different sorting options - alphabetical, most recent or oldest - but you can't rearrange them manually. There are Search and Play Store shortcuts along with a menu for some options.
The main menu has a tabbed layout similar to different Sense elements (such as the phonebook). There are three tabs available at the bottom - All apps, Frequent and Downloads. You can rearrange them or remove Frequent and Downloads if you don't need them.
The Personalize app also has Sound customizations - you can pick a Sound set or individual ringtone, notification and alarm sounds.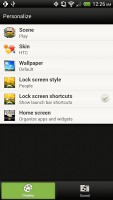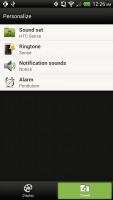 The Personalize menu does Sound too
Adding widgets to the homescreen is done in similar fashion to Honeycomb and is one of the less successful changes.
You press and hold on the homescreen and everything zooms out so that the homescreen panes are visible as thumbnails on the top row of the screen. You tap a homescreen to select it and then select a widget to add to it (or you can just drag the widget).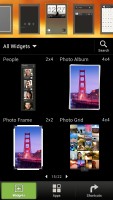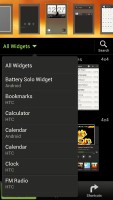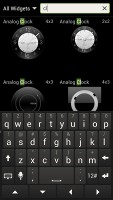 Adding a widget to the homescreen
Our beef is with how widgets are selected - they are shown four at a time and there's a lot of scrolling involved. Widgets are available in multiple versions - usually differing in size, but also functionality - and they're all dumped into the list, so you're scrolling through a lot of duplicates.
There's a search option to speed things along or you can choose a widget from the dropdown menu and then select which size you like, but that still feels like an extra step.
The old setup of picking a widget and then picking the size (if any) seemed simpler.
Editing the homescreen is different from vanilla Android. You can tap and hold on a widget and you can drag across homescreen panes. While you're dragging a widget (or shortcut or whatever), two "buttons" appear at the top of the screen - Edit and Remove. You drop the widget on either button to perform the corresponding action.
Edit can be used to modify the settings of a widget - e.g. choose a different folder for the Photo Frame album or even choose a different version of the Clock widget. This saves you the trouble of first deleting a widget and then putting it on the screen again to choose a different version, setting and so on.
The second "button" is Remove, which deletes the widget as expected.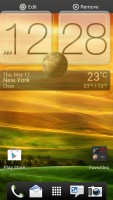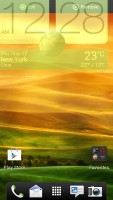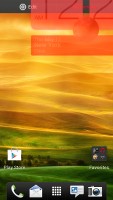 Long-pressing a widget gives you options
The notification area no longer has the list of recent apps - it's all available to notifications only. No more tabs and toggles either - you get a Settings shortcut here if you need to power something on or off. There's also a Clear button to dismiss all notification or you can swipe them off one by one.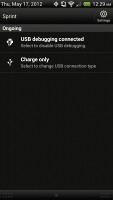 The notification area has been significantly de-cluttered
HTC have remodeled the app switching interface - screenshots are displayed of the running apps, turned slightly to the side. They're ordered horizontally (instead of vertically as is the ICS standard) and you can swipe up to remove them. The not so-good news is that you can only see three of them at a time, even in landscape mode - a waste of screen estate.
You get the old task manager too. It's simple to use - each running app is listed with an indication of how much RAM it's using (no CPU usage reading though). You can terminate apps one by one and there's a Kill All button too.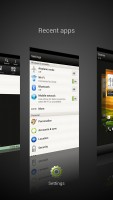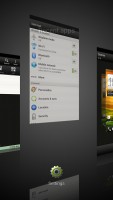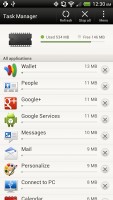 HTC's task switcher and task manager
Synthetic benchmarks
The Qualcomm Snapdragon S4 in the HTC Evo 4G LTE is just a solid a performer. Due to its newer architecture, it outclasses the Tegra 3 chipset of the HTC One X for example.
The Benchmark Pi result of the Evo 4G LTE is the second best we've seen to date. Linpack tested in multi-threaded mode on the other hand, showed that two Krait cores outdo the Tegra 3 quartet.
Benchmark Pi
Lower is better
HTC One X (Snapdragon S4)
279
HTC Evo 4G LTE
288
HTC One X (Tegra 3)
338
HTC One S
306
Samsung Galaxy S III
344
Samsung Galaxy Note 10.1
351
Samsung Galaxy Nexus
408
Samsung Galaxy S II
452
Sony Xperia S
536
HTC Sensation XE
583
Linpack
Higher is better
HTC One X (Snapdragon S4)
196
HTC Evo 4G LTE
152
HTC One X (Tegra 3)
126.1
HTC One S
210
Samsung Galaxy S III
177.1
Samsung Galaxy Note 10.1
90
Sony Xperia S
86.4
Samsung Galaxy S II
77.6
Samsung Galaxy Nexus
77.1
HTC Sensation XE
50.4
The 3D graphics department is handled by Qualcomm's Adreno 225 GPU. Unsurprisingly, the Evo 4G LTE posted a score which was in line with its Snapdragon packing relative - the One S.
NenaMark 2
Higher is better
HTC Evo 4G LTE
60.2
HTC One X (Snapdragon S4)
55.9
HTC One X (Tegra 3)
47.5
HTC One S
60.5
Samsung Galaxy S III
58.8
Samsung Galaxy S II
51.6
Samsung Galaxy Note 10.1
43.6
Sony Xperia S
37.5
Samsung Galaxy Nexus
24
HTC Sensation XE
23
On SunSpider, the CPU-stressing JavaScript benchmark, the HTC Evo 4G LTE came second only to the Samsung Galaxy S III. In the Browsermark test, it outdid both the global and AT&T versions of the HTC One X.
SunSpider
Lower is better
HTC Evo 4G LTE
1638
HTC One X (Snapdragon S4)
1834
HTC One X (Tegra 3)
1757
Samsung Galaxy S III
1447
HTC One S
1708
New Apple iPad
1722
Samsung Galaxy S II
1849
Samsung Galaxy Nexus
1863
Samsung Galaxy Note 10.1
1891
Apple iPhone 4S
2217
Sony Xperia S
2587
HTC Sensation XE
4404
BrowserMark
Higher is better
HTC Evo 4G LTE
101378
HTC One X (Snapdragon S4)
92232
HTC One X (Tegra 3)
96803
Samsung Galaxy S III
169811
Samsung Galaxy Note 10.1
113256
Samsung Galaxy S II
111853
Samsung Galaxy Nexus
103591
New Apple iPad
103264
HTC One S
98435
Apple iPhone 4S
88725
Sony Xperia S
74990
HTC Sensation XE
72498
The HTC Evo 4G LTE is certainly one of fastest phones currently on the market - there's no test in the mobile world it can't pass with flying colors. The Snapdragon S4 equipped version also clearly shows that there's more to performance than just the sheer number of CPU cores.