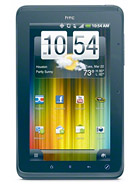 j
wrong.. it wil b 2.3.4 gingerbread, and it alredy has evolved... runing it on my htc hd2 now...
?
there's nothing to kill galaxy tab if they don't have GSM calling and 1gb ram.
a
android 2.3 gingerbread will upgrade and become android 2.4 gingerbread
T
AnonD-4489, 23 Mar 2011If there will be a gsm version before the summer, I will buy it for sure.You can say there is sort of a GSM version... The HTC Flyer is coming out soon and it is a GSM version tab with the same features.
D
hayi, this is a tablet, sorry it's totally heard stupid if you replace your smartphone with this.

BELMOT, the GSM version is the HTC Flyer.
Total of 31 user reviews and opinions for HTC EVO View 4G.