The start of a journey
HTC Explorer review: The start of a journey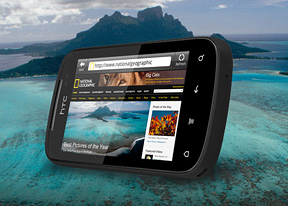 Well organized phonebook
The Explorer's phonebook is rich in features and quite good at the social networking stuff. It manages to keep things neatly in order, even though it's juggling everything from SMS to Facebook photo albums.
The entire People app (the phonebook) is tabbed and with more tabs than the stock Android. Version 3.5 of Sense merges the Phone and People apps into one. So, you have the dialer, all contacts, groups (including favorite contacts there), as well as a call log.
From a drop-down menu at the top, you can filter contacts based on where they came from - the phone's address book, Facebook or your HTC Sense account. Unfortunately, Twitter isn't on that list.
The list of contacts has two lines per entry, the contact's name and their latest SNS update (with an icon to identify the social network used).
As usual, selecting a contact displays the basic details: name and photo, numbers, emails and such. The interface is tabbed here but it has been reorganized and the new view makes more sense.
The second tab is called Thread - it lists regular messages, email and call history with that contact. It's the next tab, Updates, that handles the social networking side of things - it lists both events from online calendars and SNS status updates.
The fourth and last tab holds the online galleries of the contact, including Facebook and Flickr.
When editing a contact, you start off with just one of the essential fields but you can easily add more.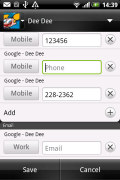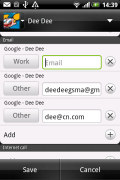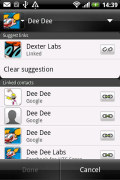 Editing a contact • Linking Dee Dee with his Facebook account
If you're switching from another phone don't worry – you don't even need a computer to pull your contacts, messages and calendar items from the old phone into your new Explorer. The Transfer app supports many phones from major manufacturers and moves the data over Bluetooth.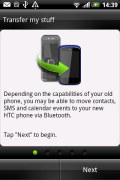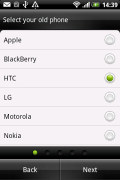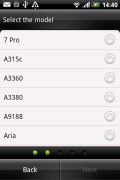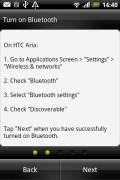 The Transfer app will easily copy your contacts from your old phone
It's an old trick (Symbian-powered Nokias have been doing this for ever) and most people would probably go with syncing the contacts over the cloud, but still it's a handy tool to have.
Excellent telephony
We had no reception-related problems or poor in-call audio with the HTC Explorer.
The on-screen dialer features a keypad, a shortcut to the call log and a list of contacts beneath (you can hide the numpad). The HTC Explorer has both Smart Dialing and Voice dialing.
The Explorer also knows some accelerometer-based tricks – turning the phone over will mute the ringer while placing it down starts the loudspeaker automatically when you are in the middle of a call. The other feature is Quiet ring on pickup – once you move the phone, the ringer will quiet down (but not cancel the call).
Yet another option is pocket mode – the ringer volume will increase if the phone is in your pocket (the proximity sensor takes care of detecting that).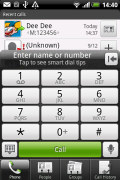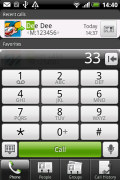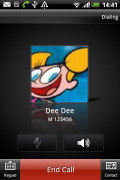 The dialer has smart dialing • calling Dee Dee
Here's how the HTC Explorer fares in our traditional loudspeaker performance test. It scored a Good mark, so missed calls are unlikely.
| | | | | |
| --- | --- | --- | --- | --- |
| Speakerphone test | Voice, dB | Pink noise/ Music, dB | Ringing phone, dB | Overall score |
| Sony Ericsson Xperia mini | 61.7 | 60.3 | 63.2 | Below Average |
| Samsung S5360 Galaxy Y | 65.8 | 62.0 | 67.1 | Below Average |
| Apple iPhone 4S | 65.8 | 64.5 | 74.6 | Average |
| Samsung Galaxy Ace S5830 | 71.0 | 66.7 | 67.8 | Average |
| HTC Salsa | 71.3 | 65.8 | 75.7 | Good |
| HTC Explorer | 66.3 | 66.2 | 79.0 | Good |
| HTC Rhyme | 68.6 | 66.6 | 78.5 | Good |
| HTC Titan | 75.8 | 66.2 | 82.7 | Very Good |
| HTC Gratia | 73.2 | 73.6 | 83.5 | Excellent |
| LG Optimus One P500 | 77.14 | 74.5 | 77.9 | Excellent |
Hassle-free messaging
Android and the HTC Explorer are capable of handling all sorts of text messaging – SMS, MMS, email. Social networking is covered by several apps and widgets, and there's Gtalk, which can connect you to Google's chat network and compatible networks too (like Ovi Chat).
SMS and MMS are displayed in threads – you see a list of all conversations, each one is listed with the contact's photo, name and the subject of the last message, as well as a part of the actual message (you can set the preview to be one, two or three lines). Tapping on a conversation brings up the entire message history with that contact.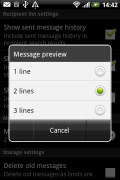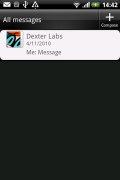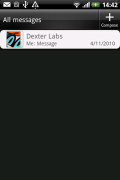 Choosing the number of preview lines
The whole thing looks almost the same as a chat client. When viewing a thread, the most recent message is placed at the bottom.
To add recipients, just start typing a name or number and choose from the contacts offered – the phone will find the contact you want even if you misspell it (e.g. "drx" matches Dexter).
Converting SMS into MMS is as simple as adding some multimedia content to the message. You can just add a photo or an audio file to go with the text, or you can get creative with several slides and photos.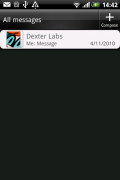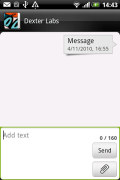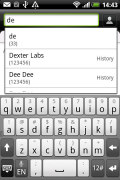 All threads • viewing a specific thread • Adding recipients • Attaching a multimedia file turns the SMS to MMS
You can enable delivery reports and you can backup text messages to the internal storage memory (and restore them from there later).
Text input on the Explorer boils down to an on-screen custom-made virtual QWERTY keyboard. It won't please heavy texters as it's rather tiny and cramped. The landscape version isn't much bigger either. Still, it's good enough for the occasional text.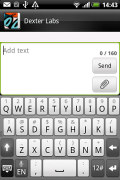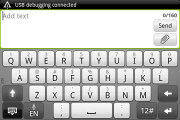 The on-screen QWERTY keyboard in portrait and landscape modes
A tap-and-hold on the text box gives you access to functions such as cut, copy and paste. You are free to paste the copied text across applications like email, notes, chats, etc. and vice versa.
Gingerbread text selection is very user-friendly. Upon a press and hold, a "magnifying glass" appears, enabling accurate cursor movements.
HTC Mail app and Gmail
The HTC Explorer comes with two email clients – the traditional Gmail app and the generic HTC Mail app, which merges all your email accounts into a single inbox.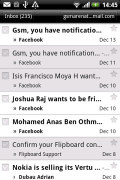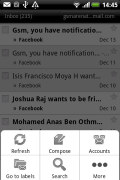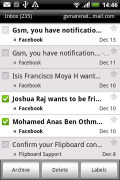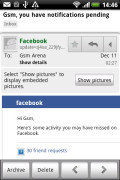 Batch operations lets you manage multiple conversations
The Gmail app has the trademark conversation style view and can manage multiple (Gmail) accounts. Batch operations are supported too, in case you need to handle email messages in bulk.
The standard HTC Mail app has been updated too. Emails are organized into four tabs and can be sorted by date, sender, subject, priority or size (both ascending and descending). You can browse all folders for the email account or view all inboxes combined.
If you go for the latter option, emails are color-coded so it's easy to tell which email belongs to which account. You can mass delete emails or mark them as read too (you can't perform other operations en masse like you can in Gmail though).
Back to the tabs. The first one, Received, contains all the emails. Then comes the Thread tab - it groups related emails into conversations (hit the down arrow to see the list), but once you open an email you can only view them one at a time.
There are previous/next buttons in the menu, but it would have been more convenient to view all messages together on the screen (like in the Gmail app).
Anyway, you have a Favorites tab that holds only email from contacts in the Favorites group and an Invite tab that collect invitations from online calendars.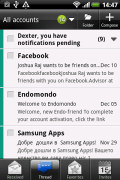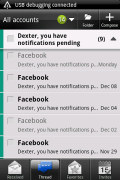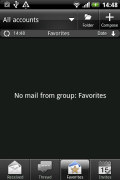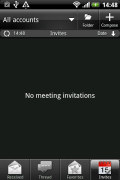 The standard mail with new looks and features
The HTC Mail app also supports batch operations - you can mark multiple emails as read/unread or delete them.
There's hardly anything the HTC Explorer lacks in terms of email capabilities. The settings for popular email services are automatically configured. POP/IMAP accounts and Active Sync accounts are supported.