The start of a journey
HTC Explorer review: The start of a journey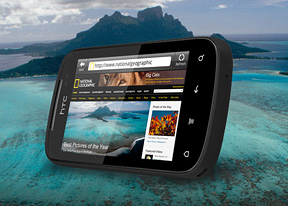 Basic image gallery with Facebook
The HTC Gallery in the HTC Explorer displays a list of thumbnails. The Albums app automatically locates images and videos, no matter where they are stored. You can hide certain folders if you like.
Images and videos stored in different folders appear in different sub-galleries that automatically get the name of the folder – which is an effective file management solution. You can also select which folders the gallery should display.
Ones you pick one of the folders, you're presented with a grid of the photos inside. There is also a camera shortcut, but it's only available once you start browsing any of the sub-folders.
The Albums app has a second tab, dedicated entirely to photos from your Facebook account.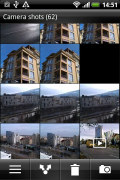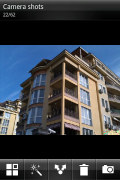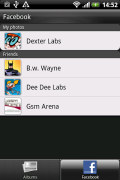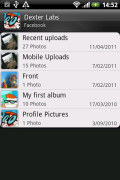 Browsing the image gallery • The Facebook tab
Sharing a photo on the HTC Explorer is very straightforward – tap the share button, pick your preferred sharing method and select one or multiple photos/videos to share. There's everything from sharing via Bluetooth or email, to posting on Facebook or Picasa. You can also upload videos straight to YouTube.
There's no sharing on Twitter by default and there's no DLNA connectivity either (things we're used to from other HTCs).
You can also mass delete images, but still no mass copy-and-paste options – you'd need a proper file manager for that. There are also some basic editing tools too, like cropping, rotating and applying effects.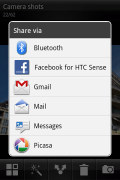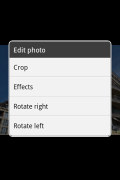 Sharing images is easy • Basic image editing tools
HTC Explorer supports multi-touch and you can take full advantage of it while browsing your images. You can zoom to 50% with a simple double tap on the screen or continue to pinch zoom until you reach 100%. The implementation here is extra smooth too. And if you pan past the edge of an image, you'll scroll into the next image, which is a handy way to browse multiple photos.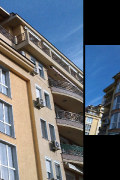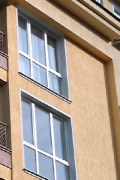 Smooth finger-sweep browsing of images and pinch zoom
Good enough codec support for the video player
Video files can be accessed in the All videos subfolder in the Gallery or through the Videos shortcut. They both bring you to the same place though.
The video files are displayed as a grid and can be shared over Bluetooth, MMS, email, YouTube or Facebook..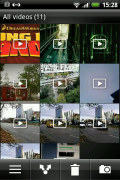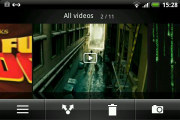 The Videos app is part of the Gallery • Landscape mode
The video playing interface on the HTC Explorer offers a full screen toggle (stretches the video to the screen's aspect) and you can scrub through videos. There are also sound enhancement options - SRS and 5.1 virtualization. Subtitles are not supported though. DLNA is a no-go too with the Explorer.
The video player did well enough for the class - sub-HD videos with DivX or XviD codec were generally not a problem, even entire movies. 720p videos wouldn't play though, nor would MKV files, but given the screen size and resolution and lack of TV-Out, we hardly think this is a problem.
Music player with sound enhancements
The music player uses a tabbed interface. The tabs group your music collection in different ways - by artist, album, playlist or just all songs.
The now playing interface is a Cover-Flow-like visualization of the current playlist – you can swipe sideways to skip songs but that worked rather strangely. You can skip between different albums/artists but not individual songs.
Two shortcuts in the bottom corners act as toggles for shuffle and repeat. Other goodies include looking up a song on YouTube or updating the album art for the current or all songs. You can enable auto update too.
The Explorer offers the SRS sound enhancement plus a standard set of equalizer presets when you connect a headset.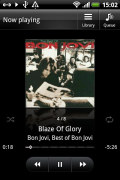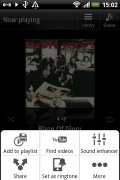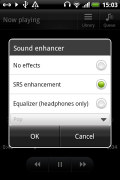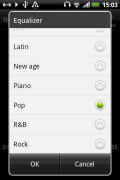 The new player interface is nice • Sound enhancers
The lockscreen has a neat feature - a 3D card stays on the lockscreen that lets you control the music player (previous, next and play/pause). You can also use the notification area and the Shortcuts & Clock widget to control the music player too.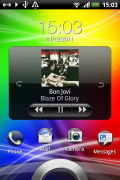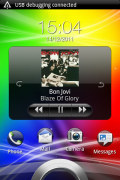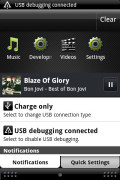 The 3D "card" on the lockscreen that controls the music player • Player controls in the notification area
Just like the Video player, there's no DLNA support here. Actually, there's no DLNA support at all in the HTC Explorer, which is something to note if you were counting on it.
FM radio with RDS on board
The HTC Explorer is also equipped with an FM radio, which has a pretty simple interface. It automatically scans the area for the available stations and allows you to mark some of them as favorite. It also supports RDS and allows loudspeaker playback.
Great audio output for the class
Despite its low position in the pecking order, the HTC Explorer did fairly well in our audio quality test.
When connected to an active external amplifier, the Explorer produces nicely clear output with above average loudness. The scores it achieved are good, save for the only average intermodulation distortion. Frequency response is great for the most part, but the extreme bass frequencies are slightly cut off.
It seems that the HTC Explorer was optimized to work with headphones, as its performance in that scenario was pretty decent. Its distortion levels did go up a little and so did stereo crosstalk, but differences really aren't as big as we are used to seeing. In fact we would say the Explorer is among the better performers with headphones we have tested.
Here go the results so you can see how the Explorer did for yourselves.
| | | | | | | |
| --- | --- | --- | --- | --- | --- | --- |
| Test | Frequency response | Noise level | Dynamic range | THD | IMD + Noise | Stereo crosstalk |
| HTC Explorer | +0.13, -1.25 | -82.4 | 83.3 | 0.025 | 0.173 | -81.1 |
| HTC Explorer (headphones attached) | +0.13, -1.18 | -85.0 | 86.8 | 0.064 | 0.217 | -60.7 |
| HTC Rhyme | +0.07, -0.33 | -90.4 | 90.3 | 0.014 | 0.038 | -75.4 |
| HTC Rhyme (headphones attached) | +0.62, -0.17 | -90.4 | 90.3 | 0.021 | 0.470 | -53.1 |
| HTC Sensation XE | +3.46, -0.38 | -91.7 | 91.7 | 0.012 | 0.026 | -90.7 |
| HTC Sensation XE (headphones attached) | +3.87, -0.56 | -91.5 | 91.6 | 0.031 | 0.632 | -63.7 |
| HTC Sensation | +0.05, -0.34 | -90.2 | 90.2 | 0.012 | 0.021 | -91.1 |
| HTC Sensation (headphones attached) | +0.71, -0.15 | -89.1 | 90.1 | 0.019 | 0.522 | -70.6 |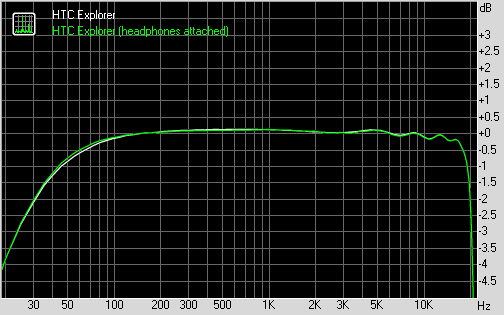 HTC Explorer frequency response
You can learn more about the whole testing process here.
••