Connectivity goes premium
The HTC Flyer enjoys a great connectivity suite. It offers quad-band GSM/GPRS/EDGE and blazing fast tri-band 3G: 14.4Mbps downlink and 5.76Mbps uplink thanks to HSPA. Wi-Fi connectivity supports standards b/g/n plus DNLA and hotspot functionality. Stereo Bluetooth 3.0 is also on board.
You'll also find a 3.5 mm headphones jack.
The main thing missing is an HDMI port. That is a real disappointment as a capable tablet without HDMI is behind the rest of the tide and that's something the Flyer doesn't want to be. At least it's not plagued by any death grip issues that we've seen on some other HTC products lately.
You have a long list of options for connecting to a PC - Charge only, Disk drive (Mass storage), HTC Sync, USB tethering (use the phone as a modem) and Internet pass-through (the phone uses the computer's Internet connection). The Charge only and Disk Drive now have big, thumbable icons, which is great since they are used most often.
Great web browser on a big portable screen
The HTC Flyer enjoys a big, high-resolution display, powerful processor and the latest Android for phones so it's naturally got support for Flash.
The address bar is accompanied by a search, bookmarks, add bookmark and tabs shortcuts. HTC really made use for that added space.
The browser chrome keeps mostly out of sight, which leaves the entire screen to the web page. The minimalist UI is still quite powerful – hit the menu key and six keys pop up.
There are home, share page, downloads, history, print and a more button. Hitting more reveals slightly less than it did before on smaller droids - you have find on page, select text, page info and settings. The select text option is kind of obsolete as holding a finger over plain text on the page automatically highlights and lets you select.
Once you select some text, you can copy it, launch the Quick lookup app (which offers Google Translate among other things) or share the text over a message or social networking.
The Flyer has support for text reflow, which works great at any given zoom level. It resizes columns to fit the screen area you're focused on and really saves you the hassle to move around to read the entire text. Sadly a reader option is missing on droids as it would be very convenient on such a big screen. What we mean is to have the option to view an article without the ads and all other distractions on the screen.
The bookmark list shows a thumbnail view of the bookmarked pages and you get a "most visited" list in addition to the regular history. Tabs are displayed as 3D cards too – a neat trick is that if you pinch zoom out beyond the minimum zoom level you go straight into the tab selector. This may be a cool way to manage tabs but too many of them open at once will seriously slow down the browser.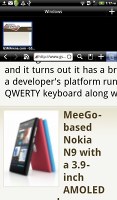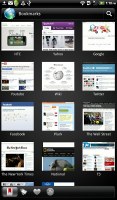 Text reflow in action • Bookmarks view
The HTC Flyer has full Flash support. It played everything up to 720p - in the browser itself and on Kongregate when we tested a Flash game. Getting your surf on isn't a problem with the Flyer and viewing pages on the ample 7" screen is far better than on any phone we've encountered so far as it just gives you more of a netbook experience than a phone one.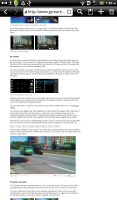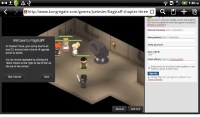 The browser handles Flash flawlessly (up to 720p)
Full-fledged organizer
The usual set of organizer apps are aboard the HTC Flyer, with a mobile Office app to boot that can both view and edit documents (no payment required). There are also a ton of entertainment apps on it such as the Reader, Notes, Scribe and more. The Notes app even syncs your notes online so that you never lose anything important.
When you think of organizing on a smartphone (or tablet) the first app that pops in your mind is the calendar. It has five different types of view: daily, weekly, monthly, agenda and invitation.
The Agenda view shows a list of all the calendar entries from the recent past to the near future. Invitation only lists events with invitation info attached to them. The day view showing the weather forecast at the top of the screen is a nice touch.
Adding a new event is quite straightforward and you can also set an alarm to serve as a reminder.
The calculator app is nicely touch optimized with huge, easy to hit buttons. Flipping it horizontally enables some more advanced functions like logarithms.
The clock app on the Flyer features an alarm clock, stopwatch and a timer all in one. It has a nice big-screen optimized look and is pretty intuitive and easy to operate.
You can naturally set as many alarms as you like.
The stopwatch is easy to use and offers lap differentiation. The timer is pretty self-explanatory. You set a period of time and the Flyer starts counting backwards. An alarm goes off when the preset time runs out. It does feature a very iPhone-esque UI with the rotating time wheels.