HTC's 3G and Wi-Fi enabled Flyer tablet is out today in retail stores in 14 European countries and online in another 16. Meanwhile, the LG Optimus Pad hits UK retailers at £750 SIM-free.
It seems Friday the 13th is no worse a day than any to launch a tablet. Two of them. Both the Optimus Pad and the Flyer are Android powered tablets. HTC have only launched the 3G+Wi-Fi version of the Flyer, the Wi-Fi-only variety still on pre-order.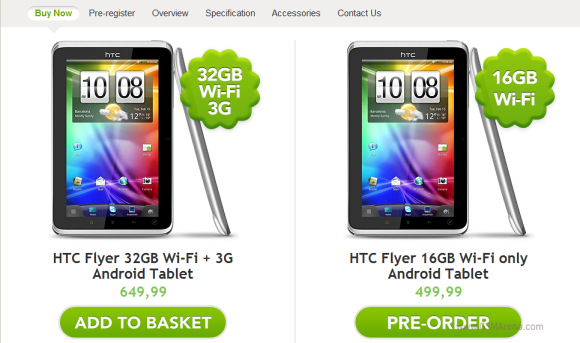 The 7" Flyer is out in the UK, France, Germany, Italy, Spain, Greece, Portugal, Denmark, Norway, Sweden, Czech Republic, Hungary, Poland, and Romania, available both in stores and at HTC.com for €650 or £600. In addition, users in Belgium, Estonia, Ireland, Lithuania, Luxembourg, Austria, Switzerland, Bulgaria, Cyprus, Finland, Latvia, Slovenia, Slovakia, Malta, UAE and Turkey can buy it online at HTC.com.
The Wi-Fi only Flyer is €50 cheaper (£30), but is still on pre-order only. There is no official word on the release date.
As a reminder, the HTC Flyer is powered by a 1.5GHz processor and packs a 7" LCD display at 1024x600 pixels. There's 1GB of RAM and 32GB worth of storage for the 3G version - that's 16GB for the Wi-Fi-only model. There's a 5 megapixel camera with 720p video recording, a 1.3 megapixel video-call camera, Bluetooth, Wi-Fi, GPS, HSPA (data only, no calls) and a microSD card slot. The HTC Flyer runs Android v2.4 Gingerbread with the latest HTC Sense 3.0 on top of it.
In related news, LG Optimus Pad is also available at the Carphone Warehouse starting today. It costs £750 SIM-free. It's quite a hefty price tag but you get a 8.9" display (1280x768), Tegra2 chipset with 1GHz dual-core processor, a 5 megapixel 3D camera, 1080p(2D)/720p(3D) video, as well as 3.5G data speeds and 32GB of built-in storage. There is an HDMI port too.

The LG Optimus Pad runs Android 3.0 Honeycomb that looks unskinned.
L
If you look the WiFi + 3G version advertised is 32GB whereas the WiFi only is 16GB, hence the drop of 150 in price. I think we are to assume the price difference of 50 is when you compare the two connectivity options with the same storage capacity.
ADVERTISEMENTS