It seems a GSM version of the HTC EVO 3D is coming to Europe after all. It has been confirmed by HTC France on its official Twitter account. There is no info on the release date or the official specifications but one thing's for sure, the EVO 3D moniker will stay the same.
HTC has recently posted quietly full details on the GSM version of the HTC EVO 3D. Shortly after that it pulled down this info stating it was a mistake and there is no international version of the Sprint's EVO 3D.
The good news came quickly though - various users reported that their local HTC branches told them there will be a worldwide version after all, they just didn't know anything about official dates.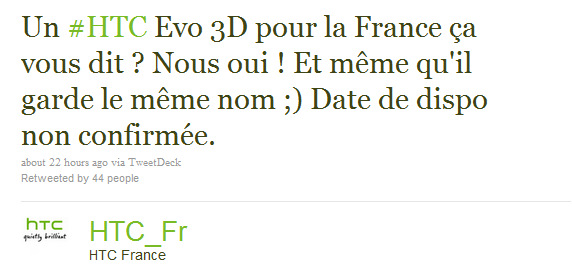 Today's news comes directly from HTC France. Here is the Google translated tweet:
An HTC Evo 3D for France anyone? Yes we are! And it even keeps the same name ;) availability date unconfirmed.
It's always good to hear it from an official public channel. Now we can sit back and wait for the official announcement. We bet it's around the corner.
Thanks to everyone who sent this in!
D
hiiiiiiiiiiii my name is Ankit bhateja. i want to buy a htc evo 3d.i cant understand the networks technology of HSPA/WCDMA: Europe/Asia: 900/1700/2100 MHz Quad-band GSM/GPRS/EDGE: 850/900/1800/...
D
SGS III might be a quad with 3D support... but personally I would like to see some OS-es that support full browsing experience... perhaps a honeycomb with voice and sms support... that might be interesting.. :)... about the evo 3D.. i can only a...
Y
I think you might be wrong on that one, but I don't know. This is not official, but search "samfirmware twitter 3d" on google. First 3 tweets should answer your question, but remember this is unofficial! We will see!
ADVERTISEMENT