HTC Gratia is like a deja vu, it's the Euro alter ego of the HTC Aria

The HTC Aria broke free from its initial AT&T-only status and now it even changed its name to avoid detection. It's now called the HTC Gratia and has been spotted in a European cafe munching on some Froyo.
The name is not the only thing that's new, the HTC Gratia got some new garbs too - it will be available in White and Green besides the black. Nothing seems to have changed in the specs, except that it comes with Android 2.2 Froyo out of the box.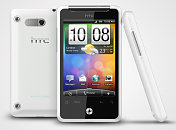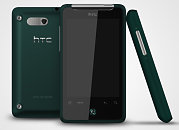 The HTC Gratia in Black, White and Green
The HTC Gratia will be available in Europe only but it's available as HTC Aria elsewhere so that's not a problem. We don't know if the other regions will get the new colors though.
Anyway, here's a quick reminder of what the HTC Gratia has to offer - it's a compact Android with a 3.2" HVGA screen, 600MHz CPU and 384MB RAM, 5MP camera with VGA video recording and HTC's wonderful Sense UI covering the stock Android Froyo UI.
The HTC Gratia will be available in the major European markets in November, but not a word on pricing.
G
Its a repacked Legend only with Froyo.
d
yeh i agree it would be nice if you look at the enlarged pictres they have made the button to match the back cover but they should encorporate the color elsewere also like the buttons on the screen should match the case colour that would be nice also...
?
Why didn't HTC make the front panel (surrounding the screen) white and green respectively ?? Now, that would've been pretty cool
ADVERTISEMENTS