Excellent call management, but you already knew that
Making calls is always a priority for any phone - that still holds true for PocketPCs such as the HD2. And like most other recent HTC handsets, this one keeps the high standard.
The Phone application offers Smart dialing, so you hardly ever need to go to the Contacts list in order to dial a number.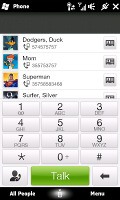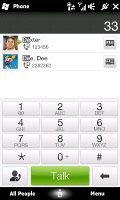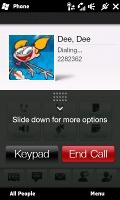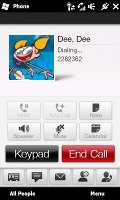 Smart Dialing • Dialing a contact
The built-in accelerometer gives the HTC HD2 a familiar cool feature: you can mute the ringer by simply turning the phone face down on the table. If you turn the handset back up, the ringing won't resume by itself.
Don't worry, it's unlikely your calls will get muted accidentally in your pocket - the feature is set up in such a way that it's more likely to not engage at all rather than engage for no particular reason.
One point of note though is that if the HD2 is already face down when a call comes in, the feature won't be available.
The HD2 did quite well in our loudness test. It snatched a Very Good mark and here is how it stacks up against some other handsets we've tested. More info on our test can be found here.
| | | | | |
| --- | --- | --- | --- | --- |
| Speakerphone test | Voice, dB | Pink noise/ Music, dB | Ringing phone, dB | Overall score |
| Apple iPhone 3G | 66.1 | 62.1 | 71.7 | Below Average |
| Nokia 5800 XpressMusic | 75.7 | 66.5 | 68.5 | Good |
| Nokia N97 | 72.8 | 67.3 | 75.8 | Good |
| Nokia N97 mini | 68.8 | 66.7 | 83.6 | Very Good |
| HTC HD2 | 75.7 | 72.8 | 78.0 | Very Good |
| HTC Touch HD | 77.7 | 73.7 | 76.7 | Excellent |
More info on our test can be found here.
Great messaging
The HTC HD2 supports SMS, MMS and email. SMS and MMS share an inbox and a message editor and thanks to Sense UI, you can enjoy thumb scrolling in the inboxes and in longer messages.
The Message tab offers a great interface for managing messages. With the nice interface and touch-optimization it's highly unlikely you will ever switch back to the standard Windows SMS inbox. Threaded SMS is also available on the HD2, just as it is across all Windows 6.5 devices.
The email inbox is also available as a homescreen tab with eye-catching styling. The email editor will hold no surprises for experienced WinMo users as it hasn't changed at all.
Setting up your email is easy as it is on most of the latest mid or high range phones. You type your email and password and all the other fiddly options are configured automatically.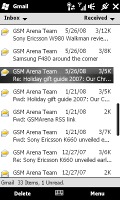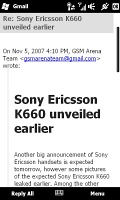 Browsing the email inbox • reading an email
Perhaps now is a good time to mention input options on the HD2. Since the device lacks any form of keypad you get a set of home-grown thumbable virtual keyboards. The first one is a regular numpad, the other is a brand new and huge full QWERTY keyboard and the last option is a regular WinMo QWERTY optimized for stylus use. As you can guess, using a regular stylus on the capacitive touchscreen is out of the question, so we hope that's the last time we see that keyboard.
Another disadvantage – if you can call it that – of the capacitive HD2 screen is the lack of handwriting recognition. To us it's not a big deal, especially given the absolutely fabulous screen sensitivity and large virtual keyboard. But some users who would be upgrading from previous PocketPCs might want to consider this.
The full QWERTY is available both in portrait and in landscape mode and thanks to the huge screen it might turn to be the best virtual keyboard out there. To view the landscape one you just need to rotate the HD2 in that position.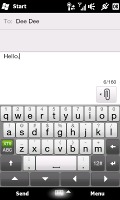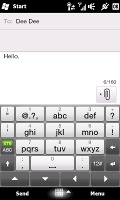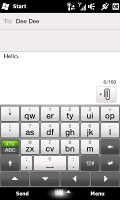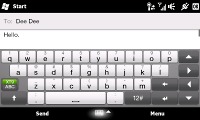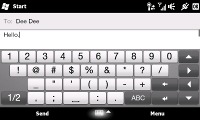 The touch-optimized keyboards on the HD2
File management is easy
The HTC HD2 offers a small amount of user available storage - about 180MB. This is barely sufficient and you'll definitely find yourself needing a microSD card. It's good that there is a 2GB in the retail package.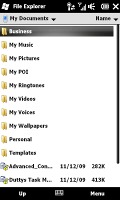 The WinMo file manager on the HTC HD2
The file manager is the standard Windows Mobile one and won't surprise anyone. Interestingly enough pinch zooming works here in case you have issues with small fonts.