We've heard it again and again but this time it's official - the HTC HD2 will launch on T-Mobile USA very soon. It's been a long string of rumors and leaks up to now and some of them did a lot to amp up the anticipation.
Like the find that the HTC HD2 for T-Mobile USA packs 576MB RAM. Later it turned out that all HD2's pack 576MB, though on non-US have only 448MB available by default - the rest is only unlockable by a custom firmware.
But T-Mobile are hosting a special event on March 16 - it's about the HDC HD2, or as they call it, the "Larger than life entertainment powerhouse". So, the HD2 will launch not long after the 16th, a couple of sources even give a specific date.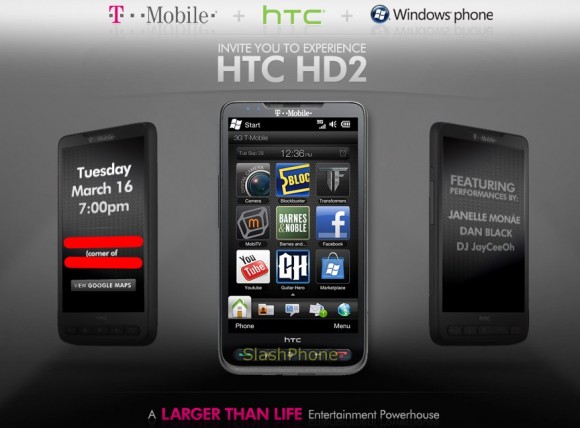 A leaked T-Mobile roadmap suggested that the HTC HD2 will hit T-Mobile USA stores on March 24. Well, MobiTV (TV and digital radio provider for mobile phones) posted on their Twitter account that T-Mobile is launching the HTC HD2 on March 23. Their app will be preloaded on the HD2, so they should know.
Source: SlashPhone, MobiTV Twitter
k
because its a good phone and it has really nice features
?
white tiger you are looking too often into the future... a new os isnt always better
?
The HTC HD2 is a great phone. Winmo 6.5 runs well on the phone. I have had an opportunity of seeing Winmo7 in action, At the moment does not look that great but early days yet. Not expected to be released until Oct 2010 at the earliest so a lot of li...
ADVERTISEMENTS