Phonebook tightly integrates with Facebook
The People hub assumes the responsibilities of the phonebook, though calling it a "phonebook" is not very accurate. Instead of contacts, you have people with profiles – a term borrowed straight out of the social networking domain.
The first screen of the People hub shows you a list of all your contacts (phone contacts, social network friends, email pen friends – everything), with a search shortcut and an add contact button.
Contacts are ordered alphabetically, indexed with colored squares with a letter. You can tap on any one of those letter boxes and the screen shows you the whole alphabet highlighting the letters actually in use. You can tap a letter to skip directly to that part of the list.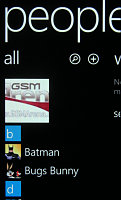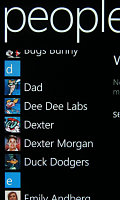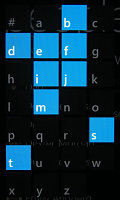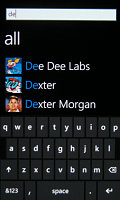 The phonebook • the alphabet scroll • regular search
Contacts can be sorted by either first name or last and they can be displayed as "First Last" or "Last, First" (the two settings are separate), you can also include or exclude Facebook friends, import only Facebook contacts that have a phone number and add several accounts to sync with.
Swiping to the side shows only new events from all contacts from social networks. Another swipe shows the recently called contacts. Instead of favorites, you can pin a contact to the homescreen.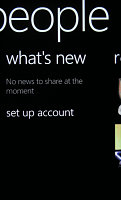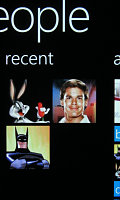 What's new • recently called contacts
Viewing a contact's profile shows the contact photo. Below that there are actions – "call mobile", "text mobile", "write on wall", "view website" and so on. Below each actions, in smaller type and grey or blue letters, are the target for the action (e.g. phone number, email, site URL) and where that info came from (Google, Facebook, etc.).
The soft keys let you pin a contact, link two (or more) contacts from the various services and edit. Swiping to the side brings up the "What's new" panel, which shows the latest updates and events just from that contact.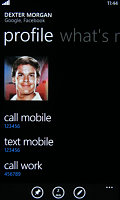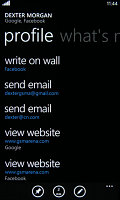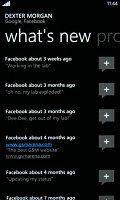 A contact's profile • what's new with Dexter
When editing a contact, you can add multiple phone numbers and email addresses of different types (home, work, etc), a custom ringtone, a note or a variety of different fields (like birthday, website, office location and so on).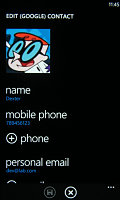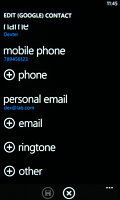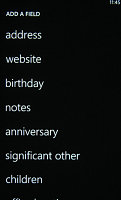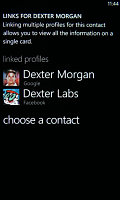 Editing a contact • linking two contacts
Telephony lacks smart dialing
The in-call sound of the HTC HD7 was loud and clear. Signal reception was decent but in areas with weak signal it dropped the call more often than not.
Also note that the HD7 is susceptible to the infamous "antenna death grip". At most, we managed to knock off two of the five bars but we couldn't make it completely lose the signal (even when we wrapped our hands all over it). Still, it happens when you hold it normally too, so this is something to watch out for in areas of poor coverage.
The phone application shows you the call history, with shortcuts to voice mail, dialer and phonebook. The phone live tile will show the number of missed calls as will the lock screen.
The dialer itself is as simple as it gets – a phone keypad with a Call and a Save button. The lack of smart dialing is an annoyance, but the People hub is good at finding contacts.
You could use voice dialing instead – the HD7 did fairly well recognizing our commands, though it did have issues separating the two Dexter's in our contact list - "Dexter" and "Dexter Morgan". Still, it did recognize the unusual name of Mandark.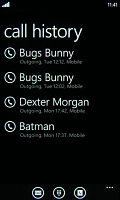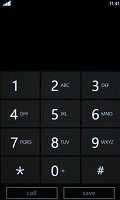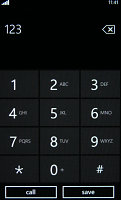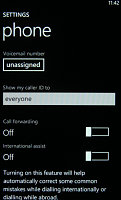 Call log • dialer lacks smart dialing • call settings
An interesting option is the International assist – it comes in handy for dialing while abroad or calling someone outside the country. What's missing is the ability to set any song from your collection as a ringtone – a feature some of you might miss. You can download new ringtones from the Marketplace though (possibly for a fee).
When there's an incoming call, the contact's photo will appear full screen and you can slide up to reveal the answer and reject call buttons. This will prevent any accidentally answered or rejected calls.
A quick note – status indicators are hidden by default (except the clock) but you can bring them up with a quick tap on the very top of the screen.
The HTC HD7 scored a Good mark in our traditional loudspeaker performance test.
| | | | | |
| --- | --- | --- | --- | --- |
| Speakerphone test | Voice, dB | Pink noise/ Music, dB | Ringing phone, dB | Overall score |
| Apple iPhone 4 | 65.1 | 60.3 | 66.2 | Below Average |
| Samsung I8700 Omnia 7 | 66.1 | 66.6 | 70.6 | Average |
| LG E900 Optimus 7 | 66.6 | 66.7 | 75.7 | Good |
| HTC HD7 | 66.7 | 64.6 | 77.9 | Good |
| HTC 7 Trophy | 70.5 | 66.2 | 77.8 | Good |
| HTC Desire HD | 69.7 | 66.6 | 78.3 | Good |
| Nokia N8 | 75.8 | 66.2 | 82.7 | Very Good |
| HTC Desire | 76.6 | 75.7 | 84.6 | Excellent |