The first devices based on the recently unveiled Windows Phone 7 platform are finally ready to take over the US, a few weeks after the first WP7-powered devices hit the stores across Australia, Europe, New Zealand, and Singapore.
Windows Phone 7 showed up for the first time back in February 2010 and several months later, in October, Microsoft revealed some more details on its new baby-platform. The first WP7-driven smartphones started spreading around the globe on 21 October 2010 and today they reached stores over at the US while the Asian market will have to wait for another few months - until 2011.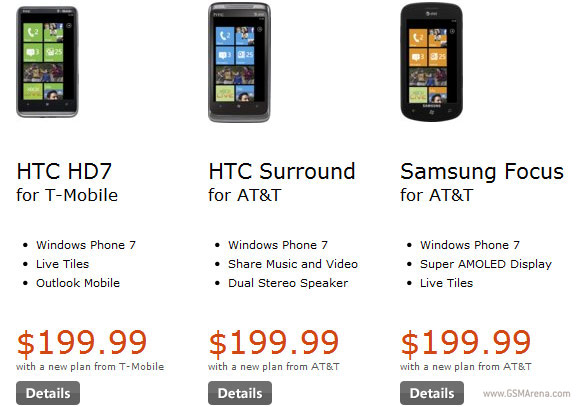 The first three US smartphones powered by the Windows Phone 7 are the HTC-made HD7 and Surround and the Samsung Focus. The HD7 can now be found at the T-Mobile stores, while the Surround and the Focus are now available from AT&T. All three can also be purchased online (on the Microsoft Store website as well).
Normally, all three are priced at 200 US dollars (with a new 2-year contract) but if you shop around, you could get the HTC HD7 for as low as 150 US dollars with a new contract with T-Mobile and the price of the HTC Surround could drop to 100 US dollars (again if you sign a new contract, this time with AT&T).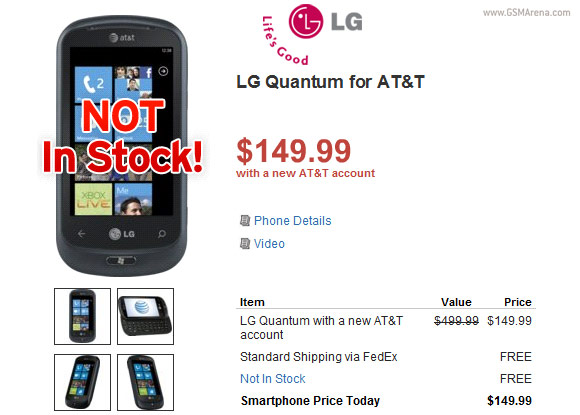 By the way, one more WP7-based device, the LG Quantum is soon hitting the shelves, too. It is expected to cost 150 US dollars, of course, you'll need to sign a new 2-year agreement with AT&T to get it.
Source
h
W7 phone is picking up soon but will take sometime to catchup with OS n Android well if Microsoft pays apps developer they will succeed. All W7 phones are indeed good smartphone, off course not really Iphone make no diffrent with the previous model ...
?
having finally got windows 7 phones into the store near me i checked them out,the ui is indeed very drab indeed,its hard to describe the experience very much like a file manager app that got made into a phone
?
Try telling that to Apple.
ADVERTISEMENTS