Multimedia reskinned
Video playing was the big news in the HTC Magic, and now the Hero brings a totally rehashed image gallery called Albums.
The gallery has a new main menu list-with-thumbnail structure to replace the old grid view. The Albums app automatically locates images and videos, no matter where they are stored. Images and videos stored in different folders appear in different sub-galleries that automatically get the name of the folder - quite effective file management.
Unfortunately, the gallery undertakes reindexing of the content each time you open it and it does so even when you open a file for an instant and then get back to the thumbnail view. And that's a bugger as when cards are full of content, it's quite slow to complete.
Right next to the folder's name is a number indicating the count of images stored. Each sub-album has a thumbnail of the latest image. The contextual menu of the main Album view has only one shortcut to the settings menu. No sign of the camera shortcut that we found so comfortable in the HTC Magic's main gallery. It is only available once you start browsing any of the sub-folders.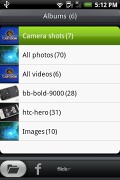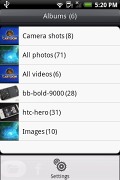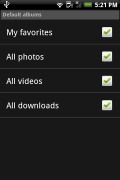 The Albums and some of the simple menu settings
At the bottom of the main album there are three virtual buttons - one for the actual folder list, another for Facebook and finally - Flickr. The latter two display images from either account or those posted by your friends.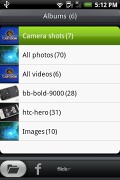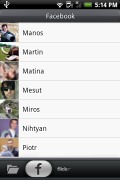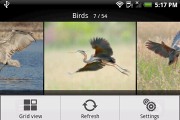 The Facebook app in Albums is great
Anywhere in the gallery except the main Album view you can launch the camera or camcorder to capture new images and share them on Facebook, Flickr, Gmail, HTC Mail, Messages, Peep and Picasa.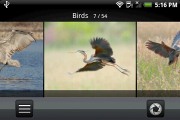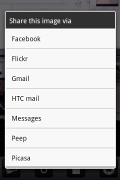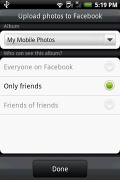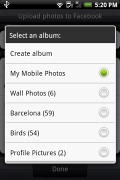 Taking an image is possible even while browsing Facebook photos, direct uploading is even easier
In the HTC Hero image folders you can choose between grid and filmstrip view. You are also able to mass delete images, but still no mass copy and paste options.
While you cannot copy/paste images from folder to folder (you'd need a proper file manager for that), you can still share multiple images from your albums on Facebook, Flickr, Gmail, HTC Mail, Messages, Peep and Picasa.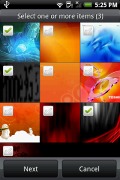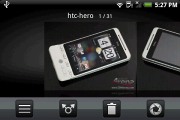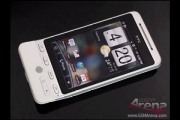 Sharing images is easy • Grid and filmstrip type of views
HTC Hero supports multi-touch and you can take the full advantage of this while browsing your images. Zooming in and out is done in the same fashion as on the Apple iPhone. You can zoom to 100% with simple double tap on the screen. And unlike the LG recent implementation, the one here is extra smooth - just as it is on the iPhone (and those are 5 megapixel images we're talking about here).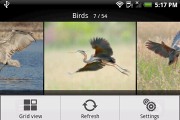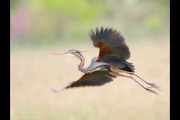 Smooth finger-sweep browsing of images and pinch zoom
And turning to video...
Video files can be accessed only from the Albums' subfolder as there is no separate icon for the video player in the main menu. The video files can also be viewed as a grid or filmstrip and can be shared via Gmail, HTC mail, Messages or YouTube.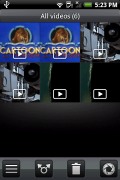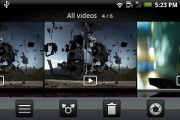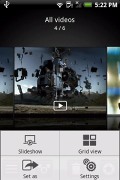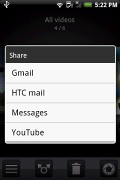 Grid and Filmstrip views • contextual menus and sharing files
The video player application of HTC Hero has seen some cosmetic changes, but is still quite basic. The only new addition is the full screen mode, where the original clip is stretched / cropped to fit the screen.
Quite as expected, the player is capable of playing only 3GP and MP4 videos, which means that you will have to convert most your videos for watching on the go HTC Hero.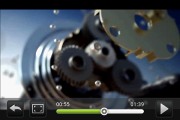 Playing video files from the Gallery
But if you intend to do a lot of video watching on the Hero you should be warned that for some reason almost all the MP4 videos we tried were played quite choppy. We guess there's some software reason behind that, as the 528MHz CPU should be capable enough to cope with those.
As our tests confirmed, any video with a resolution larger than QVGA (25fps) is quite unusable due to the performance stutter.
Music player only looks new
As with the rest of the multimedia department, the music player is also totally redesigned, but there are no new features inside.
The standard music library view is the Artists section, but you can easily switch to one of the other six tabs beneath, which are for Albums, All Songs, Playlists, Genres, Composers and Purchased.
The now playing user interface, though very sleek and more comfortable doesn't offer new features.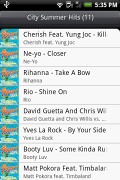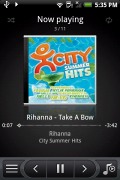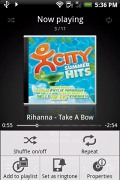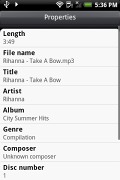 The new player interface is nice, though no new features inside
We were disappointed to find no contextual search in the music player for songs and related stuff in YouTube or Google. The other music player weaknesses of the Android platform still need addressing too - no equalizer presets, nor any alternative visualizations.
Audio quality is passable
The HTC Hero has tolerable audio quality but if most certainly won't be able to blow your mind away. Much like with the HTC Magic, the noise level, dynamic range and stereo crosstalk are the strong points of its performance but the rest of the readings are somewhat below-par.
The shaky frequency response suggests that the hardware still has much room for improvement. The distortion levels which are several times higher than those of the Apple iPhone 3GS also come to confirm that.
To summarize, if you aren't too demanding the HTC Hero might do the trick for you. In all other cases feel free to join the Apple bandwagon. And here go the results so you can see for yourselves.
| | | | | | | |
| --- | --- | --- | --- | --- | --- | --- |
| Test | Frequency response | Noise level | Dynamic range | THD | IMD + Noise | Stereo crosstalk |
| HTC Hero | +1.04 -2.13 | -91.3 | 92.3 | 0.458 | 0.902 | -95.8 |
| HTC Magic | +0.21 -2.20 | -85.6 | 88.8 | 0.025 | 0.220 | -86.0 |
| T-Mobile G1 | +0.22, -2.52 | -87.2 | 89.2 | 0.017 | 0.289 | -86.1 |
| Samsung S8000 Jet | +1.01 -2.03 | -87.9 | 87.0 | 0.015 | 0.060 | -85.9 |
| LG KM900 Arena | +0.09, -1.61 | -91.6 | 91.7 | 0.0017 | 0.101 | -90.4 |
| Apple iPhone 3GS | +0.01, -0.05 | -92.1 | 92.1 | 0.0035 | 0.011 | -95.0 |
| Samsung i8910 Omnia HD | +1.29 -2.74 | -87.6 | 86.6 | 0.0023 | 0.255 | -85.2 |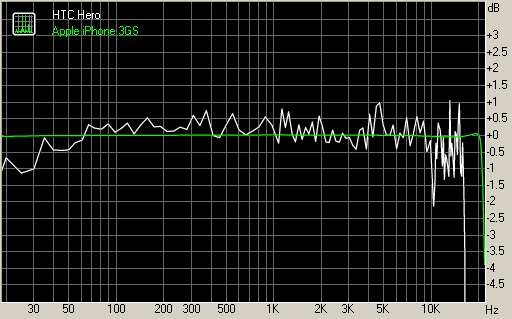 HTC Hero vs Apple iPhone 3GS frequency response graphs
You can learn more about the whole testing process here.