At first it leaked through some spy pics and then someone actually bought a damaged unit off Craigslist, just to photograph and put up its pictures on the Internet. But now we have some proper pictures of the AT&T-bound HTC Holiday, courtesy of BGR.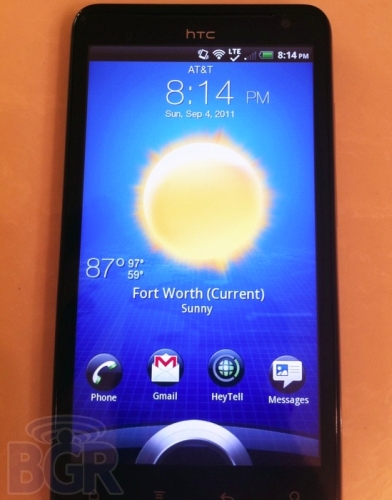 There is nothing dramatically new about the device that we didn't see in the pictures below. Except the gold contacts that we saw on the battery cover on the Craigslist device are now missing again, the way they were when the device was first spotted.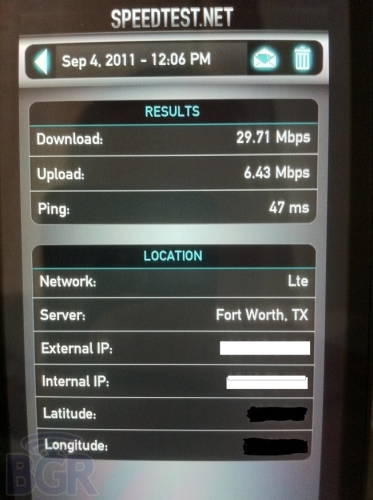 BGR also managed to get a feel of AT&T's upcoming LTE network on the Holiday. The results are mighty impressive, with 29.71Mbps down and 6.43Mbps up. Having said that, the high speeds are likely due to the lack of any users on the network at the moment.
Coming back to the Holiday, in case you are not familiar with it, the device is said to have a 4.5-inch qHD display, 1.2GHz dual-core processor, 8 megapixel camera capable of 1080p video, Android 2.3.4 running Sense 3.0. As you can guess, there is not much information available about the price and release date at the moment. Click on the source link for more images.
D
HTC will launch 8 new phones later this year. Can't wait. I hope it will include a bigger than 4.5" phone. It would be nice if it is a dual core 1.2ghz, OS 2.3.4, SuperLCD and HTC Sense 3.5. That will be perfect for me.
?
that will download torrents quick
c
need a facelift or something new to set them out from the crowd its all getting the same old stuff excite me HTC for gods sake. im not knocking them as i have owned loads of htc's and currently got the wildfire s but c'mon new stuff equal...
ADVERTISEMENTS