HTC is already offering Black Friday deals for its smartphones and accessories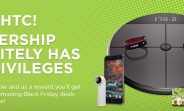 HTC simply couldn't wait until Black Friday, so it decided to give you access to its Black Friday deals starting today. There is a small catch, however. You can't just go to the company's official online store and purchase discounted products. Instead, you need to first register to become a member of "Team HTC", its perk-based incentive scheme. After you put in all your details, within 24 hours you'll be emailed a special Black Friday promo code. You can then use this at checkout to enjoy the deals we're describing below. If you don't use the promo code, you won't get the price cuts.
So, what has HTC cooked up for this Black Friday event? Well, it's offering its flagship smartphone, the 10, for just $500, the lowest price ever seen when buying direct from the manufacturer. If you want last year's One M9, that can be had for $300, while the One A9 is priced at $275. All smartphones are being sold unlocked, of course.

The UA Band accessory is going for $79 at the moment, while cases for the One (M8) and One M9 are $10 each. Finally, he HTC RE action camera is being sold for $75. The early access to Black Friday deals for Team HTC members ends on November 14, so you need to sign up on November 13 or earlier to make sure you receive the promo code via email in time and are thus able to take advantage of these offers.
?
HTC 10's $200 promo is coming to all... all U.S. residents.
D
HTC RE CAM is mind blowing after few updates. Bought it for INR 4999/-..
B
Yes, after realizing the best VR ( Vive ) , one of the best smartphones, 10 , and created the best smartphone ( Pixel ). HTC is a dying company... Why do you people post while lacking knowledge about...everything ?