A shopkeeper is a reputable job - especially if you're selling mobile phone apps. So, HTC might be working on their very own store - which will offer both apps and e-books. It might become a part of the HTCSense.com website, but all we have to go on right now is rumors.
HTC already has HTCSense.com for its Android handsets and especially the HTC Hub section - it lets you browse for apps and mark them. You can later find them under "Marked" in the HTC Likes application.
Speaking of which, HTC Likes is a cool looking alternative to the regular Android Market app (you'll read more about it in our HTC Desire Z review). What HTCSense.com lacks currently is to initiate an app download from the site itself - you have to go through Likes.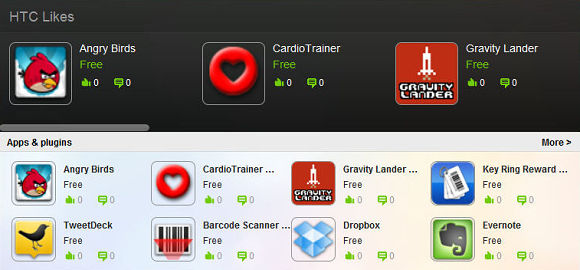 A screenshot from the HTC Hub section of HTCSense.com
And now, insiders are saying that HTC is not content to just customize the UI for Android - they want an app store too. Reportedly, they are hiring a team to do just that. It sure would integrate nicely with likes and the HTCSense web site.
It's not just apps though - HTC has already partnered up with Kobo to pre-install their reader on HTC phones, but word is that offering e-books will be a part of the HTC store (books will be provided by Kobo).
And there's no reason to believe (though nothing solid either) that the HTC app store will cater to just Android phones - HTC has plenty of Windows Phone 7 mobiles and Microsoft does allow manufacturer-branded sections in the Marketplace (e.g. LG's addition is called "LG apps store").
Of course, none of this is official so don't take it for granted.
Y
It wont happen becuase just like Apple Microsoft are the only ones offically allowed to have an app store. Why so that they can keep the money all for themselves.
?
you do know it will get more features every update or at least boost in performance
?
more competition mean more options for the users.
ADVERTISEMENTS