It seems HTC is planning on releasing a younger sibling to the critically acclaimed HTC One. The HTC M4 as it is called for now (the One was called M7 at one point) looks very similar to the HTC One but will have downgraded specifications and a lower price tag to go with them.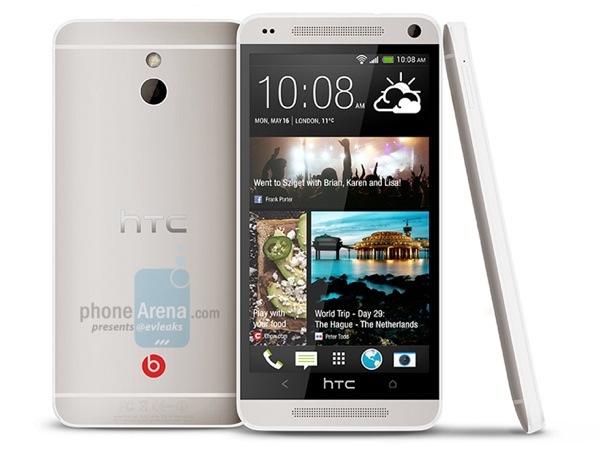 The M4 design looks very similar to the One's but it's difficult to tell right now if HTC will be using the premium aluminum for the body or will settle for similar looking plastic. Unless the bands on the back are for just show, it does seem, though, that HTC will be using aluminum for the construction once again.
On the front you can see the dual stereo speaker above and below the display and a key arrangement similar to the HTC One. On the side is the micro SIM slot in the same location as on the One. On the back, the camera flash has been relocated above the lens and a large Beats Audio logo replaces the text on the One.
Software also looks similar to the One, with HTC's Blinkfeed placed prominently on the homescreen.
As for the specifications of the device, the M4 is said to have a 4.3-inch, 720p display, dual-core processor, 2GB of RAM, 16GB of internal memory and a 1,700mAh battery. Interestingly, the M4 will also feature an UltraPixel camera, although the specifications are unknown at this point, which makes it hard to tell if it will be the same unit as on the One or a different one.
The phone is expected to ship near the end of the second quarter with LTE support and Android 4.2 Jelly Bean. If you wanted the HTC One for its design but thought it was a bit out of the reach because of the price, then this should serve as the next best alternative.
D
Aw. HTC M4 looks really sexy. I'd probably choose it over an S4 mini. I mean, come on! Look at that amazing body! And 2 gigs of ram! I wish I could have one. But I just bought an S3 Mini. So I'm pretty depressed on my decision to buy a new phon...
?
I think HTC should include the SD slot, and a SIM slot better than the HTC One (horrible copy of Apple) but similar to the HTC One for the Chinese market, the removable battery and a camera of at least 8 Mpx, only then would the best smartphone on th...
D
I really like the design of the HTC One, in my personal opinion that is the best looking phone currently on the market, however, the size of the HTC One is its most let down characteristic. It is just too big for my taste... If this HTC M4 comes to...
ADVERTISEMENTS