Preliminary specifications of the upcoming HTC M8 smartphone have leaked courtesy of evleaks giving us a better idea of what the Taiwanese are up to with their HTC One successor.
In a previous leak of his, evleaks suggested the codenamed M8 phone relies on a Snapdragon 800 chipset and today he confirms this, specifying HTC has chosen the MSM8974 model. While not providing further information, an educated guess would be the quad-core Krait CPU will run at 2.2-2.3GHz. Sadly, the latest leak suggests the M8 will tout 2GB of RAM instead of 3GB as earlier purported.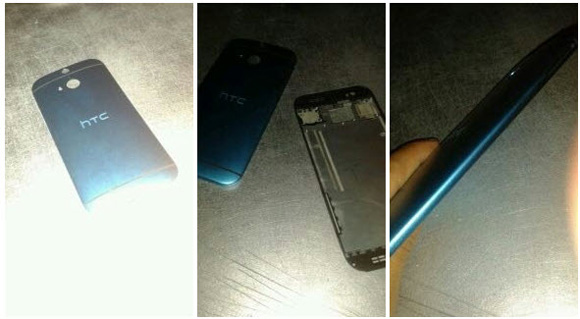 We've already caught a glimpse of what the HTC M8 is capable of in a leaked AnTuTu score. It manages to beat the Galaxy Note 3, the Sony Xperia Z1 as well as the LG G2.
HTC seems keen on using its UltraPixel camera technology, and the M8 will feature one at its back as well. There's no information wether it'll be the a 4MP one just yet. At the front, there'll be a 2.1MP snapper, probably the same as the one on the HTC One'. Below it will sit a 5" display of full HD resolution, resulting in a pixel density of 441 ppi. It won't be of much surprise if HTC bets on Super LCD3 technology for the M8's display.
In addition to the Wi-Fi module supporting the latest 802.11ac standard, the HTC M8 will run Android 4.4 KitKat garnished with Sense 6.0.
As suggested by leaked photos of the HTC M8, it's going to tout an aluminum unibody construction, which closely resembles that of the HTC One. The back is going to be very similar as well with the exact same camera and LED flash location. Furthermore, it's going to be a lot slimmer than the One, if the leaked photos are anything to go by.
In 2013, HTC released its flagship range consisting of the One, One Max and One mini, but the latter was haunted by difficulties in its production and couldn't meet consumer and carrier demand. The HTC One experienced a similar issue back in April last year, but HTC swiftly managed to get around the problem.
Nevertheless, Q3 2013 financial results weren't so rosy for the Taiwanese, who experienced their first quarterly loss ever. The last quarter of 2013 will probably be equally grim with HTC forecasting $1.4-1.5 billion in revenue with a gross margin of around 20%. HTC made $2 billion in revenue during 2012's Q4.
The company can't allow for any more mistakes to happen and its CEO Peter Chou knows the HTC M8's supply chain, production and marketing have to be impeccable in order for HTC to catch a breath of fresh air.
Source
E
All this talk and hype about this phone and that phone is really meaningless in that all the cellphone makers engineers are striving to produce the perfect phone that has speed,looks and endurance as well as a marketable price factor,but there is alw...
j
well lucky for you we dont all have your phone otherwise your out of a job mate!!!!
l
Part of the financial difficulty for HTC is that their phones are too good. I am on my third consecutive HTC, and every one has easily made it past my two year upgrade window. Their specs and features are always class leading when they release, so th...
ADVERTISEMENTS